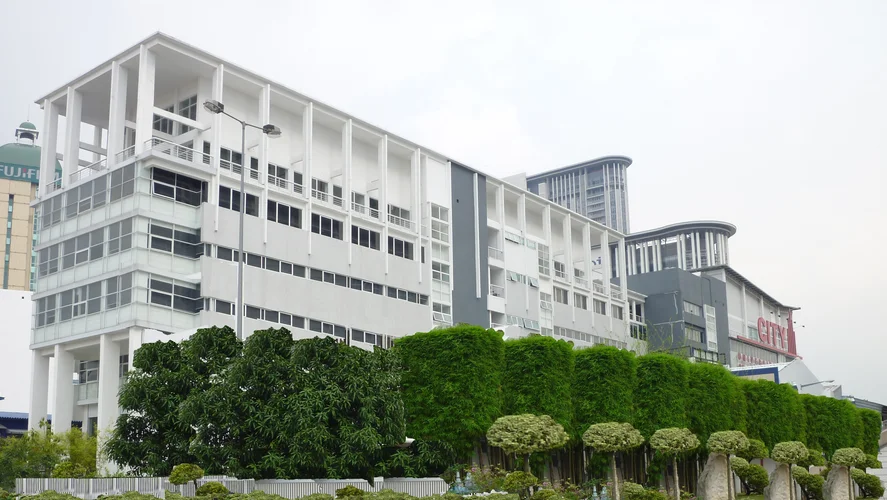 City University Malaysia
Malaysia
Ready to apply? Start here.
Form here
Statistics

| | | |
| --- | --- | --- |
| | 15 | Undergraduate programs |
| | 0 | Postgraduate programs |
Overview
Statistics

| | |
| --- | --- |
| Institution type | Private |
| Year established | Data not available |
| Campus setting | Urban |
| Student population | Medium (1,001 to 10,000) |
| foreign students | Data not available |
| Nationalities | Data not available |
About City University Malaysia
City UC is a private university college in Malaysia that offers various undergraduate and postgraduate academic courses as well as Human Resource Training and Development. There are seven faculties available for students in City UC:
Faculty of Business
Faculty of Information Technology
Faculty of Architecture, Engineering & Built Environment
Faculty of Education & Liberal Studies
Faculty of Nursing & Health Sciences
Faculty of Hospitality & Tourism
Faculty of Art & Design
The mission of the University College is to contribute to society through programmes of education excellence, lifelong learning and research by:
Collaborating with world class educational institutions
Fostering leadership development to build future leaders
Working with decision making bodies
Providing professional development opportunities
Admissions
Intakes
Admissions Statistics

| | |
| --- | --- |
| IELTS | Data not available |
| TOEFL | Data not available |
For admission requirements and intakes for each individual course/programme please refer to course details.
Tuition and application fees
Estimated tuition fees as reported by the institution.
Tuition and Application Statistics

| | |
| --- | --- |
| Application fee (local students) | Data not available |
| Application fee (foreign students) | Data not available |
| Student visa fee (foreign students) | Data not available |
Living cost
Data not available
Average living cost in Malaysia
The amount is indicated taking into account the average cost of food, accommodation, etc in Malaysia for 2023
Costs Statistics

| | |
| --- | --- |
| Food | Data not available |
| Accommodation | Data not available |
| Others | Data not available |
Accommodation
City U has reserved three hostels for their students: Damai Court in Puchong, Subang Bistari in Kota Damansara/Shah Alam, and Kasturi Idaman, Section 8, Kota Damansara. Security is very tight in the hostels, as each hostel is guarded by its own management of wardens. Students therefore must abide to all hostel and university rules and regulations.
Students must firstly decide on the type of accommodation they wish for. Room/unit rent costs vary from RM500 to RM2000 or more, depending on the budget. Students are offered a choice of location and accommodation type, like an apartment, condominuim or terrace house, and whether the accommodation is for single or shared use. The IO officer will assist you throughout the process.
Campus
City U is equipped with many facilities for student use.
Computer rooms: with most up to date computer equipment and all the addictional and useful hardwears such as scanners, Laser printers,CD writers and so on.
Libarary: It is professionally managed with all the books, journals and other material required for our courses.
Modern facilities:
library (with e-book system)
IT lab
Arts Studio
Engineering Lab
Wi-Fi
Auditorium
Multipurpose Hall
Nursing Clinical Unit
Cafeteria
Student Lounge
Student activity areas
City UC is located In the heart of Petaling Jaya town, ten minutes from Kuala Lumpur. City UC is very close to facilities such as public transportations and has easy access to the main road. The nearest LRT station is the Asia Jaya LRT Station.
Student population
Medium (1,001 to 10,000)
Total population
Student Statistics

| | |
| --- | --- |
| Undergraduate students | Data not available |
| Postgraduate students | Data not available |
| foreign students | Data not available |