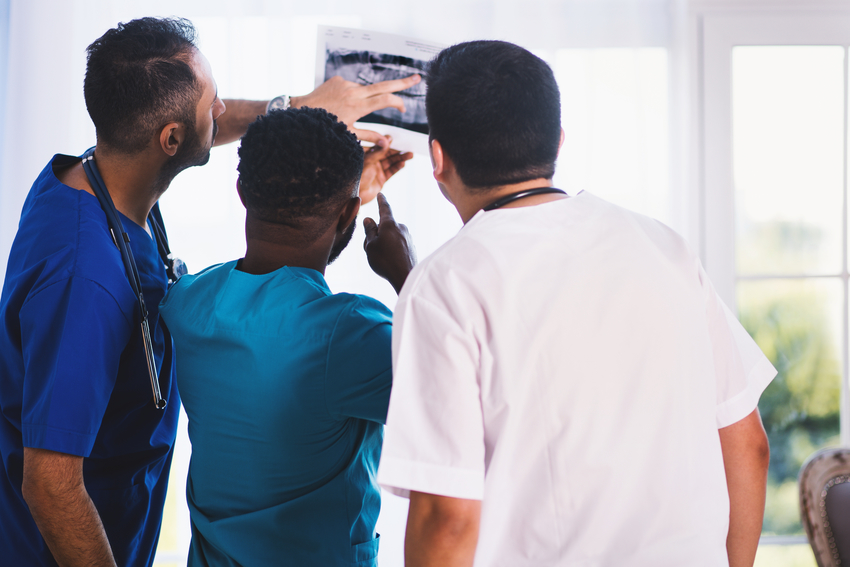 Medicine study intends to promote and maintain health and wellbeing. Maintaining the citizens' health level has always been underlined by the government.
The study of pre-clinical medicine and clinical medicine will teach you the many facets of a human body, how to diagnose and treat diseases.
The medical and health line has always been a popular choice. So much so that some of the world's first universities were medical schools turned into universities as there's always a high demand for doctors.
You will spend five years in university - four if you only count the graduate course - then you'll be able to work with patients. But, it will take more years of training to become a specialist in a particular branch of medicine.
What is medicine all about?
Medicine is the field of health and healing. Health is tightly related to doctors, nurses, and various other specialists.
Medicine covers diagnosis, treatment, and prevention of diseases and unfit medical conditions, medical research, and many other areas of health.
Conventional modern medicine is also referred to as allopathic medicine. This involves the use of drugs and surgery supported by lifestyle measures and counselling.
The complementary and alternative types of medicine include herbal medicine, acupuncture, traditional Chinese medicine, art therapy, and more.
What are the fields in medicine?
1. Clinical medicine
A clinical practitioner works directly with patients in a hospital or other healthcare settings, like doctors, nurses, and psychotherapists. Laboratory workers and researchers are not considered as clinical practitioners as they don't deal with patients.
2. Biomedical research
Biomedical scientists use biotechnology techniques to study biological processes and diseases. This area of science seeks ways to prevent and cure diseases.
3. Clinical research
This area of research finds out the diseases that are present, what causes them, what can treat or prevent them, and so on. It also aims to find out if certain drugs are safe and effective to treat specific conditions.
4. Surgery
Surgery is necessary to treat some injury, disease, or malformation. A surgery is carried out when the surgeon needs to remove or replace ill organs or tissues, or even for biopsy.
5. Psychotherapy
Counseling can be helpful for people with conditions affecting their mental health, such as trauma, depression, chronic pain, or stress.
What kind of subjects are taught in medicine?
Medicine is a broad subject area that leads you to a wide range of jobs. Graduates who wish to specialise in a particular field will have more options than others.
You will learn the human body's function, sociology, and even the psychology aspects of it. The teaching of general medicine and surgery will come with subsequent years of covering major clinical specialties, such as neurology, oncology, etc.
Image source: Vidal Baleilo Jr., Pexels
Many universities have their own teaching hospitals, which allow you to gain practical experience while equipping you for the reality of working life in the medical field.
Some courses are split into pre-clinical and clinical portions while others are more integrated. Some employ a system-based approach (the nervous and cardiovascular system) while others adopt a problem-based approach.
The early stage of the course will nurture your basic skills and knowledge to get you prepared for hospital experience.
Medicine study is carried out in a block system that lasts for 9-16 weeks.
The pre-clinical part spans over the first two years and subjects are delivered in 4 blocks through an integrated approach. The clinical part also encompasses 4 blocks, but in a span of 3 years.
Here is a glimpse of subjects that are offered in MBBS degree at SEGi University:
Year 1 & 2
Block 1: Foundation in Medical Sciences
Human Anatomy
Human Physiology
Basic Biochemistry
General Pathology
Basic Pharmacology
Medical Microbiology
Medical Immunology
Block 2: Introduction to Behavioural Science, Clinical and Community Medicine
Biostatistics & Introduction to Community Medicine
Research Methodology & Mini Research Project
Clinical Methods & Medical Ethics
Introduction to Behavioural Science
Block 3: System-Based Medical Sciences I
Cardiovascular System
Respiratory System
Haematopoietic System
Gastrointestinal & Hepatobiliary System
Block 4: System-Based Medical Sciences II
Endocrine System
Genitourinary System
Central Nervous System
Musculoskeletal & Connective Tissue System
Year 3, 4, 5
Block 5: Junior Clerkship
Clinical Foundation & Basic Life Support
Internal Medicine 1
General Surgery
Block 6: Specialty Clerkship I
General Paediatrics
Obstetrics & Gynaecology 1
Orthopaedics & Emergency
Block 7: Specialty Clerkship II
Community-Based Medicine
Psychiatry, Rehabilitation & Palliative Care
Combined Specialties Postings

Ophthalmology
Otolaryngology
Forensic Medicine
Anaesthesiology
Block 8: Senior Clerkship
Electives
Internal Medicine 2
Surgery & Critical Care
Obstetrics & Gynaecology 2
Paediatrics & Neonatology
What are the skills and characteristics needed?
Medicine degree suits those who are ready to make a long-term commitment to become a doctor. Check the following qualities before you decide on taking this course to ensure that you're prepared:
1. Ability to work under pressure
Working as a doctor, you cannot afford to make mistakes as it can cost you your career and even someone's life! Doctors in general are under a great deal of pressure on a daily basis, which is why you must be able to handle stress well.
2. Analysis of varied types of information
Diagnosing a patient involves understanding the symptoms exhibited and putting them together to understand what is wrong with the patient. The doctor may then treat the patient.
3. Communication and interpersonal skills
In order to interact with patients and the general public, doctors must have excellent people skills. This includes being able to explain difficult subject matter while displaying empathy and compassion when dealing with patients.
4. Integrity
Today, the role of a doctor is at risk of being reduced to doing what their patient demands. A doctor must be able to maintain their integrity and conscience and refuse to participate in what they reasonably believe to be harmful to the patient.
5. Attention to detail
If you have ever watched the television show "E.R.", you'll notice the incredible amount of detail that doctors pay attention to while simultaneously enduring a great deal of pressure. Did we mention the ability to work under pressure is one key trait of becoming a doctor?
What are the top universities in Malaysia to study medicine?
The table below showcases the top universities in Malaysia that offer Medicine course:
Also read: Best Medical, Dental & Pharmacy Schools in Malaysia, according to D-SETARA ratings

What is the career outlook for medicine graduates?
As mentioned previously, the career opportunity for this major is great and can always be found across industries and sectors.
Here are some of the career options that you can consider:
Doctor
Nurse
Midwife
Medical researcher and developer
Paramedic
Emergency medical officer
Paediatrician
Physician
Professor of medicine
Clinical forensic medical examiner
Therapist
Surgeon
Anaesthetist
Chiropractor
Obstetrician
Psychiatrist
The wage that you will make while working in this field in Malaysia is comparatively high, but it varies depending on the occupation.
The table below shows the different types of job and expected salary according to PayScale:
| | |
| --- | --- |
| Occupation | Estimated Salary (per year) |
| Doctor | RM 83,000 - 200,000 |
| Nurse | RM 30,000 - 55,000 |
| Midwifery | RM 33,000 - 39,000 |
| Paediatrician | RM 200,000 - 600,000 |
| Surgeon | RM 120,000 - 600,000 |
| Psychiatrist | RM 120,000 - 350,000 |
How long is the duration of studies for medicine course in Malaysia?
The duration of studies will depend on the level of studies that is taken.
Bachelor's Degree: 5 years
Master's Degree: 2 - 4 years
PhD: 3 - 4 years
What are the entry requirements for medicine in Malaysia?
Each university has different entry requirements and the list below does not generalise the entry requirement of universities in Malaysia as a whole.
Undergraduate
SPM - A pass in SPM / O-Level or equivalent with 5Bs (Biology, Chemistry, Physics and Mathematics / Additional Mathematics and/or equivalent)
A-Level - BBB, ABC or AAC in Biology, Chemistry, Physics or Mathematics
UEC - Pass with min. B4 in Biology, Chemistry, Physics, Mathematics and Advanced Mathematics
Diploma or Foundation - Min. CGPA 3.0 - 3.5
STPM - Min. BBB, ABC or AAC in 3 subjects: Biology, Chemistry and Physics/Mathematics
English - IELTS (minimum 5.5 - 6.0 overall), TOEFL (minimum 550 or 80)
MUET - Band 4
Additional Prerequisites - Interview
Postgraduate
Bachelor's Degree - Min. CGPA 2.5 - 3.0
Working Experience - Min. 6 months to 2 years (depends on university)
English - IELTS (minimum 6.0 - 7.0 overall), TOEFL (minimum 600 or 100)
Additional Prerequisites - Pass interview
Supporting Documents - Recommendation letter and updated CV
How much is the tuition fee to study medicine courses in Malaysia?
There is a different variant to tuition fees in Malaysia, depending on the course and university that are chosen.
The estimated tuition fees for medicine course in Malaysian universities can be seen here:
| | |
| --- | --- |
| Programme | Estimated Fees |
| Bachelor's Degree | RM 50,000 - 500,000 |
| Master's Degree | RM 55,000 - 110,000 |
| PhD | RM 55,000 - 110,000 |
Living expenses in Malaysia depend on the location of the university and the city that you live in.
---
FAQ
1. MBBS vs MD: What's the difference?
MBBS stands for Bachelor of Medicine-Bachelor of Surgery, while MD stands for Doctor of Medicine.
MBBS is an undergraduate study, the first degree that a professional in medicine must take. It is meant to train students in all fields of medicine.
MD is a Master's/ Postgraduate degree that you can take only after you complete a MBBS degree successfully. MD is an advanced academic degree in the medical field, similar to a PhD.
2. How long does housemanship last?
Following the completion of a medical degree, you are entitled to provisional registration by the Malaysian Medical Council. Upon the end of service, you're eligible for a full registration in Malaysia.
As a Malaysian citizen, you're required to undergo two years of compulsory service by the Ministry of Health. As for international students, you're not allowed to do housemanship in Malaysia.
3. Is the internship already included in the course?
Yes, an internship programme is already embedded in the medicine study curriculum.
4. Do I need a first-class honours to become a doctor?
No, although academic evidence is important, hospitals are also looking for the right personalities and traits. Someone with a great personality and a second-class grade can have a higher chance at becoming a great doctor than a first-class graduate with an inability to interact with people.
5. When can I enrol in a university in Malaysia?
If you're interested to study in Malaysia as an international student, the general admission will differ for each university. It is best to find out the details from their website or contact their administrators.