The computer industry is expected to rise for the next few decades with the advancement of technology to automate manual and lengthy processes.
With the bloom of technology, computers and machines evolve to be faster, smaller, cheaper, more powerful and efficient. Computer engineering is a driving force behind innovation and technologies that are changing the world, pushing computing power and capabilities to the edge.
The demand for computer engineering graduates is on the rise to meet the growing industry. If you are considering a degree in this field, read on to find out more about computer engineering!
What is Computer Engineering all about?
Computer Engineering combines the scientific elements of Computer Science and the physics of Electrical Engineering to invent digital machinery, computer networking and computer systems.
In Computer Engineering, you will learn about the electrical components, wiring and digital signal of computers, apart from learning programming. Expect to see elements of electrical engineering in this course!
What are the major fields in Computer Engineering?
1. Computer Hardware
The core of computer engineering is the hardware that builds a computer. Microprocessor, tablet and semiconductors are just some examples of electrical components that you will learn. You will also design and develop computer components to create faster, better and more powerful computer systems.
2. Computer Network
Another major component of computer engineering is how a computer is able to connect to the Internet and enable communications across every device. A computer can perform a more powerful task if it can connect to a network. In computer networking, you will learn about Internet ports, routers and many more regarding the network.

3. Software Developers
A computer is just a skeleton for software. In order to carry out any logic task, the software is needed to run on a computer. You will learn the life cycle of software development, as well as project management, quality assurance and software testing. This course involves more hands-on work.
4. Artificial Intelligence (AI)
AI lies everywhere in our generation, improving our quality of life. AI humanises computers to help us with daily routine and problems. This major will teach you on deep learning, image processing and even robot programming.
What are the entry requirements and qualifications?
Entry requirements depend on the study level and institution, but in general, they are as stated below:
Diploma
SPM / SPMV / O-Level - 3 credits including Mathematics, OR
STPM - 1 principal pass and SPM / O-Level credit in Mathematics, OR
UEC - 3 subjects at grade B including Mathematics
Bachelor's degree
| | |
| --- | --- |
| Foundation / Matriculation | Pass with a minimum CGPA 2.0 and credit in SPM Maths or equivalent |
| STPM | Pass with a minimum grade C in at least 3 subjects (including Maths) AND credit in Maths in SPM or equivalent |
| UEC | Pass with minimum B in 5 subjects (including English and Maths) |
| A-Level | Pass (including Maths) |
How long do you study for a Computer Engineering degree?
A little different from computer science, computer engineering usually has a longer study duration as it is a sub-discipline of engineering. Check the table below:
| | |
| --- | --- |
| Level | Duration |
| Bachelor's Degree | 4 years |
| Master's Degree | 1 - 2 years |
| PhD | 1 - 2 years |
How much does it cost to study Computer Engineering?
Here are the estimated fees of studying Computer Engineering in Malaysia:
| | |
| --- | --- |
| Programme | Estimated Fees (per year) |
| Bachelor's Degree | RM 60,000 - RM 150,000 |
| Master's Degree | RM 30,000 - RM 60,000 |
| PhD | RM 30,000 - RM 70,000 |
Studying in public universities is often much cheaper than private universities in Malaysia. Be sure to check out local public universities too!
What are Computer Engineering jobs in Malaysia?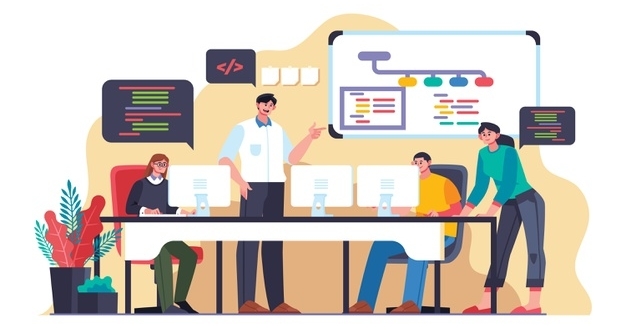 Computer Engineering offers you a wide range of opportunities. Check out the list here:
Computer Engineer
Software Engineer
Network Administrator
System Engineer
Computer Architect
Network Architect
Application Developer
Technical Support
Industrial Engineer
Electrical R&D Engineer
Test Engineer
Universities in Malaysia that offer Computer Engineering courses
The toughest part about studying Computer Engineering is deciding which engineering school to enrol in. This can be difficult for a wide variety of reasons, ranging from affording tuition and having the resources to relocate to another city or even country, to meeting your chosen school's requirements. Here is a list of best universities in Malaysia to study for a Computer Engineering degree:
1. University Malaya
Known as the oldest, most prestigious private university in Malaysia, Universiti Malaya (Kuala Lumpur) has a good reputation in producing competitive and holistic graduates.
UM offers a wide range of programmes for both undergraduate and postgraduate students with more than 12 faculties, four academies and centres. Extensive and holistic student service and support system are available to equip students with vital skills and exposure.
2. Tunku Abdul Rahman University College
Tunku Abdul Rahman University College (TAR UC) has over fifty years of experience since it was established as TAR College in 1969, providing leading teaching and learning. The highly qualified faculty, coupled with expertly designed programs, ensure that students receive a quality education, one that equips them for their future. The cost of studying in TAR UC is relatively cheaper than other private universities in Malaysia.
3. Asia Pacific University of Technology and Innovation (APU)
Asia Pacific University of Technology and Innovation is a campus university in Kuala Lumpur, Malaysia. A leading technology university, its focus is to help students develop lifelong career opportunities. It was rated number one in Asia and Malaysia for its multicultural learning experience, and has a thriving international population of students, with more than 12,000 students from over 130 countries. It is also one of the pioneers in computer-related studies.
4. Taylor's University
Taylor's University is an educational provider based in Malaysia. The university offers a range of study options covering subject areas such as Accounting, Finance, Arts, Computer Science, Business, Hospitality and Tourism, and much more. It enjoys decades in the education industry and has a global network of more than 3,000 career partners. 3,000 of Taylor's students interns with top employers every year.
5. UCSI University
UCSI University Kuala Lumpur is one of the leading universities in Malaysia. It ranks at 347 in the QS World University Ranking 2022. It is known to introduce industry-relevant programmes and has been listed as a tier 5 university in the SETARA university ranking.
6. Monash University Malaysia
Monash University Malaysia gives students the opportunity to obtain a prestigious Australian degree, from its branch campus in Sunway City, Malaysia. Tuition fees and living expenses are significantly lower than in Australia, but students will be recognised internationally as a member of the Monash Alumni.
Monash University is ranked in the top 60 universities in the world according to the QS World University Rankings 2022 and is also number 57 on the Times Higher Education list of the World University Rankings 2022.
7. International University of Malaya-Wales
International University of Malaya-Wales (IUMW) was established based on a collaboration between the University of Malaya (UM) and the University of Wales, UK. IUMW is the first university in the country that offers the Dual Award with credit transfer options for its programmes. Students get to study abroad in the United Kingdom for up to three years.