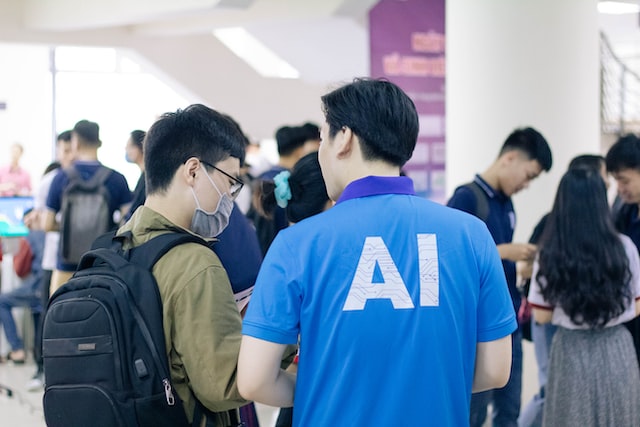 Image sourc: Unsplash
In today's age, the role of Artificial Intelligence (AI) as a tool in solving real-world problems has grown important. The demand for engineers with a speciality in Artificial Intelligence has increased as the world's transition to Industry 4.0 matures, thanks to the rising demand for intelligence-enhanced applications.
If you're curious about what AI is and how you can become involved, keep reading as we provide all of the information and skills required to be successful in constructing the much-needed intelligent computer systems.
What is Artificial Intelligence?
Artificial intelligence refers to the ability of a digital computer or computer-controlled robot to perform tasks that typically require human intelligence. AI works by first consuming massive volumes of labelled training data, followed by analysing the data for correlations and patterns, and finally using the patterns to create future predictions.
Today, AI is used in a wide range of applications around the world, including chatbots on websites and smart devices such as Alexa and Siri. Aside from that, AI is utilised to produce weather predictions, speech recognition systems, as well as product suggestions. With more technology being integrated into our daily lives, it's no surprise that the demand for AI engineers is increasing.
(Also read: Computer Science & IT Courses in Malaysia)
What are the types of Artificial Intelligence?
There are four types of Artificial Intelligence:
1. Reactive AI
Reactive AI is the most basic type of artificial intelligence, in which algorithms are used to optimise outputs based on a set of inputs. This means that reactive machines respond to identical events, in the same way, every time, and they are incapable of learning actions or imagining the past or future.
For instance, reactive AI is implemented in spam filters for email, which keeps advertisements and phishing emails out of our inboxes, or in recommendation engines like Spotify or Netflix. As such, this kind of AI makes our life easier but unfortunately, it is unable to perform beyond the tasks for which it was originally built. This means they are essentially limited to any further development.
2. Limited memory AI
Limited memory AI is programmed to absorb, modify and interpret required data. As one of the most extensively utilised types of AI, limited memory AI makes predictions and performs complicated tasks by combining historical, observational data with pre-programmed information.
For example, this type of AI is employed in autonomous vehicles or self-driving cars which monitor the speed and direction of other vehicles, allowing them to stay on the road and adjust as needed. Additionally, such vehicles are also safer on the road due to the interpretation of incoming data. However, limited memory AI is limited because the data used by self-driving cars is temporary and is not stored in the car's long-term memory.
3. Theory of mind AI
Theory of mind AI is a work in progress that mostly interacts with human thoughts and emotions. This means that the machine can recognise and recall emotions, and then modify its behaviours in response to those feelings.
For instance, when you use other types of AI in applications such as Waze or Google Maps, usually it will reroute your way if you take a wrong turn. However, using the theory of mind AI, you may be able to hold discussions with an emotionally intelligent robot that looks and sounds like a real human being. So, if you are running late for an event, the machines will not only suggest the quickest path but will also notify others of your absence.
4. Self-aware AI
As the name implies, self-aware AI is where the machines are aware of their existence and comprehend their internal states as well as the emotions of others. At the moment, this type of AI exists only in movies. Nonetheless, this AI is still in its early stages, and if it becomes reality one day, we will undoubtedly witness a robot with human-level consciousness and intelligence.
(Check out out latest guide: A Promising Future in Mechatronic Engineering)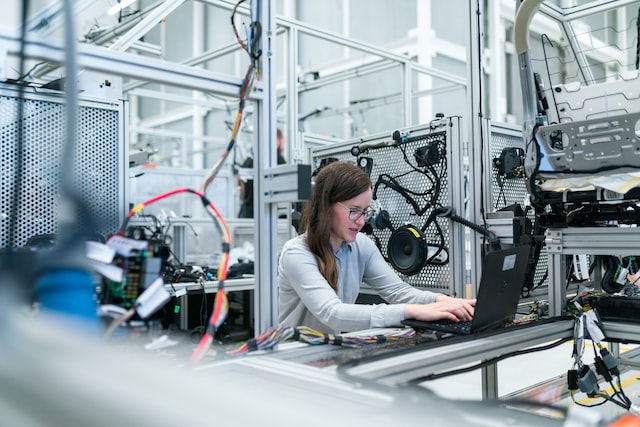 Image source: Unsplash
What subjects are taught in Artificial Intelligence?
The subjects you take will differ depending on the university, but here are the modules that you will come across if you study Artificial Intelligence:
Common module - Information Systems, Computer Systems & Organisation, Algorithms, Artificial Intelligence Fundamentals, Computing Mathematics, Probability and Statistics, Software Engineering Fundamentals, Natural Language Processing, Neural Networks Basic
Electives - C++ Programming, Introduction to Image Processing, Entrepreneurship, Human-Computer Interaction, Bioinformatics, Critical Thinking, Project Management
What are the skills needed in Artificial Intelligence?
To be a successful AI engineer, it's not just about your grades; your other skills are also considered when companies hire, especially with the increasing number of recent graduates on the market. Listed below are some of the most sought-after technical and soft talents by employers.
Technical Skills
1. Programming
First of all, you need to know programming languages. It is necessary to understand computer languages such as Python, R, Java, and C++ to design and implement models. Additionally, the language you learn will also determine the tools, libraries, and frameworks available to you.
2. Linear Algebra, Statistics and Probability
You must be well-versed in these elements to understand and apply various AI models, such as Hidden Markov models, Naive Bayes and Gaussian mixture models. As statistics are empirical and frequently used, a solid understanding of derivatives and integrals is also required.
3. Algorithms and Frameworks
Another technical skill you need is an in-depth knowledge of algorithm theory and how algorithms work. To fully understand AI, make sure you are familiar with concepts such as Gradient Descent and Quadratic Programming before developing the unstructured data with frameworks such as PyTorch and Caffe.
Soft Skills
1. Communication
Communication is essential because AI engineers usually work as a team throughout development, and this skill is also useful when team members work remotely. Furthermore, the team may be required to present in front of clients or stakeholders, which will require written and verbal communication skills since these individuals may not be fully aware of the AI concepts.
2. Teamwork
AI engineers frequently collaborate. Therefore, the ability to work productively in a group is a valuable skill. Aside from having high patience and empathy, one also needs to consider others' perspectives objectively and accept solutions to problems other than their own.
3. Creative Thinking
Creative thinking is appreciated in this field because artificial intelligence aims to address problems as they arise in real-time. With creative minds, one may also turn their technology ideas into profitable business ventures which can help to expand the use of AI in everyday life.
Where to study Artificial Intelligence in Malaysia?
Bachelor's Degree:
Raffles University Malaysia
Master's Degree:
Multimedia University (MMU)
PhD:
Monash University
Taylor's University
Multimedia University
Universiti Kebangsaan Malaysia
Universiti Teknologi Malaysia
How long does it take to study Artificial Intelligence?
Bachelor's Degree:
3 years
Industrial training takes place in the final year
Master's Degree:
1 year for full-time students
2 to 4 years for part-time students
Candidates are assessed based on their research proposal and thesis examination (viva-voce)
PhD:
3 to 4 years for full-time students
6 to 8 years for part-time students
Candidates are assessed based on their research proposals and thesis examination (viva voce)
What are the entry requirements for Artificial Intelligence course?
Bachelor's Degree:
Pass Matriculation/Pre-University/STPM or equivalent with a minimum 3.00 GPA and a grade B in the following subjects: Mathematics, Physics, Engineering Physics, Chemistry, Biology, Computer Science, and at least a grade B in Additional Mathematics and Mathematics/Physics at the SPM level.
Pass the A-level programme with a grade A in Mathematics and at least a grade B in one of the following subjects: Computing, Physics, Further Mathematics, Chemistry, Biology, and at least a grade B in Additional Mathematics and Mathematics/Physics at the SPM level.
If you have a diploma, a minimum CGPA of 3.00 in Computer Science or Information Technology is required, as well as a grade B in Mathematics at the Diploma level and a grade B in Additional Mathematics and Mathematics/Physics at the SPM level.
Candidates with a CGPA less than 2.5 but above 2.0 with a credit in Mathematics at the SPM level or its equivalent may be admitted, subject to an internal assessment process.
Must have at least a Band 2 for MUET or a Band 4 for IELTS is required.
Master's Degree:
Have a Bachelor's Degree in Artificial Intelligence or related disciplines such as Information Technology/Computer Science with a CGPA of more than 2.80. Otherwise, a minimum of 5 years of relevant working experience in related fields is required.
Must have at least a Band 4 for MUET or a Band 6 for IELTS.
PhD:
Candidates must hold a Master's degree in related disciplines or equivalent qualification from any other institutions of higher learning.
Must have at least a Band 4 for MUET or a Band 6 for IELTS.
Written by: Benedict
Read more guides and articles:
Honours Degree vs Bachelor's Degree
IELTS vs TOEFL: Which is easier for you?