Home to the world's most prolific universities such as Cambridge, Imperial College and Oxford, the UK's status as the best study abroad destination, rivalled only by the USA, is a must-see for those wanting to get only the best education from the world's top universities. Read our guide to discover what awaits you as a student in the UK!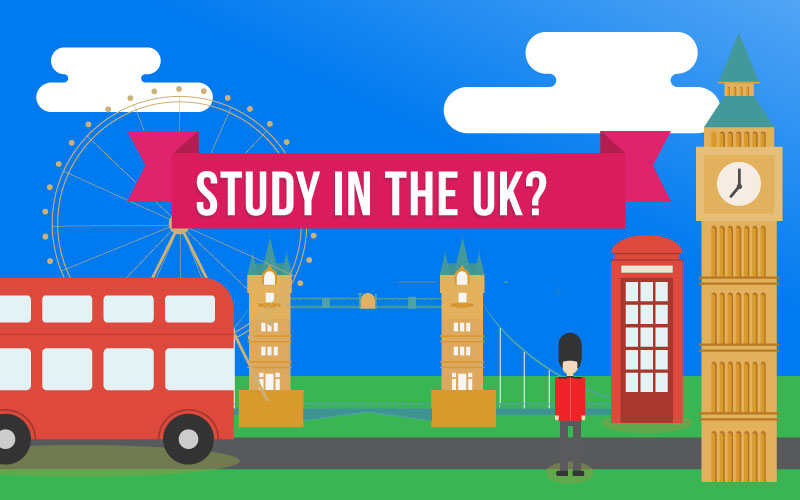 The United Kingdom (UK) is made up of four nation-states - England, Wales, Scotland and Northern Ireland, all who have come together to form one sovereign congregation led by England.
Its rich history of being the birthplace of some of the greatest minds in modern history like Stephen Hawking, William Shakespeare and John Lennon to name a few; as well as its beautiful landscapes and townships that have endlessly been the backdrop for global literature and art continue to attract many from all over the globe today.
Why Study in the UK?
Gain a world-class education
Top-notch facilities and resources
A chance to be taught by leading academics and experts
Develop your English-speaking skills
As one of the oldest and most established countries in Europe, the UK's influential reach has set many standards across the world - from architectural designs to artistic expression, to even administrative and regulation conduct still practised today in some Commonwealth countries.
With such a long and intertwined historical relationship with the rest of the world, the UK itself has become a melting pot for the globe's societies and cultures to gather and thrive. Famous cities like Manchester and England's capital city London hold records for being among some of the most diverse cities in the world and continue to receive many accolades and host huge international events. English may be the official language of the nation, but with so many other dialects and mother tongues around, it is a great chance to make new friends and learn even more new languages!
Top Universities in the UK
The birthplace of some of the most prestigious institutions in the world, UK universities' world-class reputation remains unrivalled, and many of their famous universities continue to receive high application rates globally. Degrees and certification awarded by UK institutions are often considered of the highest quality, and the opportunity for employment worldwide is almost a default after graduation.
The United Kingdom's education system is structured to encourage lifelong learning by building the nature of curiosity and research. An additional feature is their intensive nature, providing undergraduate and postgraduate courses at a shorter period, aiding students in saving time, tuition costs and general living expenses.
Below are the Top 10 Universities in the United Kingdom based on The World University Rankings for 2021:
Did you know? Cambridge and Oxford are practically synonymous with the best
higher education in existence, being hailed as the finest and oldest university institutions in the world.
Pathway to Studying in the UK
Recognised bodies offer a standard pathway for higher education, with a Bachelor's Degree spanning three years, and often awarded with honours. Bachelor's degrees without honours are known as 'ordinary' or 'pass' degrees.
In some cases, a Bachelor's degree can span four years, known as a 'sandwich' course for including one extra year of practical work experience or an overseas exchange.
Masters programmes can vary from one year continuing on from the degree programme into a specialised mode, to a span of four full years for a course as a postgraduate degree.
Doctorates, the final and highest academic degree in the UK, can be taken if your Bachelor's degree results satisfy the qualifications, or is more commonly taken after completing a Masters. They usually span from three to four years.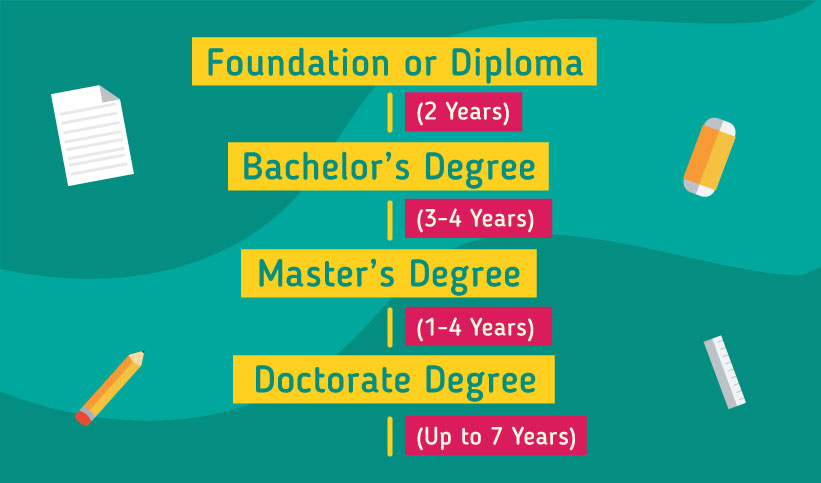 Top Courses in the UK
Check out the top courses and where to study below:
As the UK centres on research studies, many targets the UK for courses such as Law, Medicine, Business and Administration studies, Finance and Accounting, as well as Creative Arts and Design. The UK and Australian study modules are similar, with the option for choosing subjects beyond your major field of study available as a second degree or minor in the Joint Programme.
Entry Requirements for UK Universities
It goes without saying that proficiency in both academic and spoken English is a must. The UK's reputation as the original standard of education syllabi all over the world has set a high bar for admission into its higher education institutions. If you are strongly considering to apply to study in the UK, here are some things you must be aware of.
TOEFL and TOEIC test results can only be used as part of visa applications if the tests have been taken outside of the UK region.
Some universities will specify what subject passes are required before you commence their programmes through their International and/or Admissions Office channels.
The unique reference number from your Secure English Language Test (SELT) will also be required for the visa application form.
Some courses may require a higher score (e.g. Medicine, Law). While prior excellent grades can potentially save you time, UK universities often offer short English language courses to help strengthen your academic command.
To apply to study at any UK institution or university beginning with undergraduate programmes, future students must submit applications and documents to the Universities and Colleges Admissions Service (UCAS).
Did you know?

The UCAS was established to aid students to get through the process of applying to study in universities across the UK. Through them, students can get in touch with potential universities and vice versa.
Typical Acceptance Criteria (STPM/Foundation/Pre-U results)
SPM is equivalent to GCSE Ordinary (O-Level) and the Scottish Certificate of Education (SCE) Standard Grade.
STPM results are equivalent to UK's GCE Advanced (A-Level), a school leaving qualification; an International Baccalaureate (IB); and the Scottish Certificate of Education (SCE) Higher Grade.
*Usually, SPM results are only applicable when entering a UK institution at Foundation or A-Level certification. For undergraduate applications, STPM and SPM submissions must be accompanied by further evidence of English Language proficiency.
Previous education in the UK system may not be necessary, but contact the university you are applying to for clarification on the credentials you will need to provide.
Tip: A personal statement to the UCAS will help the process of your application to a UK institution. Make sure you detail why you want to study in the UK, all the English Language tests you've taken, and why you want to study internationally instead of in your own country.
Tuition Fees
So, how much does it cost to live as a student in the UK? Studying and living abroad in the most prestigious of world-renowned institutions can cost quite a pretty penny, so we're here to help break it down for you.
Each course will be differently priced by universities due to the varying, specialised facilities you will need for each field (like medicine students need access to hospital facilities, engineering students need workspaces, etc). Courses from more concentrated places - like London and Scotland, are usually on the more pricier level compared to lesser places such as Wales and Northern Ireland.
The following table is for international students (average tuition fees per year as of 2019).
| | | |
| --- | --- | --- |
| Study Level | GBP | MYR |
| Foundation/Pre-U | £6,000 - £9,250 | RM32,000 - RM49,400 |
| Diploma | £7,000 - £13,000 | RM37,400 - RM69,400 |
| Bachelor's Degree | £10,000 - £38,000 | RM53,400 - RM202,300 |
| Masters Degree | £11,000 - £32,000 | RM58,700 - RM170,900 |
| Doctorate Degree (PhD) | £13,000 - £30,000 | RM69,400 - RM160,200 |
*Tuition prices in MYR are subject to conversion from GBP
Travel Around UK
The United Kingdom's top universities are located all throughout the sovereign states, each region has quite a few notable institutions. Living in the many regions of UK will vary in living costs, but will generally be quite a big investment to make as many of the top institutes are located in the capital cities.
England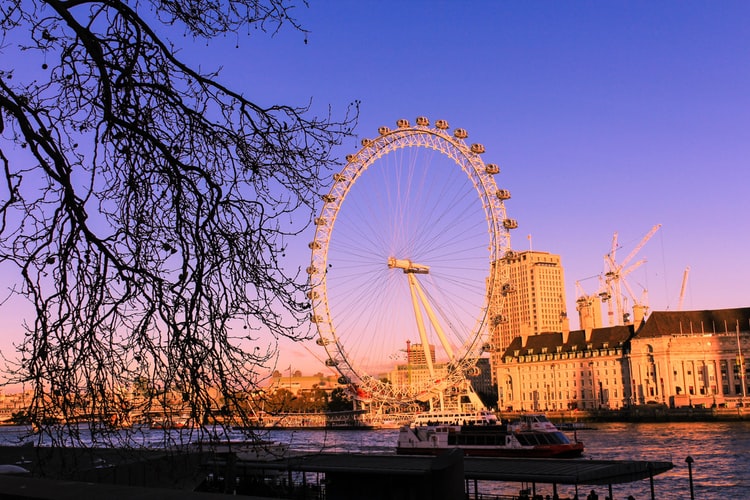 The main sovereign state, England has the most number of officially based universities, with top-notch student cities such as England's capital London, football haven Manchester, medieval beauty Coventry, historical Nottingham, and the ever-youthful Birmingham - home to the largest student population outside of London.
Living costs in London could range from £1,250 - £2,000 (RM6600 - RM10670) per month for expenses covering accommodation, travel and groceries alone. London however, is known to be a cost-effective student city, meaning you could help ease the financial burden with part-time jobs. You are, however, not encouraged to use this method as complete support for your finances.
Scotland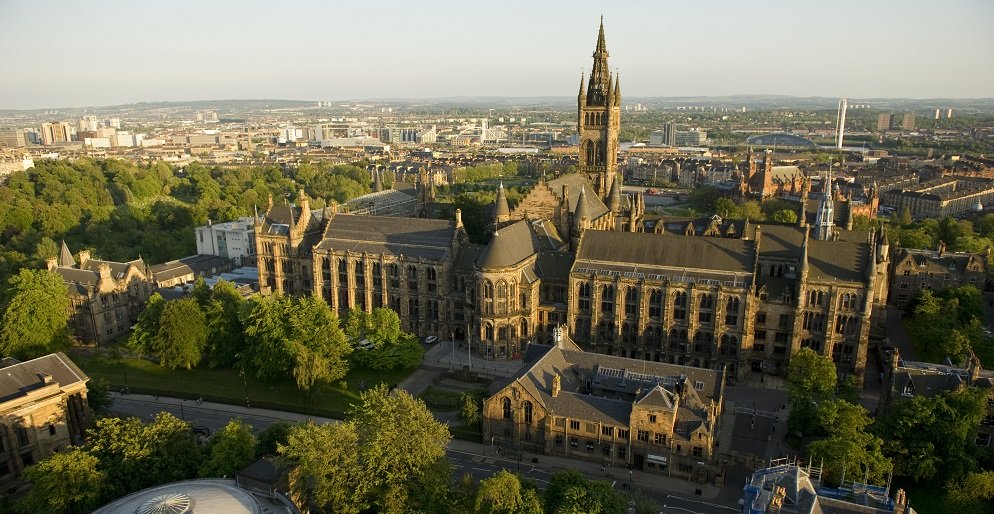 Image source: Glasgow Guardian
The UK's most historically interesting country, Scotland boasts the capital city of Edinburgh, home to the University of Edinburgh, and most recently ranked as UK's best student city after London. Glasgow, its second-largest city, also holds its own among UK's best as top universities like the University of Glasgow, which is among the four ancient universities of Scotland. Those universities also make up the oldest universities in the world, having been established before the 16th century and being the only higher education institutes of Scotland until the 20th century.
Close to England in popularity and quality for international students, living in Edinburgh would cost around £12,100 (RM64,000) per year; or £950 (RM5000) monthly for housing, groceries, transport and all other ongoing necessities.
Did you know? Modern science's most exciting event, a.k.a the successful cloning of the sheep Dolly happened at the University of Edinburgh!
Wales
Image source: Rit Vacations
Offering the same big-city luxuries like London and Edinburgh, Wales' capital city Cardiff equals the hype students look for in an international city as old as the UK. Housing more than 44,000 students that attend the four universities based in the city, this destination is one to look forward to if you are looking for urban living without nearly as much congestion and high cost of living as in mega-cities like London.
Cardiff's general cost of living for international students can total up to £900 (RM4700) per month for off-campus expenditures, or £8,800 (RM46500) yearly.
Tip: Live out the best of European history by visiting the castles found in Wales, where there are more castles per square mile than anywhere else in Europe!
Northern Ireland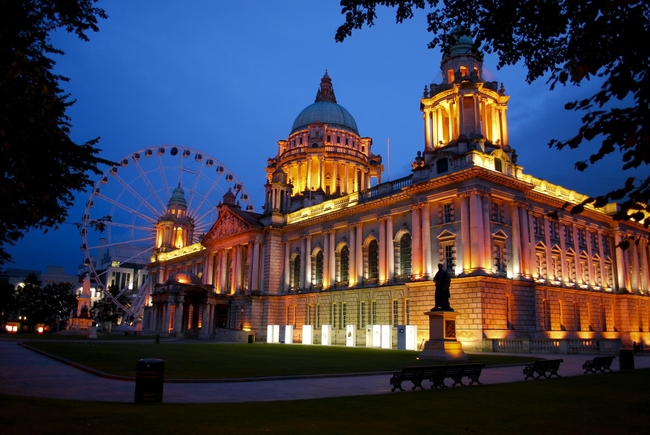 Image source: Nest Estate Agents
Surviving a period of unrest, Northern Ireland stands strong as one of the UK's most vibrant places for literature, being the birthplace of renowned classic writers Oscar Wilde and Samuel Beckett. Game of Thrones fans will recognise many of its rich historical landscapes as backgrounds of the fantasy show, and studying at the Queen's University in the capital city of Belfast will give you the opportunity to tour most of these otherworldly beautiful settings from the grassy fields to the towering seaside cliffs.
Living in Northern Ireland as a student would cost around £850 (RM4490) monthly, or could go up to £7,700 (RM40700) a year.
Did you know? Despite Northern Ireland's hard history, many iconic things originated there such as Guinness beer, Halloween, and the infamous Titanic.
Pathway to Study in the UK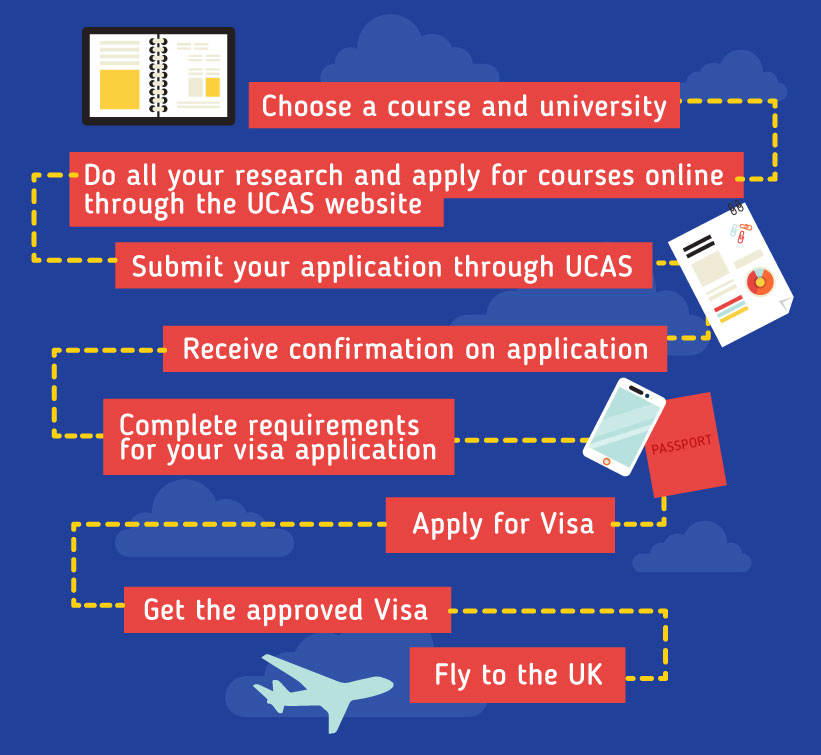 How to get a UK student Visa?
As a future undergraduate student of a university in the UK, you must apply for a Tier 4 (General) student visa three months before your course commences. A fee of £348 (RM1863) will be charged per application from outside the UK, and may be subject to more additional charges for a health insurance fee.
You must possess:
An offer letter to the UK institution you have been accepted to that is a licensed Tier 4 sponsor
Proof of substantial finance for tuition fees and living for the duration of your stay
A confirmation of acceptance for studies reference number (CAS) from your education provider.

Application for your visa must be done in no longer than 6 months upon receiving your CAS
As a Malaysian student applicant, you will need to undergo and provide test results of tuberculosis examination to stay in the UK for more than 6 months at approved test clinics. If you are interested in any one of these, be sure to check out the Visa and Immigration page for more information.
After-graduation opportunities in the UK
As a foreign student studying in the UK, post-graduation options to stay in the UK are unfortunately slim.
You can, however, try to apply for a Tier 1, Tier 2 or Tier 5 visa.
Tier 1 visa (Special)

This visa has probably the most requirements to fulfil, as a Tier 1 visa would require you to be recognised as a contributor to the UK, either through talent or investment power.
Limitations of this visa include being only government-funded, any private sponsorship will disqualify you.

Tier 2 visa (General)

While this visa is the most straightforward route from a Tier 4 visa, as the 20-hour work allocation per week during term and full-time working hours off term can build rapport between employer and student/employee; this visa is often the one you need to prepare the most for while still under Tier 4.
International students often have more advantage in obtaining this visa over those newly migrated from outside the UK, but face problems in that the employer has neglected to obtain a sponsor licence due to the hassle.
With Brexit stating to limit migration, this visa is under threat of being easy to apply for but harder to obtain.

Tier 5 visa (Temporary Working)

This visa requires you to return to your home country first then apply for this visa with a recognised UK sponsor in the form of a higher education institution, an organisation with an approved exchange scheme, or a government department/agency.
Unfortunately under this visa, you are prohibited from gaining permanent employment or receive UK welfare (public funding).
You can, however, try your luck and apply for the other visas during your 1-2 years stay.
Things to note!
Brexit is foreseen to not affect international students coming from beyond the European region where academic conduct is concerned. General immigration laws, however, are highly subject to reduce the capacity for visa permittance and tighten pre-existing visa regulations.
Make sure you know what your rights and limitations are as a student visa holder, and keep in the loop of the ongoing debates of international students having a significant contribution to the UK's overall economy to plan out your future should you decide to reside there.
Frequently Asked Questions
Are international students allowed to work in the UK?
Yes, International students are allowed to work in the UK while studying. However, the college/university you attended needs to be on the official UKVI Sponsor list and the list of 'recognised bodies'.
Must you stay on campus?
The short answer is no. However, first-year students usually stay on campus and rent out after their first year. It is rather easy to find private accommodation in the UK for students.
Curious as to what academically awaits you in the UK? Do not hesitate to ask us!
Want to know more about studying in the UK? Check these out: