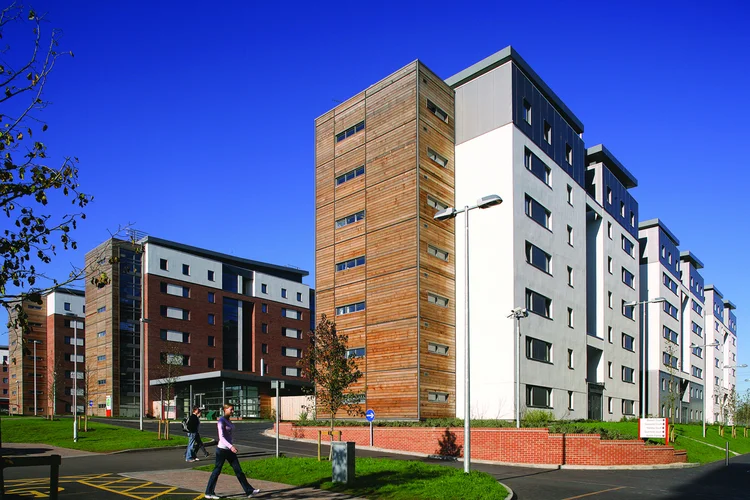 University of the West of England (UWE Bristol)
Bristol, United Kingdom
Statistics

| | | |
| --- | --- | --- |
| | 140 | Undergraduate programs |
| | 81 | Postgraduate programs |
Overview
Statistics

| | |
| --- | --- |
| Institution type | Public |
| Year established | Data not available |
| Campus setting | Urban |
| Student population | Large (More than 10,000) |
| foreign students | 14% |
| Nationalities | Data not available |
About University of the West of England (UWE Bristol)
The University of the West of England (UWE Bristol) is a thriving, modern university offering a wide range of highly respected courses and employment-enhancing opportunities in Bristol, one of the UK's most vibrant and desirable cities. Attracting students from 140 different countries and with over 27,000 students and 3,000 staff, UWE Bristol is a diverse and exciting place to study in the UK.
Admissions
Intakes
Admissions Statistics

| | |
| --- | --- |
| IELTS | Data not available |
| TOEFL | Data not available |
For admission requirements and intakes for each individual course/programme please refer to course details.
Tuition and application fees
Estimated tuition fees as reported by the institution.
Tuition and Application Statistics

| | |
| --- | --- |
| Application fee (local students) | Data not available |
| Application fee (foreign students) | Data not available |
| Student visa fee (foreign students) | Data not available |
Living cost
Data not available
Average living cost in United Kingdom
The amount is indicated taking into account the average cost of food, accommodation, etc in United Kingdom for 2023
Costs Statistics

| | |
| --- | --- |
| Food | Data not available |
| Accommodation | Data not available |
| Others | Data not available |
Accommodation
As a new student at UWE Bristol, you'll be guaranteed a room in our accommodation, provided that you apply in time, meet the accommodation deadline and that it's your first time registering with us.
By September 2017, we will be able to accommodate over 3,000 students on Frenchay Campus in our Student Village, Wallscourt Park and Carroll Court apartments and houses.
We offer accommodation to suit everyone; from double rooms for married couples or friends to share, to single en-suite rooms.
The Hollies is ideal for those studying Allied Health courses on Glenside Campus.
In the city centre, our accommodation partners offer many purpose-built properties where students can live closer to our City Campus sites.
And if you want to live in private accommodation, we will give you advice on how and where to rent aplace to suit your needs.
Campus
UWE Bristol boasts three campuses across the city, each offering excellent facilities including cafes, learning zones, libraries and shops.
Frenchay Campus
Our largest campus boasts the newly built Faculty of Business and Law and Students' Union buildings as well as the Centre for Sport. It has accommodation for around 3,150 students and is based on the outskirts of Bristol, with regular bus services to the city centre.
City Campus
Here you can study the creative and cultural subjects:
Bower Ashton Studios have outstanding specialist art, design and media facilities, plus our Students' Union, cafés, bars and shops.
Our Graphic Design, Drawing and Print, and Drama courses are housed above the Arnolfini gallery on Bristol's harbourside.
Spike Island - a central gallery andworking space for artists, designers and creative businesses – has studios for our Fine Art courses.
Watershed is home to the Pervasive Media Studio, a collaborative research space
Glenside Campus
Home to Allied Health courses, Glenside is an impressive former hospital complex with excellent teaching and simulation facilities and one of the best healthcare libraries in England.
Bristol is a medium-sized UK city, and it is easy to travel around by foot or public transport.
Frenchay and Glenside Campuses are located just outside of the city centre, with regular bus services from all over the city.
With on-campus accommodation at both campuses, there is a thriving student atmosphere. There are cafes and shops on campus, and the city centre is just a single bus ride away.
City Campus is located in the heart of the city centre. It is surrounded by shops, cafes, restaurants, museums, galleries, markets and often festivals. There is plenty of student accommodation throughout the city centre.
Student population
Large (More than 10,000)
Total population
Student Statistics

| | |
| --- | --- |
| Undergraduate students | Data not available |
| Postgraduate students | Data not available |
| foreign students | Data not available |