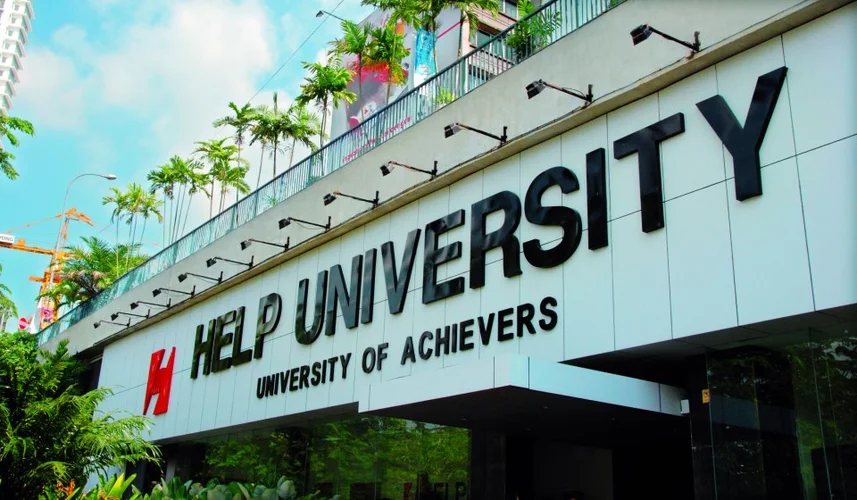 Ready to apply? Start here.
Form here
Statistics

| | | |
| --- | --- | --- |
| | 10 | Undergraduate programs |
| | 0 | Postgraduate programs |
Overview
Statistics

| | |
| --- | --- |
| Institution type | Private |
| Year established | Data not available |
| Campus setting | Urban |
| Student population | Medium (1,001 to 10,000) |
| foreign students | 20% |
| Nationalities | Data not available |
About HELP University
HELP University was founded in 1986 in Malaysia with a well-established international reputation among universities in Malaysia. HELP stands for Higher Education Learning Philosophy. HELP University offers a various range of programs from business, law, management, economics, IT, social sciences and the humanities in both undergraduate and graduate levels.
HELP upholds precise standards and sets yardstick in many areas which leads HELP achieved many successes and won respects, making it a preferred partner in many vital areas of endeavour and cooperation.
Admissions
Intakes
Admissions Statistics

| | |
| --- | --- |
| IELTS | Data not available |
| TOEFL | Data not available |
For admission requirements and intakes for each individual course/programme please refer to course details.
Tuition and application fees
Estimated tuition fees as reported by the institution.
Tuition and Application Statistics

| | |
| --- | --- |
| Application fee (local students) | Data not available |
| Application fee (foreign students) | Data not available |
| Student visa fee (foreign students) | Data not available |
Living cost
Data not available
Average living cost in Malaysia
The amount is indicated taking into account the average cost of food, accommodation, etc in Malaysia for 2023
Costs Statistics

| | |
| --- | --- |
| Food | Data not available |
| Accommodation | Data not available |
| Others | Data not available |
Accommodation
HELP Residence
The HELP Residence is twenty-one storey building with 432 rooms that can accommodate 828 residents. The fees are varies according to your selection, prices are from RM550 to RM830 per month for one person. The HELP Residence is divided into male and female sections. The male sections are level 2 to 10 and the female sections are level 11 to 19. There are 24 rooms on each floor. Each floor have hot and cold water dispenser. Each room is fully furnished with single bed, mattress, study table, chair and wardrobe. It also have individual air-condition, shower with water heater and Wi-Fi connection.
Student lounge and activity area is located on Level 1. There are also cafeteria and wet laundry service in the residence. Cleaning service is also provided in the common area. For students who are driving their own car, you may rent a private car park with seperate fee from your monthly rent. HELP Residence is equipped with 24-hours security and CCTV.
HELP Residence is withing walking distance to HELP University College Main campus, students can reach HELP University College main campus in just 4 minutes by walking.
HELP University also works with various hostel platform that can help their students to search the best accommodation during their study in HELP University.
Campus
HELP University's campus consists of the main campus Pusat Bandar Damansara (PBD), Wisma HELP and Kompleks Perdagangan Damansara (KPD). There are various facilities provided in the campuses such as computer and IT facilities, learning resource centre, science laboratories, sports facilities and student recreation areas.
HELP University is located at strategic location of affluent areas in Damansara Heights. It is only a 10 to 15 minutes drive to the city center Kuala Lumpur and it is easy to access for residents from Petaling Jaya, Shah Alam and Klang. Many facilities such as shops, restaurants and cafes in KL, Petaling Jaya and various places are easily accessible to HELP students. Recreational facilities in the Damansara campus such as a futsal, basketball volleyball court provide students with a relaxing environment which balances their campus life.
There is also a new HELP campus in Subang that begins its operation on April 2016.
Student population
Medium (1,001 to 10,000)
Total population
Student Statistics

| | |
| --- | --- |
| Undergraduate students | Data not available |
| Postgraduate students | Data not available |
| foreign students | Data not available |