Have you always had an entrepreneurship instinct? Starting up your own business, doing what you love, earning money, and broaden your network? Business and Management will prepare you for this particular things. If you do not want to start up your own business, but prefer working for a leader or boss, then Business and Management is still a good fit for you.
Most Business and Managements graduates choose a field in Business, HR, and Finance while the minority goes for retail, catering, and bar work. 20% of the graduates have Marketing, PR, and Sales related jobs.
What is Business and Management?
Business and Management is a degree that mainly focusses on topics that are related to business, finance, economics, and marketing. The total duration of a Business and Management degree is usually three or four years, and most universities offer one extra year for students that want to study or do their internship abroad.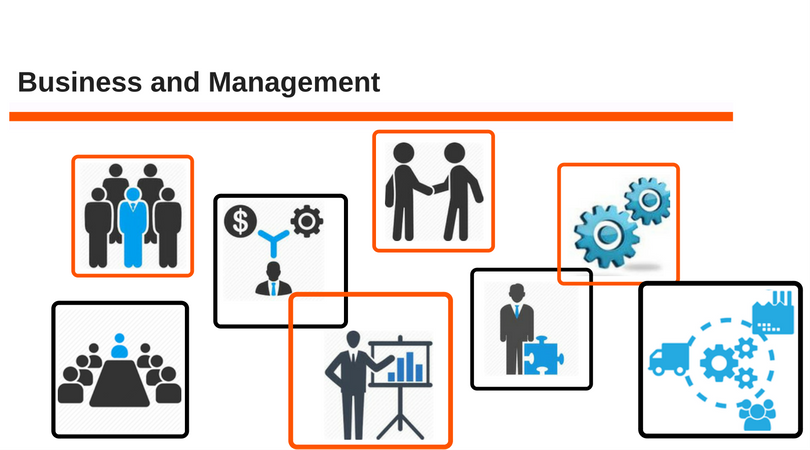 Why Should You study Business and Management?
There are a few reasons why you should study Business and Management. First of all, you will get a taste of entrepreneurship. This degree includes a lot of projects you have to accomplish with other classmates. Those projects will give you some insight in the business and management world and how everything works. These particular types of projects will give you an idea on whether you want to become an entrepreneur or not.
Secondly, the skills you will develop with this course, are applicable in any career you are going to follow, whether it is business related or not. Because it happens that students decide not to continue a career in business and management, but with the skills you developed, you can be employed anywhere.
In addition to this, you will become an expert in solving problems. Every business will face problems if not sooner, then later. This degree will teach you all the strategies and techniques you need to know in order to solve a problem.
What Skills do you Need?
A. Leadership Ability
A Leader needs to be able to think strategically and work towards the company's vision and try to achieve the goals he sets for himself and the company. Along the way, they need to guide and help their employees.
B. Decisiveness
With a decisive ability, you understand that making no decisions can have consequences. You will also be able to take decisions even though the information you have could be incomplete.
C. Honesty and Integrity
This is all about moral principles. If you run a business you need to be as transparent and open as can be. You need to speak up if something is not okay in order to get the right things done for the company.
D. Adaptability and Flexibility
With this skill you will be able to cope with changing situations and environments and keep calm in situations that are difficult. You are also easily responsive to changing circumstances.
E. Communication Skills
Communication is important no matter where you work. It is important to be a good and active listener, be good at nonverbal communication, be clear and concise, friendly, confident, open- minded, and respectful.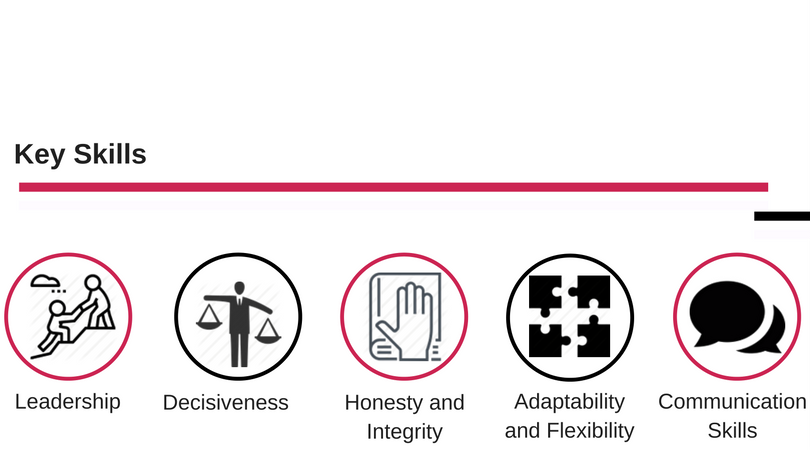 What are the Job Opportunities?
1. Insurance Agent
Insurance Agents are responsible for selling insurance policies. They help clients customise those policies in such a way that it meets their needs. There are different kind of policies – auto insurance, health insurance, life insurance, or property insurance.

2. Broker
Brokers help other people to sell their property or buy one. As a broker you are obligated to know the market value of every property that is being considered. They identify and meet buyers, visit properties, conduct market research, and helps a client who wants to sell their house, set a price.

3. Finance Executive
Financial executives are responsible for the identification of areas related to cost reductions and operational improvements. The department of a Financial Executive keeps track of the expenses made by the company to make sure they do not get over the budget.

4. Marketing manager
A Marketing Manager oversees several marketing campaigns, develops marketing research studies, and analyses their findings. They supervise and create advertising and merchandising sales campaigns that the company uses to arise brand awareness.

5. Sales Manager
Sales Managers are responsible for the sales activities and sales associates. They plan and implement national sales programs for a product line, execute sales strategies and promotional programs, and keep up with demands, changing trends, economic indicators, and competitors.
What is the Expected Salary?
Below you will find a few of the jobs related to this degree and their expected salaries:
Insurance Agent

Per year

Broker

Per year

Finance Executive

Per year

Marketing Manager

Per year

Entry level


US$ 31,000


US$ 49,000


US$ 72,000


US$ 52,000

Mid-career


US$ 38,000


US$ 62,000


US$ 93,000


US$ 66,000

Executive


US$ 40,000


US$ 63,000


US$ 98,000


US$ 75,000

Senior


US$ 43,000


US$ 77,000


US$ 82,000


US$ 79,000
Source: (payscale, 2016)
Top 10 Business and Management Schools
These are the Top 10 Business and Management schools in the world according to the QS World University Rankings: