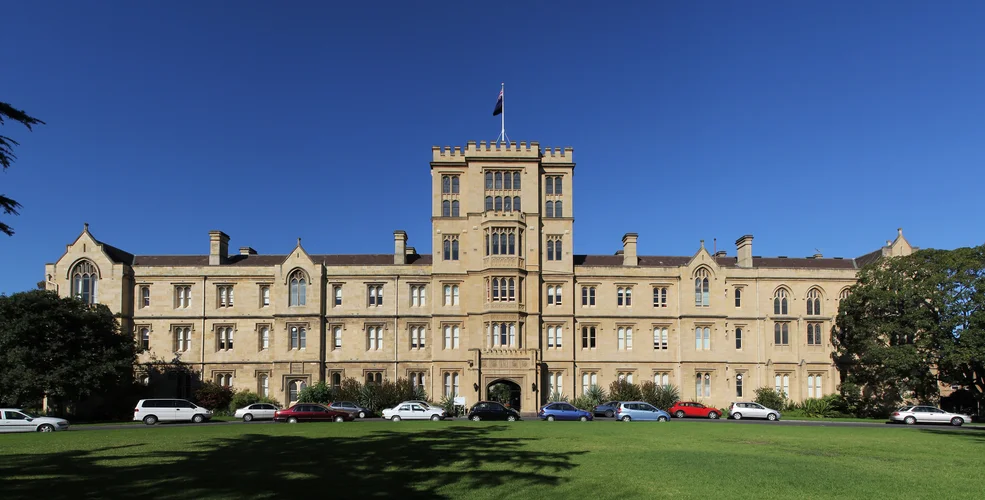 University of Melbourne
Melbourne, Victoria, Australia
Statistics

| | | |
| --- | --- | --- |
| | # 33 | THE World University Rankings 2015-2016 |
| | 5 | Undergraduate programs |
| | 5 | Postgraduate programs |
Overview
Statistics

| | |
| --- | --- |
| Institution type | Public |
| Year established | Data not available |
| Campus setting | Urban |
| Student population | Large (More than 10,000) |
| foreign students | 27% |
| Nationalities | Data not available |
About University of Melbourne
The University of Melbourne is an Australian public university located in Melbourne, Victoria. It is Australia's second oldest university and the oldest in Victoria. The University aims to be one of the finest universities in the world. Growing Esteem is the University's strategy for achieving high regard and for making a distinctive contribution to society. 
The character of the University and the importance of its core activities can be described through the metaphor of Triple Helix — Research, Learning and teaching, and Engagement programs. These three strands of the helix are supported and enabled by good leadership and by the people who stand behind them, infrastructure, polices, planning, administration and resources. 
The University is home to some of Australia's leading outreach education bodies which actively promote links between countries and enhance cross-cultural understanding through seminars, exhibitions, short-courses, international internships and leadership programs. The world's best minds are brought together to solve globally significant problems. 
Admissions
Intakes
Admissions Statistics

| | |
| --- | --- |
| IELTS | Data not available |
| TOEFL | Data not available |
For admission requirements and intakes for each individual course/programme please refer to course details.
Tuition and application fees
Estimated tuition fees as reported by the institution.
Tuition and Application Statistics

| | |
| --- | --- |
| Application fee (local students) | Data not available |
| Application fee (foreign students) | Data not available |
| Student visa fee (foreign students) | Data not available |
Living cost
Data not available
Average living cost in Australia
The amount is indicated taking into account the average cost of food, accommodation, etc in Australia for 2023
Costs Statistics

| | |
| --- | --- |
| Food | Data not available |
| Accommodation | Data not available |
| Others | Data not available |
Accommodation
Student apartments: Student apartments are properties specifically designed for University students. These properties are fully furnished and provide community building activities that allow students to get to know each other and connect with the University.
Homestay: There are homestay options which provide a furnished room and vary in cost depending on a set arrangement. Meals are provided in full-board homestays.
Private rentals: Many students choose to rent an apartment or property through the private rental market. Students can rent alone or organise to share the property with other tenants.
Share housing: Share houses often offer a cheaper alternative to other accommodations options as well as giving more independence. However private renting also means more responsibility so students have to make sure to research available options and prepare in advance.
Residential Colleges: There are eleven Residential Colleges at the University of Melbourne. They provide an enriching and supportive environment for approximately 2500 undergraduate and graduate students. The colleges offer first-class academic support, cultural activities and sporting programs. Each college has a vibrant and diverse social atmosphere.
Campus
There are seven campus locations across Melbourne and rural Victoria, including the Parkville campus. Only a short walk from Melbourne's city centre, visitors are welcome and invited to explore the unique cultural, architectural and landscape features and facilities.
Services available to the public:
Conference management service
Venue hire
Campus filming guidelines
External examination arrangements
Musician's Agency
Facilities for hire:
The Woodward Conference Centre
University House
Hawthorn Campus Conference Facilities
Sports facilities
Student Union Function and Conference Service
Graduate Centre
Theatres and seminar rooms
Services on campus:
Bank 
Automated teller machines (ATMs)    

   

Academic dress and regalia shop  
Melbourne University Bookshop
Newsagent
Post office, mailboxes
Computer supplies
Cafes, takeaway food, coffee kiosks 
Hairdresser 
Pharmacy
Cinema and theatre 
Travel agency 
The Parkville Campus of the University is in a city central location and has many public transport hubs within a 5 minute walk from campus.
By Tram: 
Swanston Street: 1, 3, 3a, 5, 6, 8, 16, 64, 67 72
Elizabeth Street: 19, 59
By Train:
Melbourne Central Station is located within walking distance to the Parkville campus, and is also serviced by the tram routes listed above.
North Melbourne Station is accessible via the 401 bus.
Student population
Large (More than 10,000)
Total population
Student Statistics

| | |
| --- | --- |
| Undergraduate students | Data not available |
| Postgraduate students | Data not available |
| foreign students | Data not available |