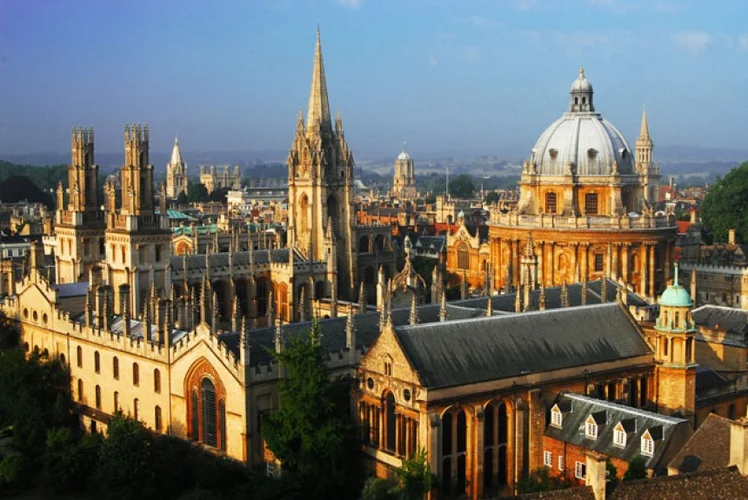 University of Oxford
Oxford, England, United Kingdom
Statistics

| | | |
| --- | --- | --- |
| | # 6 | QS World University Rankings 2018 |
| | 5 | Undergraduate programs |
| | 5 | Postgraduate programs |
Overview
Statistics

| | |
| --- | --- |
| Institution type | Private |
| Year established | Data not available |
| Campus setting | Data not available |
| Student population | Large (More than 10,000) |
| foreign students | 25% |
| Nationalities | Data not available |
About University of Oxford
Oxford is a collegiate university, consisting of the central University and colleges. The central University is composed of academic departments and research centres, administrative departments, libraries and museums. The 38 colleges are self-governing and financially independent institutions, which are related to the central University in a federal system. There are also six permanent private halls, which were founded by different Christian denominations and which still retain their Christian character.
The different roles of the colleges and the University have evolved over time.
The colleges
Select and admit undergraduate students, and select graduate students after they are admitted by the University.
Provide accommodation, meals, common rooms, libraries, sports and social facilities, and pastoral care for their students.
Are responsible for tutorial teaching for undergraduates.
The University
Determines the content of the courses within which college teaching takes place.
Organises lectures, seminars and lab work.
Provides a wide range of resources for teaching and learning in the form of libraries, laboratories, museums, computing facilities, and so on.
Provides administrative services and centrally managed student services such as counselling and careers.
Admits and supervises graduate students, and examines theses.
Sets and marks examinations, and awards degrees.
The collegiate system is at the heart of the University's success, giving students and academics the benefits of belonging both to a large, internationally renowned institution and to a small, interdisciplinary academic community. It brings together leading academics and students across subjects and year groups and from different cultures and countries, helping to foster the intense interdisciplinary approach that inspires much of the outstanding research achievement of the University and makes Oxford a leader in so many fields.
Admissions
Intakes
Admissions Statistics

| | |
| --- | --- |
| IELTS | Data not available |
| TOEFL | Data not available |
For admission requirements and intakes for each individual course/programme please refer to course details.
Tuition and application fees
Estimated tuition fees as reported by the institution.
Tuition and Application Statistics

| | |
| --- | --- |
| Application fee (local students) | Data not available |
| Application fee (foreign students) | Data not available |
| Student visa fee (foreign students) | Data not available |
Living cost
Data not available
Average living cost in United Kingdom
The amount is indicated taking into account the average cost of food, accommodation, etc in United Kingdom for 2023
Costs Statistics

| | |
| --- | --- |
| Food | Data not available |
| Accommodation | Data not available |
| Others | Data not available |
Campus
Oxford has 102 libraries, of which 30 belong to the Bodleian Library group, Oxford's central research library. With over 11 million volumes housed on 120 miles (190 km) of shelving, the Bodleian group is the second-largest library in the UK, after the British Library. It is a legal deposit library, which means that it is entitled to request a free copy of every book published in the UK. As such, its collection is growing at a rate of over three miles (five kilometres) of shelving every year. Its main central site consists of the unique Bodleian Library in the Old Schools Quadrangle, founded by Sir Thomas Bodley in 1598 and opened in 1602, the Radcliffe Camera, the Clarendon Building, and the New Bodleian Building. A tunnel underneath Broad Street connects these buildings. Other libraries within the Bodleian's remit include the Bodleian Law Library, Indian Institute Library, Radcliffe Science Library, theOriental Institute Library and the Vere Harmsworth US History Library.
Oxford maintains a number of museums and galleries in addition to its libraries. The Ashmolean Museum, founded in 1683, is the oldest museum in the UK, and the oldest university museum in the world. It holds significant collections of art and archaeology, including works by Michelangelo, Leonardo da Vinci, Turner, and Picasso, including treasures such as the Scorpion Macehead, the Parian Marble and the Alfred Jewel. It also contains "The Messiah", a pristine Stradivarius violin, regarded by some as one of the finest examples in existence.
Oxford is about 60 miles (90 kms) northwest of London and has excellent road and national rail links. Regular coach services connect Oxford with the capital and also with Heathrow, Gatwick and Luton airports.
Student population
Large (More than 10,000)
Total population
Student Statistics

| | |
| --- | --- |
| Undergraduate students | Data not available |
| Postgraduate students | Data not available |
| foreign students | Data not available |