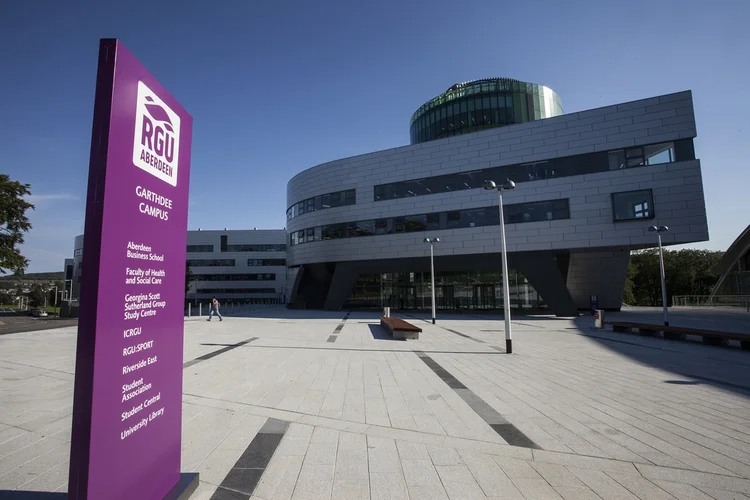 Robert Gordon University
Aberdeen, Scotland, United Kingdom
Statistics

| | | |
| --- | --- | --- |
| | 1 | Undergraduate programs |
| | 9 | Postgraduate programs |
Overview
Statistics

| | |
| --- | --- |
| Institution type | Public |
| Year established | Data not available |
| Campus setting | Suburban |
| Student population | Large (More than 10,000) |
| foreign students | Data not available |
| Nationalities | Data not available |
About Robert Gordon University
Robert Gordon University is a dynamic, modern place to study with an international reputation for providing high quality education from undergraduate through to PhD level. Its diverse and exciting range of degree programmes are taught in state-of-the-art facilities by specialists who maintain close links with the world of work. Well-established relationships with professional bodies, industrial organisations, government departments and research institutes ensure that all taught content is relevant and meets industry standards.
Robert Gordon University comprises three faculties, in which 9 academic schools are located (all with the shared vision of making each graduating student as employable as possible by the time they complete their degree at RGU):
Aberdeen Business School
Grays School of Art
Scott Sutherland School of Architecture and Built Environment
School of Applied Social Studies
School of Computing Science and Digital Media
School of Engineering
School of Health Sciences
School of Pharmacy and Life Sciences
School of Nursing and Midwifery
Robert Gordon is the number one university in the UK for Graduate Employment (Higher Education Statistical Agency, 2013) with over 97% of RGU graduates going onto career level employment within 6 months of graduation. That is the highest figure of any UK university, including Oxford and Cambridge. 73% of its courses carry accreditation from the relevant professional bodies, such as CIMA, AMBA, Chartered Institute of Marketing (CIM) Energy Institute (EI), Royal Institute of British Architects (RIBA) Institution of Mechanical Engineers (IMechE) and many more. Also over 70% of its courses include a periods of practical placement or internships. These range for short term placements, 2-4 weeks to yearlong salaried internships. RGU is also the Best Modern University in the UK 2012, according to The Times and The Guardian newspapers and the Top Modern University for Research in Scotland.
Admissions
Intakes
Admissions Statistics

| | |
| --- | --- |
| IELTS | Data not available |
| TOEFL | Data not available |
For admission requirements and intakes for each individual course/programme please refer to course details.
Tuition and application fees
Estimated tuition fees as reported by the institution.
Tuition and Application Statistics

| | |
| --- | --- |
| Application fee (local students) | Data not available |
| Application fee (foreign students) | Data not available |
| Student visa fee (foreign students) | Data not available |
Living cost
Data not available
Average living cost in United Kingdom
The amount is indicated taking into account the average cost of food, accommodation, etc in United Kingdom for 2023
Costs Statistics

| | |
| --- | --- |
| Food | Data not available |
| Accommodation | Data not available |
| Others | Data not available |
Accommodation
The University provides a range of accommodation to suit different needs and budgets. Spread across the city of Aberdeen, the university is committed to providing safe, secure and affordable accommodation for the students. All accommodation is in the style of private bedrooms in shared, self-catering  apartments, or flats as they are called in Scotland.
There is more to University life than studying, so those flats cater for more than students' academic needs. Each study bedroom is equipped to provide a private place to relax or revise with the option of an ensuite bathroom if desired; and each flat contains a communal living area and kitchen where flatmates and friends can socialise.
Campus
Robert Gordon University is located in Aberdeen, in the North East of Scotland. Aberdeen is known as the Energy Capital of Europe and is one of the most economically robust cities in Europe. Aberdeen is regularly cited as being an economic powerhouse in the UK economy but at the same time it wins awards for proving the best quality of life, and being the safest city, in the UK.
RGU is located on the impressive Garthdee campus on the edge of Aberdeen city. Over £170 million has been invested in campus facilities in recent times as RGU believes that students need to graduate with experience of industry standard resources such as labs, software, equipment, facilities and techniques, if they are to get their career in their chosen field underway as quickly as possible.
In September 2013, as part of an impressive campus development strategy, the new School of Engineering; Computing Science and Digital Media; and Pharmacy and Life Sciences opened, giving RGU students access to some of the most advanced education facilities available at any university in the UK. A brand new state of the art library was also included as part of this campus development, which benefits the entire Robert Gordon student population.
Robert Gordon University is located on the beautiful riverside campus of Garthdee, situated on the outskirts of Aberdeen city. Covering over five miles of green space, Garthdee has been named as one of the nicest learning environments in Europe.
Although the Garthdee campus has a feeling of serenity and tranquility, it is only a short bus journey (15 minutes) into Aberdeen city, with the campus being included as part of a bus route meaning there are several buses every hour to shuttle students between the campus and the city.
Student population
Large (More than 10,000)
Total population
Student Statistics

| | |
| --- | --- |
| Undergraduate students | Data not available |
| Postgraduate students | Data not available |
| foreign students | Data not available |