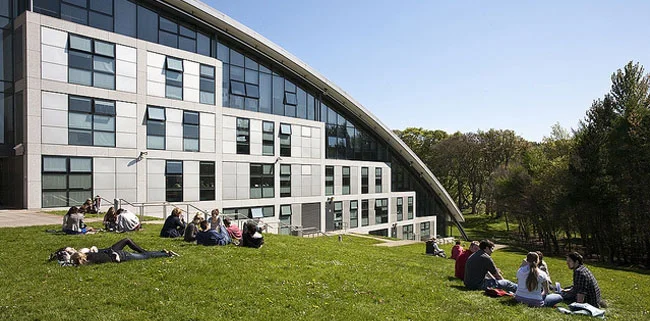 International College Wales Swansea
Wales, United Kingdom
Statistics

| | | |
| --- | --- | --- |
| | 5 | Undergraduate programs |
| | 5 | Postgraduate programs |
Overview
Statistics

| | |
| --- | --- |
| Institution type | Public |
| Year established | Data not available |
| Campus setting | Urban |
| Student population | Medium (1,001 to 10,000) |
| foreign students | Data not available |
| Nationalities | Data not available |
About International College Wales Swansea
ICWS offers Undergraduate and Postgraduate Pathways leading to a degree award from Swansea University. Pathways can incorporate both Academic and English Language Studies and can be tailored to the specific needs of each applicant.
Admissions
Intakes
Admissions Statistics

| | |
| --- | --- |
| IELTS | Data not available |
| TOEFL | Data not available |
For admission requirements and intakes for each individual course/programme please refer to course details.
Tuition and application fees
Estimated tuition fees as reported by the institution.
Tuition and Application Statistics

| | |
| --- | --- |
| Application fee (local students) | Data not available |
| Application fee (foreign students) | Data not available |
| Student visa fee (foreign students) | Data not available |
Living cost
Data not available
Average living cost in United Kingdom
The amount is indicated taking into account the average cost of food, accommodation, etc in United Kingdom for 2023
Costs Statistics

| | |
| --- | --- |
| Food | Data not available |
| Accommodation | Data not available |
| Others | Data not available |
Accommodation
Student residences are located in the city centre with excellent transport links to ICWS.
Alternative accommodation varies depending on whether you want to live in shared student houses or individual student flats. Shared student houses are located in Swansea's bustling city centre or in the friendly Brynmill and Uplands area surrounding the University campus. Privately rented flats are mainly based around the beautiful Swansea Marina or the city centre.
The ICWS off campus Student Residences are only a short walking distance to Swansea's main shopping area, the train and bus stations and a wide range of services. In addition to this the ICWS Student Residences have local bus stops located adjacent to the buildings with bus links to the University and wider city area (12 minute journey to campus). In addition to these convenient transport links there are secure bike storage facilities available for all residents.
Campus
Fun Facts
£20 million sports village on campus
One the closest University campus' to the beach in the world
Three heritage protected buildings on campus for being Architecturally significant
Taliesin Arts Centre based on campus
£50 million Institute of Life Science building finished in 2007
£30 million ILS Stage 2 Development for Clinical research and product development
On campus Mosque and dedicated Imam
Multi-faith facility
Listen to Xtreme radio broadcasted from campus around Swansea
Over 800,000 books and periodicals at LIS (Library and Information Services)
New Science and Innovation campus costing £450 million by 2015
Bookshop, bank, medical centre, dental surgery, cinema, theatre, shops, post office, bars, restaurants, cafes... and more, all on campus!
ICWS is located on the stunning parkland seafront campus of Swansea University overlooking Swansea Bay and the Gower Peninsula.
The campus has a friendly, close-knit appeal that encourages a welcoming and supportive community. The University also enjoys a prime position overlooking Swansea bay, the start of the famously dramatic Gower coastline comprised of twenty-one bays and coves, and is located only 5 minutes from Swansea City centre, and only 15 minutes from the Liberty Stadium, home of Swansea City and Premiership football.
Student population
Medium (1,001 to 10,000)
Total population
Student Statistics

| | |
| --- | --- |
| Undergraduate students | Data not available |
| Postgraduate students | Data not available |
| foreign students | Data not available |