Master of Business Administration is now the most popular degree in the United States. The growth of the popularity of this degree is because people are convinced that they can earn back the money they invested in MBA. And they are right, because Fortune Magazine stated that 53% of the MBA graduates have actually made a return on their investment.
If you are thinking about pursuing a Masters in Business Administration, these are the things you definitely need to know.
What is MBA?
The Master of Business Administration is a degree that will further help you develop all the skills you need for a career in business and management. This degree also prepares you for an international career.
Currently, there are 2,500 MBA programmes offered worldwide, most of them are all in English. You will get main subjects such as accounting, marketing, economics, and operations, as well as elective courses of your choice.
Why Should you Study This Degree?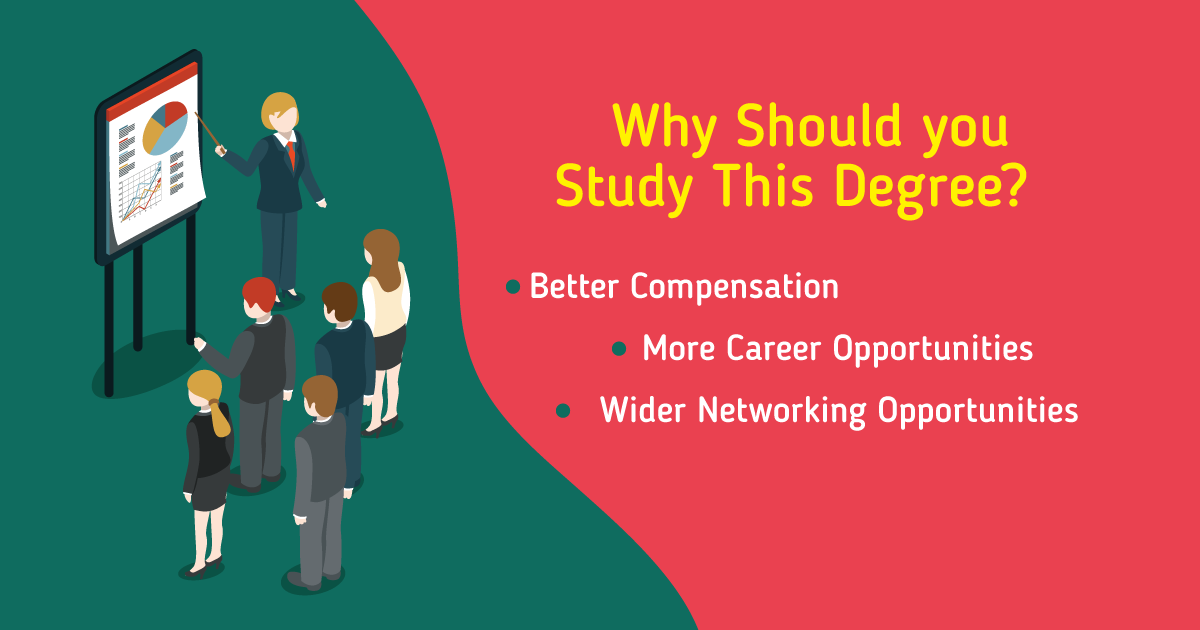 1. Better Compensation
,The compensation of a MBA student is higher than the salary of an employee with a regular master's degree. According to Masters Portal, it is likely to earn back the money you spent on your MBA degree within three years with jobs related to this course.

2. More Career Opportunities
With an MBA degree, you will be able to develop your career path. Most graduates have received higher responsibilities by becoming managers or directors of a company. But there is no need to beat yourself up, even MBA graduates who did not climb up the career path to the fullest potential, have good jobs and well paid salaries. According to the statistics of the MBA Careers of the University of Pennsylvania, 68, 4% of MBA graduates have regular MBA jobs and 31, 6% are managers and/or directors.

3. Wider Networking Opportunities
As an MBA student, you will get a substantial overview of the business world and learn how to think like a business leader. You will meet other businessmen and hear their experience in this industry. After a great deal of experience, you will open doors for fresh MBA graduates so that they will pursue their career as well.

What Skills do You Need?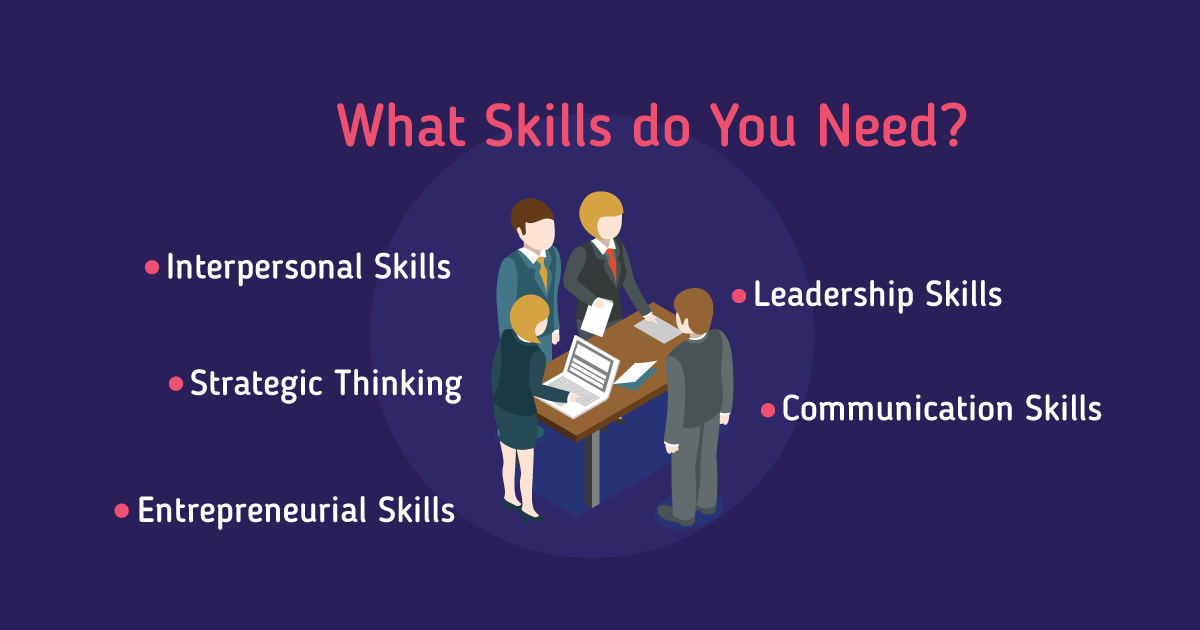 Interpersonal Skills
No matter what the workload is, never forget to give attention to all the staff members, clients, media, shareholders, and the rest of the stakeholders. It is important that the interaction between you and all these stakeholders is executed very well. Lacking this skill will affect the company, because these audiences will not be able to engage with you. An MBA degree offers several subjects that will teach you exactly how to behave in a business, and how to communicate. During the degree, you will also have the opportunity to do an internship, so that the theories can be practiced in a real life business.

Strategic Thinking
Even though strategic thinking might be the most important skill you need to have within a corporate organisation, not everyone thinks strategically. The organisation will go bankrupt if you do not foresee the future to prevent problems. Strategic thinking consists of the ability of six key elements: anticipate, challenge, interpret, decide, align, and learn.
Entrepreneurial Skills
What are good entrepreneurial skills? First of all, branding is something you should consider doing. Arise knowledge to keep your company growing. In addition to this, you need to have an eye for the more common skills such as communication, strategy, finance, and sales. But no worries, you will learn all about it during this degree.
Communication Skills
If you convey information clearly, that is already an indication of having a good communication skill. It is important that you and your internal and external audiences understand each other to prevent miscommunications.
Leadership Skills
This is not an easy skill, a good leader is someone who takes initiative and makes sure of the synergy.
What are the Job Opportunities?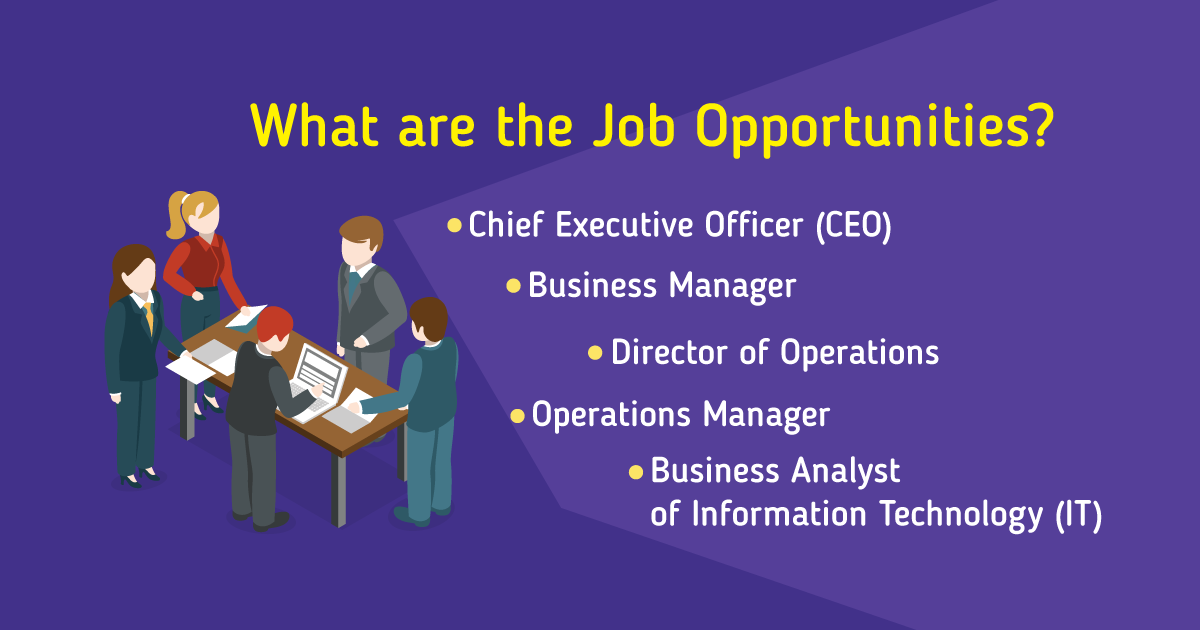 1. Chief Executive Officer (CEO)
CEOs are in charge of a corporate organisation. They handle responsibilities such as taking strategic decisions and initiatives, managing corporate operations, create relationships with stakeholders, and guiding their employees.

2. Business Manager
There are different types of business managers; business managers who work in multinational businesses who are only responsible for one department, and managers in small business who oversee all the departments' operations. They hire, train and evaluate new employees, provide financial operations, report to a CEO or director, and they are responsible for the operation of their department.

3. Director of Operations
The Director of Operations is someone whose responsibility includes the high value of the working environment. They make sure the employees deliver productive work. Other responsibilities include strategy development and managing operation processes. Director of operations work very closely with the CEO and the rest of the board, their communication skills must be exquisite.

4. Operations Manager
The responsibilities of operations managers may vary depending in which company they operate. In general, they analyse the company's current systems, write reports, guide the operations team, and develop the operational improvements.

5. Business Analyst of Information Technology (IT)
A Business Analyst (IT) deals a lot with software and hardware projects. They will identify and communicate IT risks and requirements. Something that a business analyst IT must possess are mathematical skills, because they need to analyse cost benefits.
What is the Expected Salary?
Below you will find a few MBA related jobs and their expected salaries.
Chief Executive Officer

Per year

Business Manager

Per year

Business Analyst, IT

Per year

Operations Manager

Per year

Entry level

US$ 108,000

US$ 50,000

US$ 60,000

US$ 47,000

Mid-career

US$ 146,000

US$ 58,000

US$ 73,000

US$ 57,000

Executive

US$ 165,000

US$ 61,000

US$ 82,000

US$ 67,000

Senior

US$ 193,000

US$ 64,000

US$ 85,000

US$ 77,000
Source: (payscale, 2016)
Top 10 Master of Business Administration Schools
These are the Top 10 MBA schools according to the QS World University Rankings: