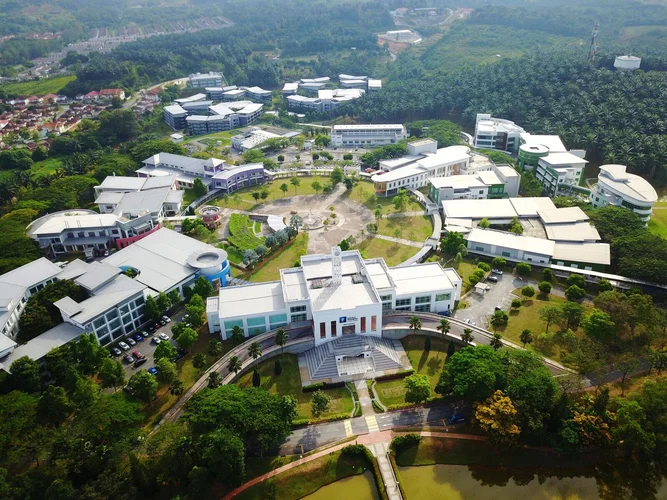 University of Nottingham Malaysia
Selangor, Malaysia
Statistics

| | | |
| --- | --- | --- |
| | 7 | Undergraduate programs |
| | 3 | Postgraduate programs |
Overview
Statistics

| | |
| --- | --- |
| Institution type | Private |
| Year established | Data not available |
| Campus setting | Suburban |
| Student population | Medium (1,001 to 10,000) |
| foreign students | 20% |
| Nationalities | Data not available |
About University of Nottingham Malaysia
The University of Nottingham is a thriving institution offering an outstanding student experience, world changing research and a global reputation for excellence.
As the first British University to establish a campus in Malaysia, we are just about to celebrate our 20th anniversary. Since being established, the University of Nottingham Malaysia, UNM, has grown both in terms of its Teaching and Learning and its Research activity.
Holding a SETARA (in the mature university category) 5 Star rating this places us amongst the best Universities in Malaysia for Teaching and Learning. UNM also hold a MyRA 5 Star rating for its research, the only Malaysian international university to hold this rating.
Since its initial intake of 86 students, UNM has now grown to a student population of around 5,000 students on campus, with a growing student population studying overseas, but registered in Malaysia. This includes students studying in Singapore, Sri Lanka, India and Bangladesh.
Consistently ranked in the top 100 universities worldwide*, the University is regarded as the UK's most global university and has developed extensive partnerships across the ASEAN region, and indeed the world. Since its establishment in 2000, the University has developed into a friendly, vibrant and multicultural community of students and staff.
*QS World University Rankings 2020
Admissions
Intakes
Admissions Statistics

| | |
| --- | --- |
| IELTS | Data not available |
| TOEFL | Data not available |
For admission requirements and intakes for each individual course/programme please refer to course details.
Tuition and application fees
Estimated tuition fees as reported by the institution.
Tuition and Application Statistics

| | |
| --- | --- |
| Application fee (local students) | Data not available |
| Application fee (foreign students) | Data not available |
| Student visa fee (foreign students) | Data not available |
Living cost
Data not available
Average living cost in Malaysia
The amount is indicated taking into account the average cost of food, accommodation, etc in Malaysia for 2023
Costs Statistics

| | |
| --- | --- |
| Food | Data not available |
| Accommodation | Data not available |
| Others | Data not available |
Accommodation
The University offers a variety of On-Campus Accommodation where learning facilities and amenities are all just a short walk away. Newer accommodation consisting of six halls of residence are located in Student Village North (J Halls), while Student Village South (I Halls) consist of five halls of residence completed when the purpose-built campus was first constructed.
Each residential hall has its own Hall Warderns (staff) and Hall Tutors (postgraduate students) who will be available to care for your safety and welfare. Entrance into your halls are via door access control using your student ID card.
Security is provided by a team of in-house security officers and outsourced security guards. The University also has over 300 CCTV cameras throughout the campus.
Staff, students and residents may use facilities such as: swimming pool, indoor and outdoor sport facilities (football, hockey, rugby, cricket, basketball, squash, tennis, archery, and more), indoor gyms, outdoor gym stations, jogging track around the main lake, outdoor amphitheater which are all located within the campus.
Campus
A picturesque location spanning across 125 acres and overlooking green hills, the campus was designed to mirror the attributes of University Park in the UK. As a self-contained and self-sufficient neighbourhood village within a garden environment, it is now home to more than 5000 students.
The Malaysia Campus confers exactly the same degrees as those in the UK and all courses are taught in English.
It combines a high-quality living environment with state-of-the-art learning, teaching and research facilities. Other campus amenities include:
residential accommodation
a purpose-built sports centre and swimming pool
a student association complex
shops
library
Student population
Medium (1,001 to 10,000)
Total population
Student Statistics

| | |
| --- | --- |
| Undergraduate students | Data not available |
| Postgraduate students | Data not available |
| foreign students | Data not available |