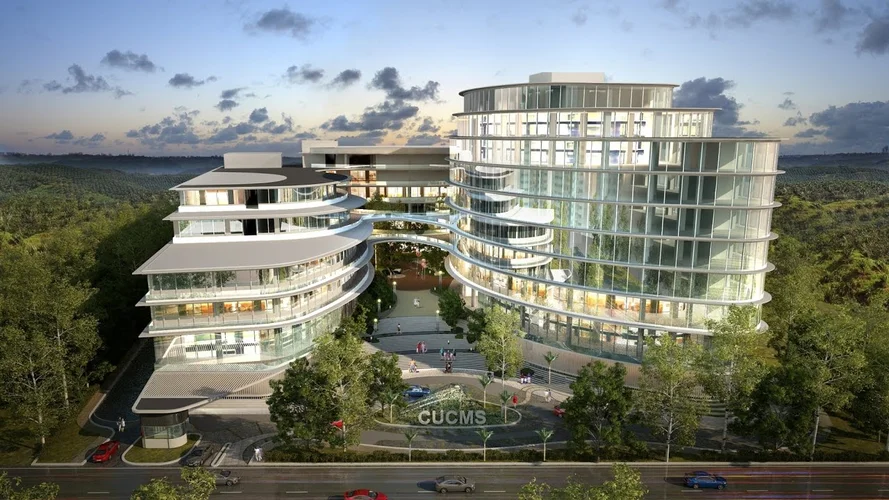 University of Cyberjaya (UoC)
Malaysia
Ready to apply? Start here.
Form here
Statistics

| | | |
| --- | --- | --- |
| | # 5 | SETARA 2013 |
| | 12 | Undergraduate programs |
| | 1 | Postgraduate programs |
Overview
Statistics

| | |
| --- | --- |
| Institution type | Private |
| Year established | Data not available |
| Campus setting | Urban |
| Student population | Medium (1,001 to 10,000) |
| foreign students | 10% |
| Nationalities | Data not available |
About University of Cyberjaya (UoC)
Established on 23 October 2005, Cyberjaya University College of Medical Sciences (CUCMS) is a registered and accredited private university located in Cyberjaya, Malaysia's first smart-city. In its mission to be a distinctive institution of international repute that produces competent healthcare professionals who are intellectually, emotionally and spiritually-balanced, CUCMS has been accorded a 5-star (Excellent) rating by the Malaysian Qualification Agency.
There are now more than 20 programmes offered at CUCMS - with undergraduate and postgradraduate degrees as well as research courses avaliable in a number of disciplines, including medical sciences, pharmaceutical sciences, psychology, physiotherapy, homeopathic medical sciences, occupational safety and health. With a focus on healthcare-related disciplines, most of the University's teaching is conducted through 7 faculties:
Faculty of Medicine
Faculty of Pharmacy
Faculty of Allied Health Sciences
Faculty of Safety & Health
Faculty of Traditional & Complementary Medicine
Faculty of Business & Management
Faculty of Veterinary Medicine
On top of that, CUCMS also provides pre-university, bridging and other training programmes through 5 academic centres:
Centre for Foundation Studies
Centre for Graduate Studies
Centre for Languages and General Studies
Executive Centre for Lifelong Learning (EXCELL)
Halal Science Centre
Admissions
Intakes
Admissions Statistics

| | |
| --- | --- |
| IELTS | Data not available |
| TOEFL | Data not available |
For admission requirements and intakes for each individual course/programme please refer to course details.
Tuition and application fees
Estimated tuition fees as reported by the institution.
Tuition and Application Statistics

| | |
| --- | --- |
| Application fee (local students) | Data not available |
| Application fee (foreign students) | Data not available |
| Student visa fee (foreign students) | Data not available |
Living cost
Data not available
Average living cost in Malaysia
The amount is indicated taking into account the average cost of food, accommodation, etc in Malaysia for 2023
Costs Statistics

| | |
| --- | --- |
| Food | Data not available |
| Accommodation | Data not available |
| Others | Data not available |
Accommodation
The CUCMS Vasity Lodge is a 1,500 capacity residential hostel/apartment that provides students with a University Shuttle Bus service for them to travel back and forth between the campus and their lodging. It is located next to a mall and comes complete with:
swimming pool
tennis and basketball court
gymnasium
laundry mart
cafeteria
security office
24-hour CCTV surveillance
Every unit is designed to be occupied by 8 students - that is, 2 students per room. The size of each apartment floor is approximately 1180 sq. ft., consisting of 4 rooms, 3 bathrooms, 1 shared living room and kitchen area.
Satellite accommodation options are also available for students with clinical attachment in Seri Manjung, Perak; Nilai, Negeri Sembilan; and Terendak, Melaka.
Campus
CUCMS has moved to its new campus in mid-2018. With over 60% increase in floor space and the integration of innovative, modular, multi-purpose principles, this campus will be able to accommodate approximately 8,000 students and prepare the University for its next phase of growth.
Equipped with the latest technology in educational delivery, a 18,000 sq. ft. library with a collection of over 50,000 books as well as multiple spaces for learning and recreation, the campus is built to promote student engagement and interaction, supporting and enhancing their overall experience at CUCMS.
Other facilities and amenities include:
1,500-seater Grand Hall
720-seater Auditorium
30 basic and specialised laboratories
800 covered parking bays
500-seater cafeteria
30-person gym
4 different student congregation areas
5,000 sq. ft. of green garden space
Student population
Medium (1,001 to 10,000)
Total population
Student Statistics

| | |
| --- | --- |
| Undergraduate students | Data not available |
| Postgraduate students | Data not available |
| foreign students | Data not available |