Preview to Perdana University Master of International Trade Programme
26 Dec 2014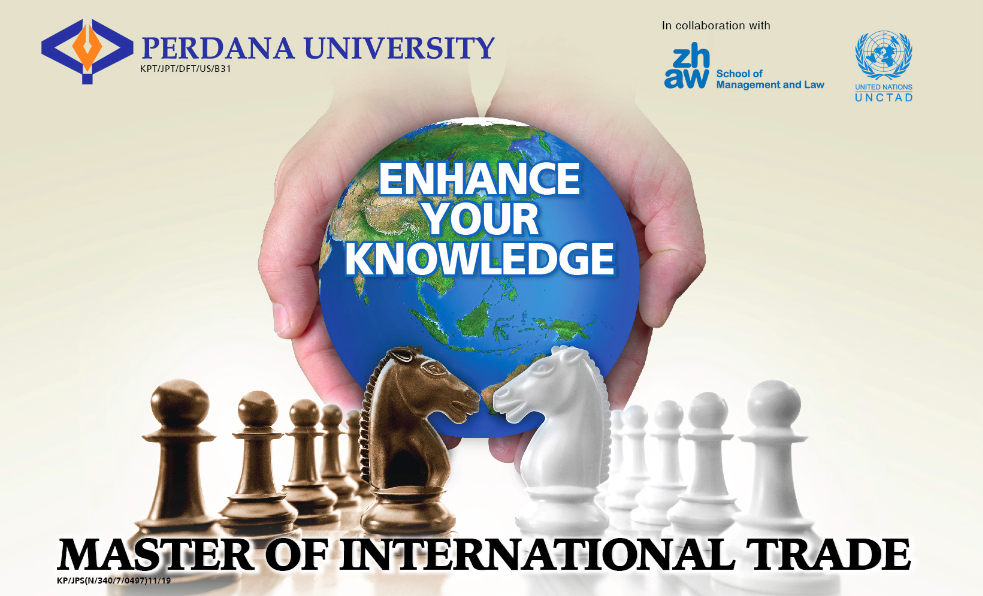 It gives us great pleasure to introduce to you the Master of International Trade (MIT) awarded by Perdana University - a pioneering programme that will shape the study of International Trade in the region. The MIT is offered in collaboration with the United Nations Conference on Trade and Development (UNCTAD) and Zurich University of Applied Science School of Management and Law (ZHAW) with the support of the Ministry of International Trade and Industry (MITI), Malaysia. Given the nature of the field of study, the programme has been structured to benefit both fresh graduates and professionals in the field.
The MIT is a comprehensive 12-module programme that can be completed in 15 months with a maximum candidature of 4 years. Students can also choose to do it in modular form and obtain a certificate at the attendance of each module. With the collaboration of UNCTAD and ZHAW, a fly-in faculty of experts will teach the programme that commences in 2015.
As part of the launch of the programme, we are offering the following two activities:
Preview of Programme on 5th January 2015, 8.30am – 1.00pm at MITI by Dr Hassan Qaqaya from UNCTAD and Professor Dato' Dr Sothi Rachagan from Perdana University. They will offer insights on the programme and respond to questions on the programme and its delivery. A complete itinerary for the preview that also features a keynote address by Professor Dr Simon Evenett from St Gallen University, Switzerland, who will teach the first module, is attached for your information.
Special preview modules – To offer a feel of how the modules will be conducted, the first two modules are being offered at an introductory fee. The face-to-face contact with the module leader will be completed in a five-day week session. Participants who complete a module will obtain a certificate, or follow through with the Master of International Trade programme.
Details of the Preview Modules are as follows:
    Date: 5-9 Jan 2015
    Name of module: International Trade Economics
    By: Prof Simon Evenett
    Date: 26-30 Jan 2015
    Name of module: Competition Law and Policy
    By: Dr Patrick L. Krauskopf
The face-to-face contact with the module leaders will be held at the 16th Floor, Ministry of International Trade and Industry, Government Offices Complex, Jalan Duta, Kuala Lumpur. MITI has also kindly consented to students registered for the modules to access its library and electronic databases.
The fee for each module is RM500.00 with a further discount of RM200.00 for registrations received before 25th December 2014.