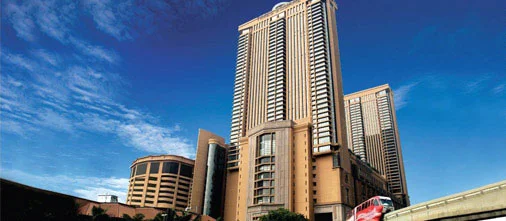 BERJAYA University College
Malaysia
Ready to apply? Start here.
Form here
Statistics

| | | |
| --- | --- | --- |
| | 9 | Undergraduate programs |
| | 1 | Postgraduate programs |
Overview
Statistics

| | |
| --- | --- |
| Institution type | Private |
| Year established | Data not available |
| Campus setting | Urban |
| Student population | Medium (1,001 to 10,000) |
| foreign students | 15% |
| Nationalities | Data not available |
About BERJAYA University College
The BERJAYA University College (BERJAYA UC) received its licence to operate as an institution of higher learning in 2008. SInce then, they have offered programmes related to Hospitality, Tourism, Culinary Arts and Business Management from foundation to undergraduate levels. These programmes are offered under Six (6) Schools, which are the School of Culinary Arts, School of Hospitality, School of Tourism, School of Business, School of Liberal Arts and School of Sports, Leisure & Lifestyle. Foundation studies are offered to post-secondary school leavers as an entry qualifier to the undergraduate programmes too.
At BERJAYA University College, commitment towards professional excellence focuses on 'human development', attention to detail in teaching and learning the unique qualities which differentiate us from the rest. The University College has an integrated classroom-community space for students to learn and apply their knowledge and skills in real-life situations, which is what we call the BERJAYA Immersion Methodology. An important part of this approach depends greatly on the innovative academic curriculum, delivered both inside and outside of the classrooms, which are both academic and career-focused, and is based on the 'Learning by Doing' principle. This approach educates our students to think critically, communicate effectively, work productively and manage professionally right from the day they start with us.
Closing the gap between student's qualifications and industry needs, BERJAYA UC pays special attention to opportunities for quality industrial work placements for the students. The support of the Berjaya Group of Companies plays an integral part on industry placements with their local and international Hotels, Resorts and Clubs providing a platform for students to gain placement and exposures, thereby enhancing their skills and knowledge in a global environment. The students also get first priority to fill up permanent positions within the subsidiaries of the group.
Since its inception in 2008, BERJAYA UC has established strategic partnerships with recognised professional and academic institutions of higher learning from UK, USA, Australia, Europe and South Korea who are forerunners in areas of Hospitality, Culinary Arts, Tourism, Retail and Event Management. These collaborations include future developments in the areas of curriculum development, licensing of academic programmes, staff-student exchanges and research opportunities.
True to our vision and commitment of inspiring lives and widening horizons, BERJAYA UC aims to be an institution with 'people and places' with regional branches campuses and articulation arrangements in various parts of the world. We value engagement with education and industry partners, and the various communities we serve. We invite individuals to come as students and leave as professionals.
Admissions
Intakes
Admissions Statistics

| | |
| --- | --- |
| IELTS | Data not available |
| TOEFL | Data not available |
For admission requirements and intakes for each individual course/programme please refer to course details.
Tuition and application fees
Estimated tuition fees as reported by the institution.
Tuition and Application Statistics

| | |
| --- | --- |
| Application fee (local students) | Data not available |
| Application fee (foreign students) | Data not available |
| Student visa fee (foreign students) | Data not available |
Living cost
Data not available
Average living cost in Malaysia
The amount is indicated taking into account the average cost of food, accommodation, etc in Malaysia for 2023
Costs Statistics

| | |
| --- | --- |
| Food | Data not available |
| Accommodation | Data not available |
| Others | Data not available |
Accommodation
Home Away From Home - The Accommodation Villages are specifically built with the student in mind and are categorised as Platinum, Gold or Silver. They are located close to the city campus, convenience stores, transportation hubs or a short stroll away from the vibrant city centre. Benefits of choosing Accommodation Village:
Internet Services - A high speed 24-hour internet connection is provided so that you are able to stay connected with your family and friends at all times.
Hospitality Services - Enjoy housekeeping services once-a-week.
Guardianship - Committed in-house warden to safeguard our students during emergency.
Catering Services - Food catering services are made available for your convenience.
Security Services - 24-hour security provided. The safety and security of students are our priority.
Easy Accessibility - All of our accommodation villages are easily accessible via public transports and a shuttle van.
PLAZA BERJAYA Accessible • Secure • Well-located
Plaza Berjaya, located at the heart of the city centre and a 5-minute walk to the city campus, offers spacious comfortable accommodations equipped with quality furnishings. You can stroll to the golden triangle for your personal needs and its accessibility to Imbi Station monorail gives you access to many other destinations in Kuala Lumpur. At the Platinum Village, enjoy city living in the security and comfort of a private shared apartment.
Bedrooms
Single bed with spring mattress (No provision for pillows, blankets and linens)
Double Decker bed with foam mattress (No provisions for pillows,blankets and linens)
Storage area underneath the bed
Attached toilet (optional)
Air conditioned units
Kitchen/Living Room
Cooking Stove
Kettle
Microwave oven
Refrigerator
Study table
Washing machine
Wireless internet access
AWANA PURI Affordable • Safe • Serene
With vibrant urban living experience away from the busy city centre, this family oriented condominium is fully equipped with:
Bedrooms
Single bed with spring mattress (No provision for pillows, blankets and linens)
Storage area underneath the bed
Built-in wardrobe
Attached toilet (optional)
Air conditioned units
Kitchen/Living Room
Cooker hob and hood
Kettle
Microwave oven
Refrigerator
Sofa
Television
Study table
Washing machine
Iron and ironing board
Dining table
Wireless internet access
Admission Process:
Submit accommodation application form with one coloured passport-sized photo.
Choose room type.
Pay RM100 for local students & RM200 for international students (non-refundable) application fee upon booking.
Room will be allocated by BERJAYA University.
Note: For students below 21 years of age, parents/guardians are required to approve and accept the terms and conditions on behalf of the residents.
Campus
BERJAYA UC's cosmopolitan city campus at Berjaya Times Square is situated within Kuala Lumpur's golden triangle between shopping malls, prominent business centres and cultural hubs are all within walking distance. The city campus, totaling approximately 100,000 square feet, is located on the 11th Floor (West) and 14th Floor (East) comprises sleek and chic facilities such as high-tech lecture theatres, classrooms and seminar rooms, conference room, Learning and Resource Centre, Eclectic Accommodation Suite, dedicated computer laboratories with the latest software, fully equipped preparation, production and pastry kitchens, bakery, culinary studio, culinary theatre, show kitchen, fine dining restaurant, café, Deli, coffee and tea academy, oenology laboratory and chocolate and sugar artistry laboratory.
Student population
Medium (1,001 to 10,000)
Total population
Student Statistics

| | |
| --- | --- |
| Undergraduate students | Data not available |
| Postgraduate students | Data not available |
| foreign students | Data not available |