Four teams of APU's Information Technology and Computer Science students with their lecturer-advisors participated in the International Innovation Arsvot Malaysia 2022 (IAM2022) based on their digital innovation projects, and brought back multiple awards.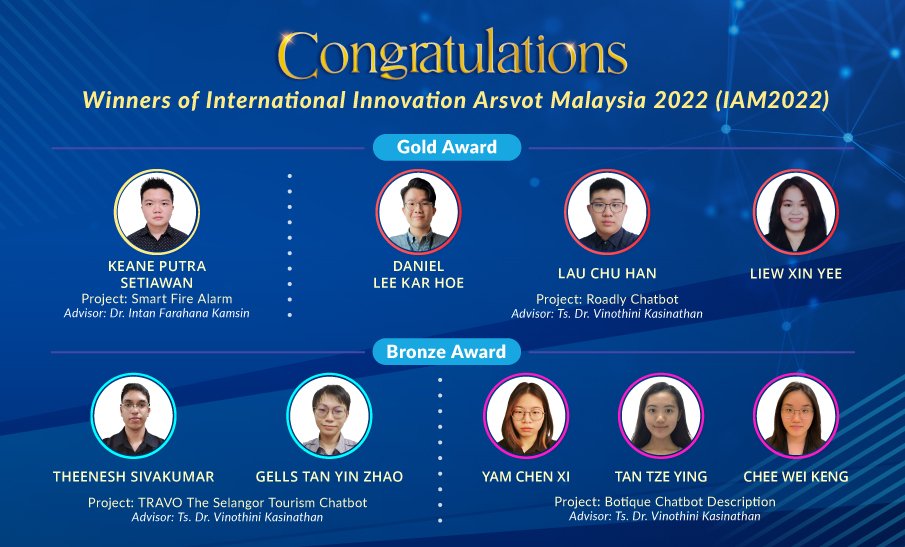 IAM2022, themed "Innovations in Digital World", held on 25th and 26th June 2022, provided a prestigious platform for educators, students, and the public to participate and showcase their innovations through digital platforms.
Contesting teams sent by APU did not come back empty-handed, instead, nine students formed four teams with their advisors and won 2 gold and 2 bronze awards.
The first contestant, Keane Putra Setiawan won a gold award with his project titled the 'Smart Fire Alarm'. The project proposed the idea of having a smart IoT system that can detect fire or potential fire in the environment and provide immediate responses to tackle the fire. These responses include warning lights, warning buzzers, and a water pump.
Keane is a BSc (Hons) in Information Technology (Internet of Things) student.
The second team represented by Daniel Lee Kar Hoe, Lau Chu Han, and Liew Xin Yee won a gold award with a project titled the 'Roadly Chatbot'. It was designed to be a knowledge-based chatbot that is aimed at mitigating and avoiding traffic accidents by educating users about Malaysian road signs in a conversational manner.
In the future, the chatbot will include predictive capabilities in addition to the natural language capability to automatically predict the road signs based on the user's image or video input.
Lee studies for a Bachelor's Degree in Computer Science with a specialism in Data Analytics; Lau and Liew are BSc (Hons) in Computer Science students.
The third team formed by Theenesh Sivakumar and Gells Tan Yin Zhao won a bronze award with a project titled 'TRAVO The Selangor Tourism Chatbot'. It is the first-ever Selangor Tourism Chatbot that helps tourists find their ideal travel destination.
TRAVO consists of features such as an AI-powered travel destination recommendation system as well as a quiz feature to help increase the knowledge of tourists about Selangor and its popular travel destinations. With these features, TRAVO can help tourists identify their ideal travel destination from a selection of around 70 of Selangor's most popular travel destinations stored in the chatbot's database.
Theenesh and Tan are coursemates pursuing a Computer Science with a specialism in Data Analytics degree.
The fourth team made up of Computer Science students Yam Chen Xi, Tan Tze Ying, and Chee Wei Keng, won a bronze award with their project titled the 'Boutique Chatbot Description' – a fashion expert AI chatbot.
This fashion expert AI chatbot can function as a personal stylist by understanding their needs and providing professional and personalised outfit mix-and-match suggestions that aim to enhance one's fashion confidence.
Yam & Tan are pursuing a BSc (Hons) in Computer Science, whereas Chee is pursuing a BSc (Hons) in Computer Science with a Specialism in Data Analytics.
This competition featured both local and overseas contestants, and was organised and supported by the Consortium of Malaysian Universities (CMU); SEAMEO Regional Centre for Special Educational Needs (SEAMEO SEN), Malaysia; International STEM Association; MAS Giresources (MG); Institute of Metallurgy and Ore Beneficiation; Satbayev University -Kazakhstan; and Todox Digital Network.
Check out APU's Innovation Technology & Computer Science courses.
For more information, visit www.apu.edu.my
More APU news for you:
Creativity, education and learning beyond IR4.0
Digital skills for the era of IR 4.0 in facing the VUCA world
APU Collabs with the Department of Statistics Malaysia for Driving Data Studies