APU Data Analytics undergraduate wins young inventor recognition for an innovative
approach to identify potential cyberbullies and to reduce cyberbullying actions
According to a United Nations Children's Fund (Unicef) report, Malaysia ranks second in Asia in 2020 for cyberbullying among youths. Three out of 10 young Malaysians have been cyberbullied in any form.
Cyberbullying could result in anxiety, fear, depression, low self-esteem, behavioural issues, academic struggles, or even teen suicides. If there is a solution that can detect the attempt of cyberbullying beforehand, that would avoid harm being done to the targeted child.
Richard Wijaya, 22, had witnessed how his classmates were affected by cyberbullying in middle school. "I felt bad when someone that I knew was a victim, they could not do anything due to the online anonymity of the perpetrators," he recalled.
This experience motivated compassionate Richard to look for a solution when he wrote his final year paper before graduating with a Bachelor of Science (Hons) in Computer Science specialism in Data Analytics from Asia Pacific University of Technology & Innovation (APU).
Titled Expose Cyberbullying Tweets Using Machine Learning: A Data Science Approach, his project aimed to find the best approach to identify potential cyberbullies and hence reduce cyberbullying actions.
This was done by leveraging what he learned in data analytics, by comparing several machine learning and deep learning algorithm, namely Naïve Bayes, Support Vector Machine ( SVM), and Long Short-Term Memory (LSTM).
"One of the applications with data analytics is called text processing. Sentences could be pre-processed into a form eligible to train the machine learning algorithm and produces a cyberbully detection model,"
"The outcome of my research could help relevant authorities to detect the cyberbullying content and apply necessary actions such as warning the possible perpetrators," Richard explained.
The end-product of this research will not simply be a predictive model but to evaluate the performance of the predictive model using suitable evaluation measures," he continued.
Encouraged by his project supervisor, Mr. Mafas Raheem from the School of Computing, Richard submitted his paper for the Young Inventors Journal Paper Writing Competition 2021.
"My supervisor has helped me a lot from the brainstorming up to the stage of constructing the paper. He is the person who would help me to find a solution if any doubts arise," said Richard, who originated from Jakarta, Indonesia.
Organised by the Association of Science, Technology & Innovation (ASTI), a non-governmental organization, this competition required participants to look at social wellbeing and mental health issues that they think need to be addressed and think out of a viable
solution.
Richard's paper was submitted along with a presentation to the panel of judges. "The preparation took about three weeks, as I needed to prepare a proposal and a journal paper. There were some hurdles along the way as I had to restructure the paper to ensure its
legibility with important details in it."
Ultimately, Richard's hard work paid off, his paper was selected by the judges for a bronze award among 46 full papers writers from the Philippines, Thailand and Singapore. The paper will be soon published in the Young Inventors Online Journal.
Reflecting on how had he gone so far, Richard said, "A detailed understanding of a topic needs to be achieved to deliver outstanding performance. Fundamentally, a deep interest in the domain chosen is important if someone is intrigued to do a certain topic. This will help to dig up critical information to write a better paper."
Richard is now pursuing a Master's Degree in Big Data Analytics in Birmingham, UK, he aspires to elevate his professional knowledge in data analytics, and to be able to generate more innovative ideas that could help to build a better society globally.
Richard's award-winning cheered Mr Mafas Raheem, as he commented, "With the right operationalisation of his Machine Learning predictive model, Richard's studies in this domain will support the authorities to perform early detection of the cyberbullying attempts, thus contributing towards social wellbeing and mental health."
- End -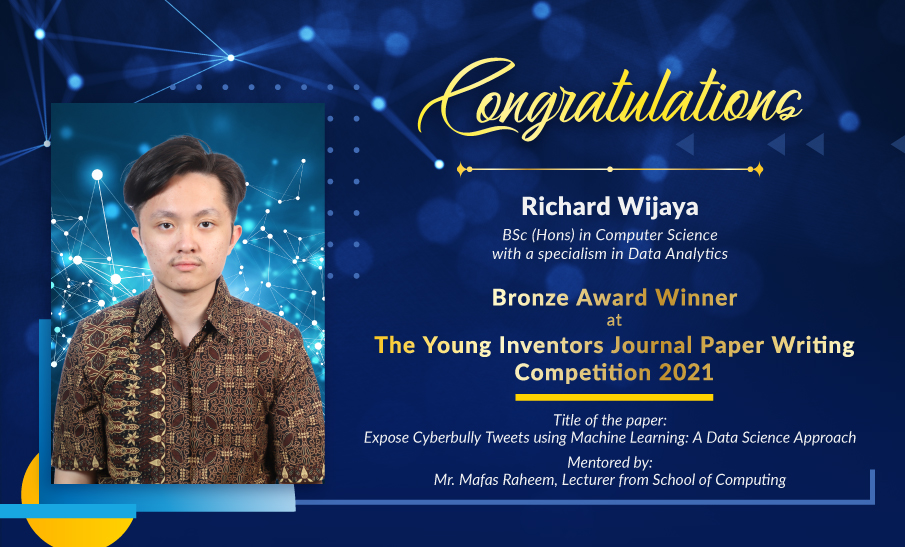 Richard Wijaya, a graduate of the Bachelor of Science (Hons) in Computer
Science specialism in Data Analytics programme, identifies potential
cyberbullies with his professional knowledge.
About Asia Pacific University of Technology & Innovation (APU) The Asia Pacific University of Technology & Innovation (APU) is amongst Malaysia's Premier Private Universities. With the Premier Digital Tech University status awarded by the Malaysia
Digital Economy Corporation (MDEC) and the prestigious QS "5 Stars Plus University" rating, APU offers a wide range of degree programmes in Technology that aim to nurture students into professionals and prepare them for challenging careers and roles in business and society globally. APU's multi-cultural student community comprises 13,000 students from over 130 countries. For more information, visit www.apu.edu.my