"Paving new opportunities for underprivileged children and youth to be relevant in today's digital world."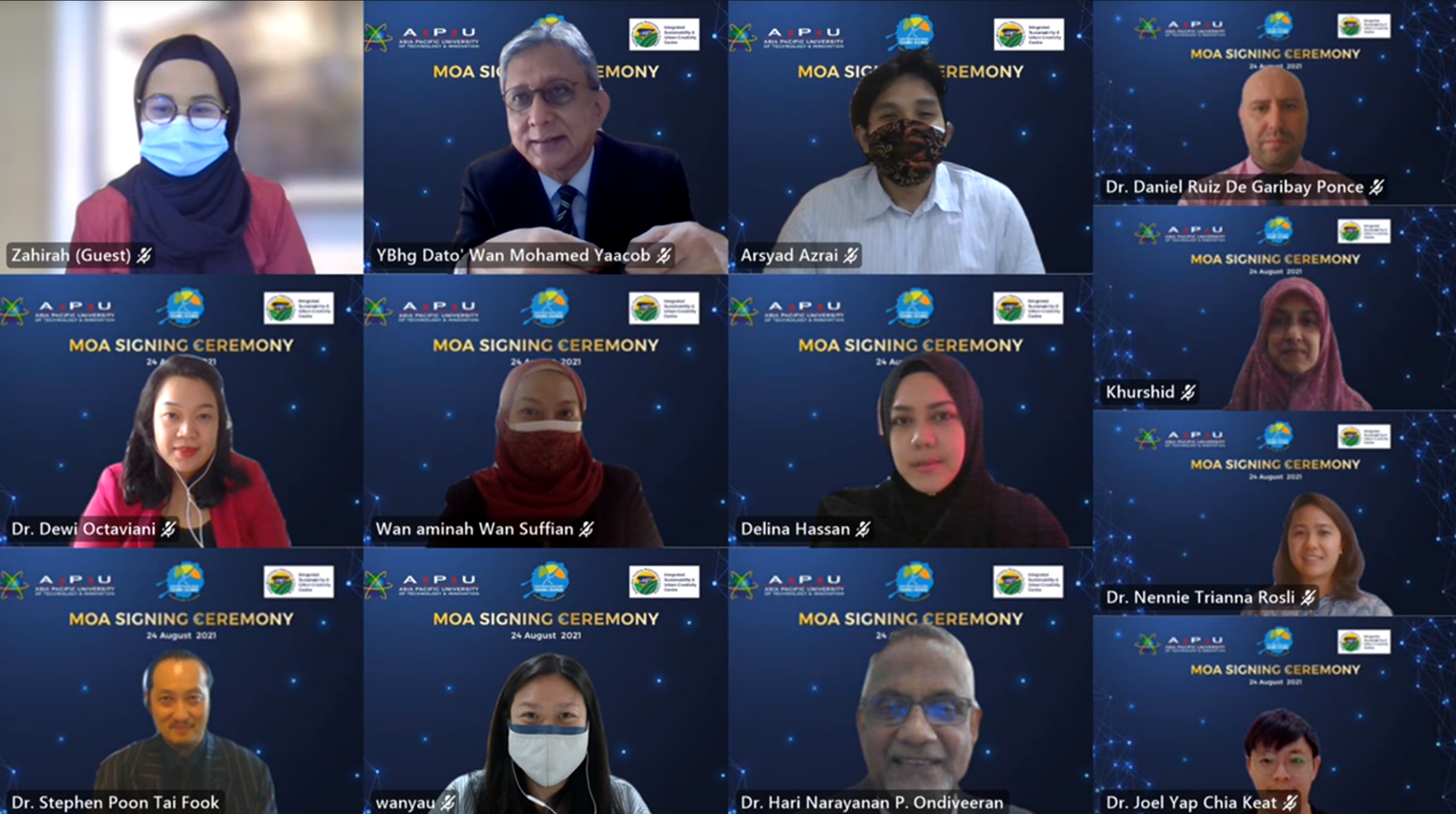 Virtual MoA Signing Ceremony between Asia Pacific University of Technology and Innovation (APU) and Pusat Kreatif Kanak-Kanak Tuanku Bainun (PKKTB) to pave new opportunities for underprivileged children and youth.
Asia Pacific University of Technology and Innovation (APU) reached another milestone when it endorsed a Memorandum of Agreement (MoA) with Pusat Kreatif Kanak-Kanak Tuanku Bainun (PKKTB) to embark onto a new collaboration which facilitates opportunities for underprivileged children and youth to benefit from the growing need for technology and innovation in the current ICT industry.
Vice-Chancellor Dr. Hari Narayanan signed on behalf of APU while PKK Tuanku Bainun was represented by the Director and Treasurer, YBhg Dato' Wan Mohamed Yaacob bin Wan Salaidin. The virtual MoA signing ceremony, witnessed by other honourable guests from both sides, took place on 24th August 2021.
PKK Tuanku Bainun under the patronage of Yang Maha Mulia Raja Permaisuri Tuanku Bainun, is a non-profit organisation with a mission to provide a haven for children and youth regardless of income, gender, religion, language, or ability to gain access to creative learning while exploring and developing an appreciation of the arts, talents, and cultures of diverse communities.
Together with the APU Integrated Sustainability & Urban Creativity Centre (ISUC), both parties will work hand-in-hand to address issues that coincide with the United Nation's Sustainable Development Goals (SDG), which are: SDG 3 - ensure healthy lives and promote well-being for all at all ages, and SDG 4 - ensure inclusive and equitable quality education and promote lifelong learning opportunities for all.
In his speech, APU Vice-Chancellor Dr. Hari Narayanan remarked, "Our focus at APU is not only on technology but also sustainable development as well as giving back to society. In partnership with PKK Tuanku Bainun, and in line with SDG 4 goals, we aim to focus on empowering and guiding SPM graduates from the B40 household in finding their career pathways and enhancing their employability skills. These include academic workshops such as computer literacy classes, CV & Cover Letter writing classes, mock interview sessions, and career opportunity guidance. We are also planning to promote well-being programmes and services (SDG3), an area which is so relevant especially during this pandemic."
Through this agreement, a series of webinars and activities promoting mental health as well as developing resilience during the pandemic will be made available for underprivileged children, those fleeing prosecution, as well as children with special needs; to foster sustainable development goals related to the well-being of students.
Moving forward, both parties also aim to stimulate and push for sustainable innovations that will answer social and technological needs to promote awareness of Sustainability, Green Environment and Technology.
This is in line with the General Manager of PKK Tuanku Bainun, Puan Wan Aminah binti Wan Suffian's speech during the virtual ceremony, "This collaboration will provide new opportunities and experiences to underprivileged children and youth beyond creative arts. Moreover, this brings new ventures to PKK Tuanku Bainun inculcating the importance of basic human values, exposure to local arts, heritage, culture, and a love for nature in the next generation."
With the MoA in place, the two organisations will demonstrate their mutual endeavour towards the benefit of children and youth, allowing them to learn and explore while they find their footing in the world as valuable citizens.