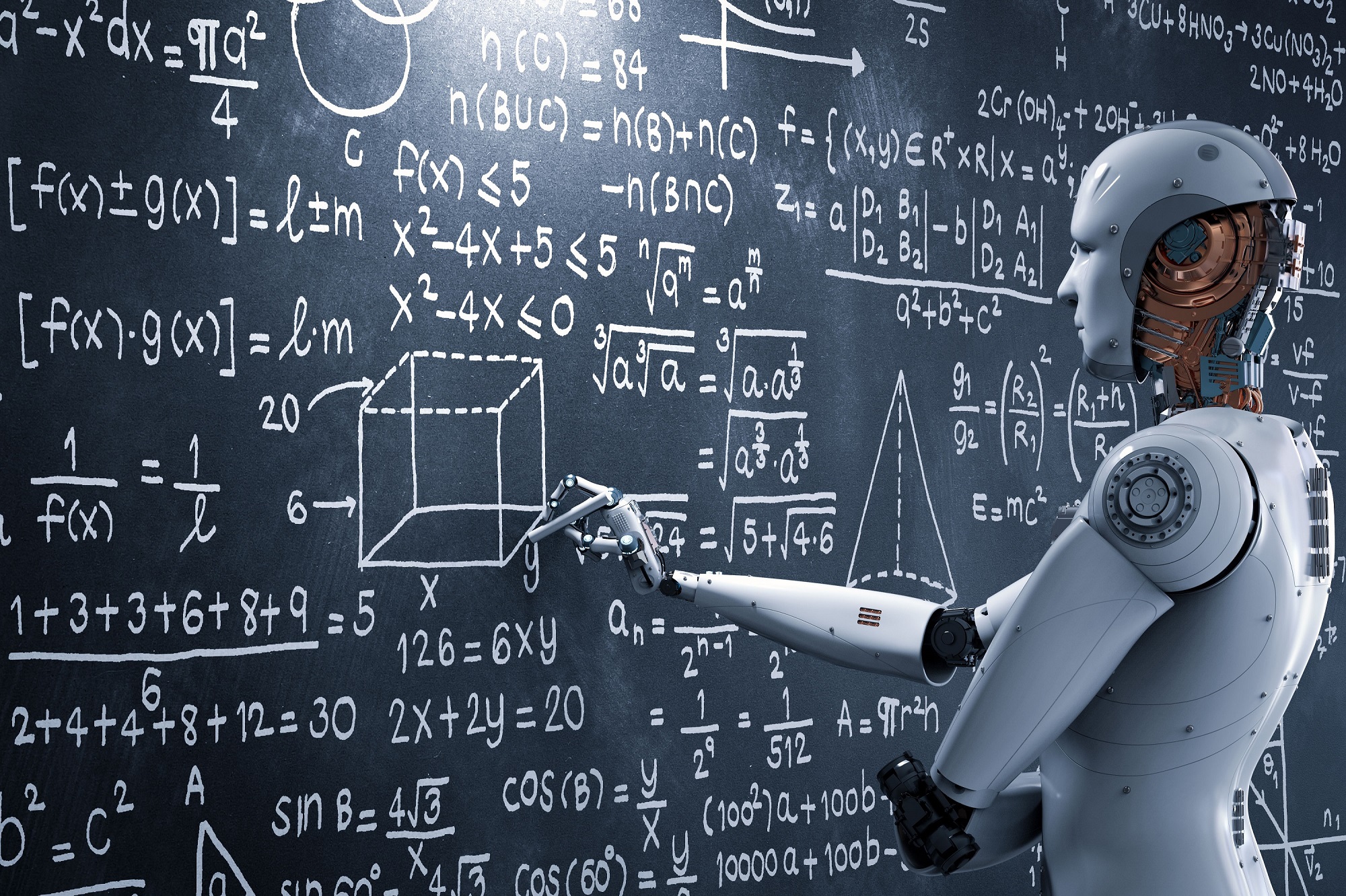 In June 2021, the people were astonished seeing Spot - Boston Dynamics' robot dog dancing with K-pop sensation BTS. Way back in 2008, the first zero-emission car, Tesla, created by entrepreneur Elon Musk, shook the transportation industry.
WITH the advent of the Fourth Industrial Revolution (IR4.0), more industries are integrating automation and intelligent systems to increase optimisation and production efficiency.
Technically, the integration is challenging as it requires the involvement of components such as advanced computing systems, electrical and electronics devices, sensors and actuators, Programmable Logic Controller (PLC), as well as the inclusion of Artificial Intelligence (AI) and the Internet of Things (IoT).
Without a doubt, engineering sophisticated processes such as these requires talents with knowledge from multidisciplinary fields – mechanical, electronics, electrical, software, computing fields – on top of a combination of robotics, automatics, digital informatics and telecommunication systems.
To nurture talent with comprehensive knowledge on mechatronics, robotics and automation, Asia Pacific University of Technology & Innovation (APU) offers a Bachelor of Engineering in Mechatronic Engineering with an honours degree programme – specially designed to provide future engineers with an edge towards adoption of the latest technologies in line with the needs and challenges of IR4.0.
The integration of automation into manufacturing operations requires the Programmable Logic Controller, with the inclusion of Artificial Intelligence, Internet of Things and smart systems.
With the inseparable robotics and automation elements, mechatronic engineering equips students with the knowledge and skills which are essential for IR4.0 and its core pillars such as IoT and smart technologies.
Mechatronic engineering allows students to completely immerse themselves in robotics and automation practice. Students undertaking other engineering specialisations at APU will also have a "taste" of these two areas as part of the common core modules.
For instance, a robotics-related module "Machine Vision and Intelligence" is offered in electrical and electronics (EEE), telecommunication (TE) and computer engineering (CE) programmes, and the automation-related module "Industry Automation" is also offered in the EEE programme.
Notably, all engineering programmes are dual awards by APU and De Montfort University (DMU), UK. Under this scheme, students will receive two degree certificates and transcripts upon graduation – a BEng from APU (Malaysia) and an MEng from DMU (UK). DMU also awards an MEng award for all other APU engineering programmes.
"Mechatronic engineering learning encompasses four areas – mechanical, electronics, computing and control," said APU School of Engineering head Assoc Prof Dr Thang Ka Fei.
"Additionally, APU's well-equipped laboratories on robotics and automation, such as power system lab, robotics lab, PLC controls lab, pneumatics and automation lab, enable students to complete hands-on assignments and develop their final year project," he shared.
The Mechatronic Engineering programme at APU has been accredited by the Board of Engineers Malaysia (BEM), a signatory for Malaysia under the Washington Accord, of which 21 countries are aligned in terms of engineering education being on the same platform.
It also has all the required mechanical engineering core subjects embedded within its curriculum as part of the fulfilment of the Accreditation Board for Engineering and Technology/ Engineering Accreditation Commission (ABET/ EAC) standards.
From a research and projects development perspective, the Asia Pacific Centre of Robotics Engineering (APCoRE) designed and commissioned in 2013 jointly by APU's deputy vice-chancellor Prof Dr Vinesh Thiruchelvam and senior lecturer Suresh Gobee enables students to put theory into practice.
They develop prototypes and projects with the same components, systems and technology that today's professionals are working on in their respective fields.
Outputs from APCoRE have potential impact on the medical, retail and service sectors. A robotic exoskeleton that improves ambulation and enhances mobility for individuals with different types of neurological disabilities was a success story at APCoRE.
Another project is the Virtual Operated Robotic Arm (VORA) which combines VR technology and engineering for multiple uses. APU's very own humanoid built by students together with academic staff researchers has also served as a guest ambassador at the Institution of Engineers Malaysia (IEM) annual dinner launch in 2019.
APCoRE has further delved into Additive Layer Manufacturing (ALM) projects via instigation of data computer-aided-design (CAD) software and 3D object printers or scanners onto direct hardware to then deposit material, layer upon layer, in precise geometric shapes. This has also enabled APCoRE student researchers to expose themselves to rapid prototyping scaling physical parts of a production assembly.
With the helping hand of the APCoRE team and its student members, APU has driven Science, Technology, Engineering and Mathematics (STEM) education by introducing robotics and engineering at 78 national schools across Malaysia between 2014 and 2019. This has been jointly carried out with the Institution of Engineers Malaysia (IEM) and the Institution of Mechanical Engineers (IMechE-UK).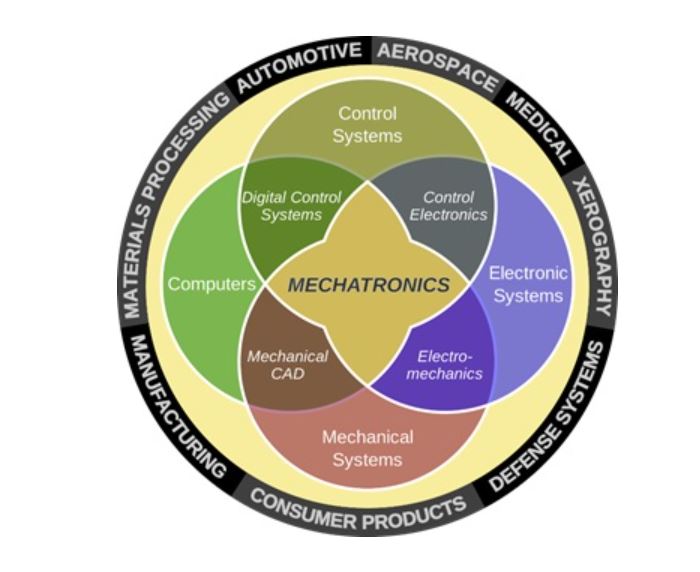 The fields that makeup mechatronics.
"APCoRE is open to all APU students, regardless of their study programmes, fields, levels, as long as they have an active interest in robotics," Assoc Prof Thang highlighted.
"This centre is important for nurturing future engineers as involvement in APCoRE provides an opportunity to plan, implement and execute for participation in competitions, exhibitions and real-tests of skills.
"At APU, the undergraduate programmes are focused on imparting fundamental engineering knowledge, practical and experimentation, and graduate employability skills which are closely integrated with teaching, learning and assessments," he pointed out.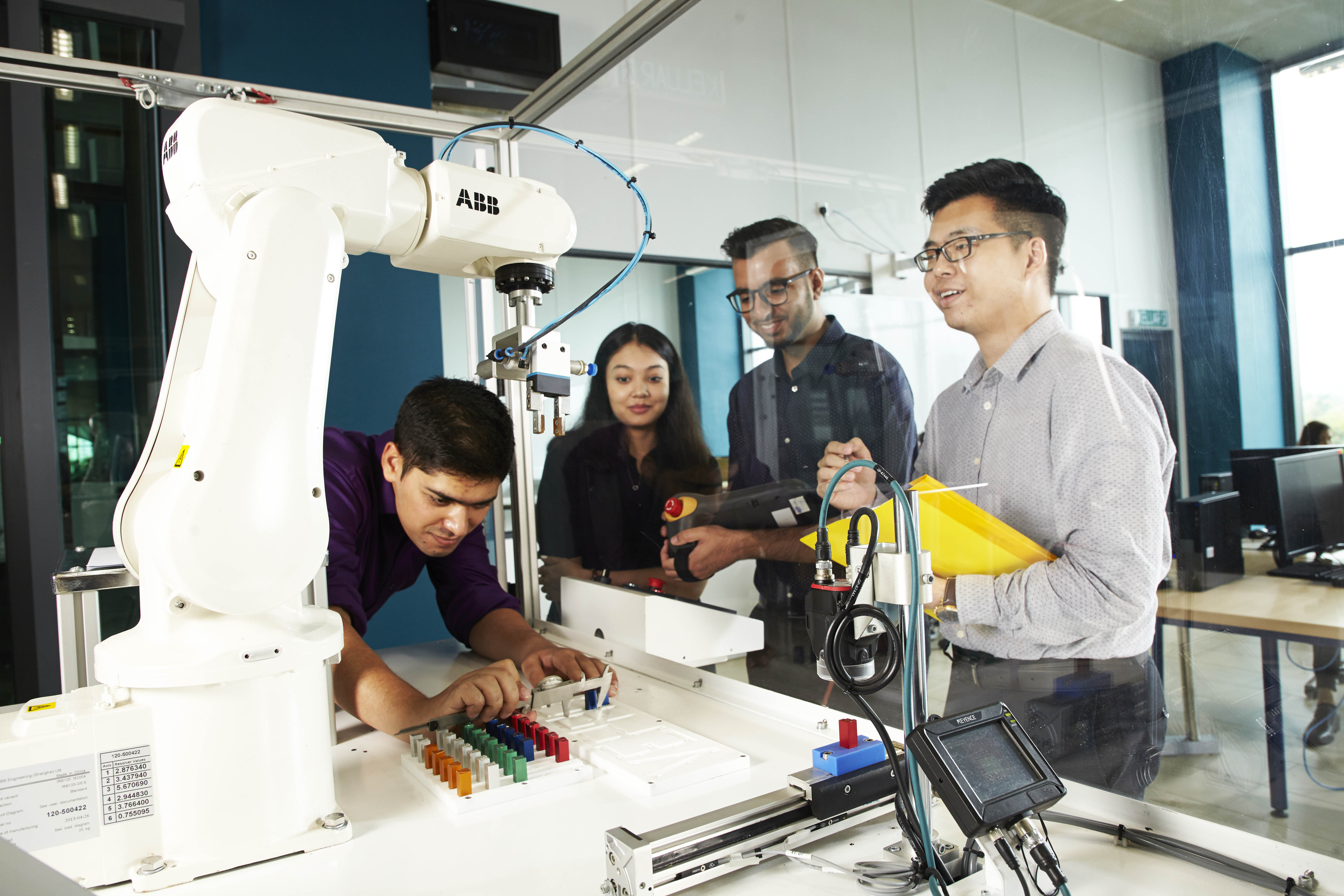 APCoRE enables engineering students to engage with advanced research work on robotics and participate in competitions.
In honing students' actual strength in the diversified fields and test their competency in employability skills, APU's School of Engineering also has been arranging for their students to take part in various competitions held beyond the campus.
Recently, four Mechatronic Engineering students defeated over 200 candidates from 43 countries and emerged champion at the Hilti Global IT Competition 2021, a competition that tested their skills in radio frequency identification, IoT, mechatronics, robotics and remote monitoring technology.
Apart from the Hilti Global IT competition, APU students have been exposed to similar industry-level competitiveness at The Asia Pacific ICT Alliance Awards (APICTA), ABB Intervarsity Innovation Challenge and The ABU Asia-Pacific Robot Contest (ABU Robocon).
To ensure their students are well-rounded, APU's Mechatronic Engineering undergraduate programme also offers modules like programming with Python, engineering software and applications, digital electronics and industrial automation. This will ultimately convert them into multiskilled engineers who enjoy versatility in career options.
The career opportunities for mechatronics engineers is almost endless, spanning across mechanical, electrical and computer engineering, which means that jobs can be found in nearly every industry.
Roles include designing consumer machines, industrial machines, robotics and automation for advanced manufacturing, robot control systems or aviation electronics, software and hardware development for real-time computer control systems, among others.
In summary, mechatronic engineers are those who make any existing systems smarter. This new breed of engineers has to work in a hybrid manner, meeting an ever-increasing need in an industry where the complexity of projects are rising and resources are limited.
Therefore, graduates of this discipline are sought after for management positions as well because of their diverse skills and overall knowledge of state-of-the-art technology.
The employability strength of APU's graduates has been officially endorsed in the latest annual Graduate Tracer Study by the Higher Education Ministry - 100% of APU graduates were employed upon graduation. This is a significant symbol of APU's success and pride in nurturing professionals for global careers. To date, over 50,000 alumni have embarked on their careers worldwide.
For further information, visit APU!