Malaysia has more than 590 higher education institutions and more than 1,270,000 students of all higher education. With so many universities and colleges to choose from, you might need some help. Let us guide you through all the different types of higher education institutions and how to choose from them.
Private universities and colleges
These are colleges and universities that do not get funded by the government and rely on the students' tuition contribution. With that said, their fees may be higher than in public universities.
There are three types of private institutions:
Universities. They offer both undergraduate and postgraduate degree courses and can confer these degrees.
University Colleges. They don't have a full university status and often are part of a bigger university, and they mainly offer pre-university and diploma programmes. They can confer degrees under specialised fields and disciplines.
Colleges. They offer diploma and pre-university programmes. Some of these establishments can provide degree courses, twinning programmes included, through a local or foreign partner university.
Some of the private institutions are:
Foreign universities
Foreign universities in Malaysia are also considered private and they work together with Malaysian institutions. Malaysian students who study in these schools will get an international qualification without leaving the country.
Currently, there are 11 Foreign Branch Campuses in Malaysia, with more than 100,000 international students from different countries.
Swinburne University of Technology Sarawak Campus, Sarawak
Heriot-Watt University Malaysia, Putrajaya
Curtin University, Sarawak
Newcastle University Medicine Malaysia, Johor
Monash University Malaysia, Selangor
University of Nottingham Malaysia Campus, Selangor
University of Southampton Malaysia Campus, Johor
Xiamen University Malaysia Campus, Selangor
Raffles University Iskandar, Johor
University of Reading Malaysia
Shanghai Jiao Tong Campus, Sarawak (in 2018)
Public universities
While students still pay for their tuition fees, Public Universities are funded by the government as they pay for most of the operating costs. These universities are in overall bigger with thousands of students studying there.
There are 20 public universities in Malaysia:
Universiti Malaya (UM)
Universiti Sains Malaysia (USM)
Universiti Kebangsaan Malaysia (UKM)
Universiti Putra Malaysia (UPM)
Universiti Teknologi Malaysia (UTM)
Universiti Utara Malaysia (UUM)
Universiti Pendidikan Sultan Idris (UPSI)
Universiti Tun Hussein Onn Malaysia
Universiti Teknikal Malaysia Melaka (UTeM)
Universiti Malaysia Perlis (UniMAP)
Universiti Malaysia Terengganu (UMT)
Universiti Malaysia Pahang (UMP)
Universiti Sains Islam Malaysia (USIM)
Universiti Sultan Zainal Abidin (UniSZA)
Universiti Malaysia Kelantan (UMK)
Universiti Pertahanan Nasional Malaysia (UPNM)
Universiti Teknologi Mara (UiTM)
Universiti Islam Antarabangsa Malaysia
Universiti Malaysia Sabah (UMS)
Polytechnics
Offering courses in vocational and technical subjects, these schools in Malaysia are famous for their skilled workforce and knowledge. There are 37 polytechnics in Malaysia.
Community Colleges
Offering certificate and diploma courses, this type of higher education often have two-year programmes only, and that it prepares the students for a four-year degree. Malaysia currently has 91 community colleges nationwide.
Top Universities and Colleges in Malaysia
The higher education system in Malaysia are improving every year and boasts top colleges and universities. Most of them have been recognised not just locally, but also abroad. In fact, five of them are even in Asia's top 100 universities, with Universiti Malaya (UM) sitting on top 24 according to QS University Rankings: Asia 2018. Here are the best universities in Malaysia.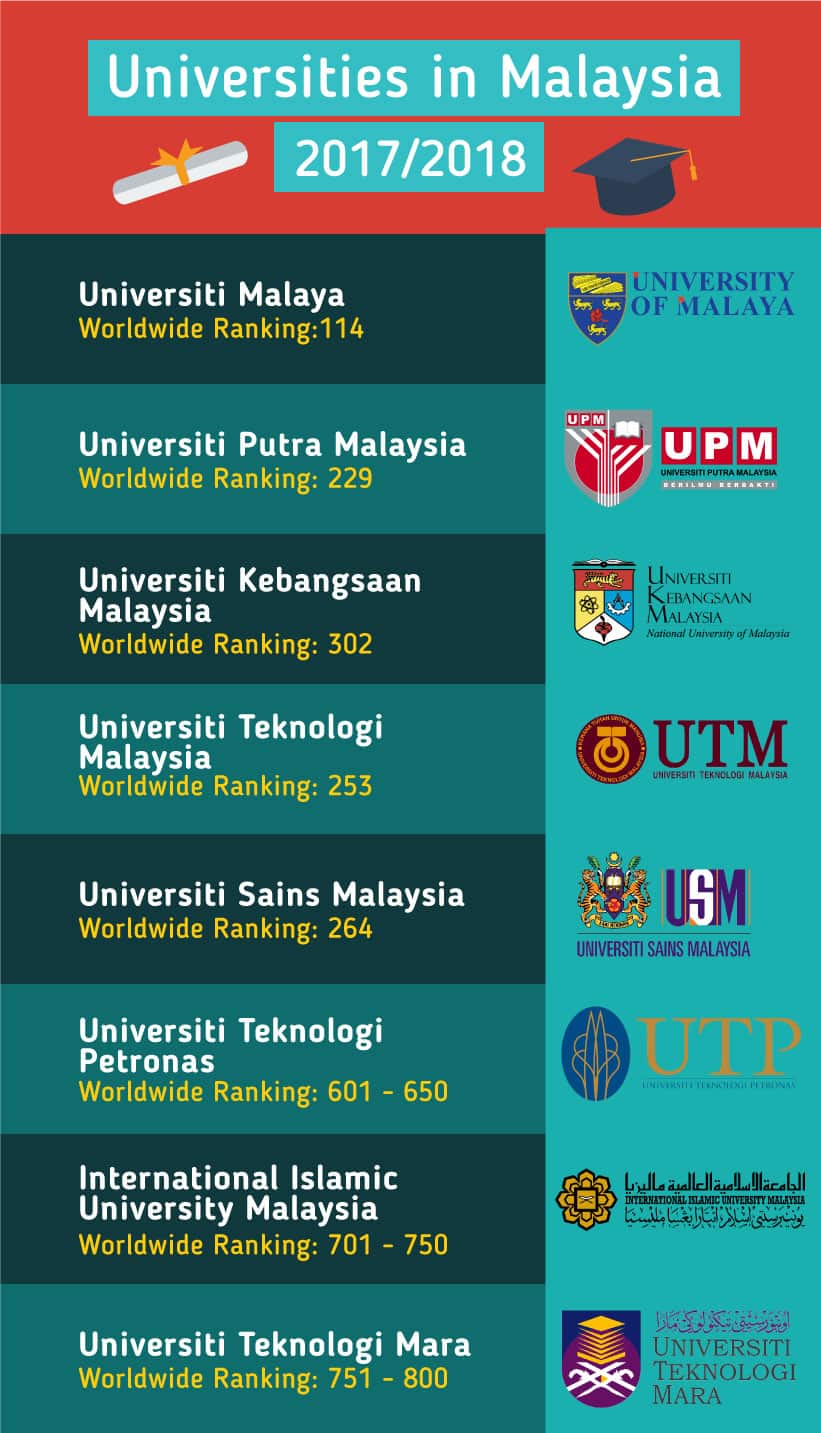 Tuition fees
To give you a general idea of the tuition fees of Malaysian universities you can see the ranges per level below.
| Study Level | Tuition Fee, per year |
| --- | --- |
| Foundation / Pre-U | RM 8,000 - 23,000 |
| Diploma | RM 6,000 - 30,000 |
| Bachelor's degree | RM 9,000 - 40,000 |
| Master's degree | RM 13,000 - 40,000 |
Our only goal is to help you find the study and university which fits you best, look around at our website and compare universities and courses with each other and apply for more information.