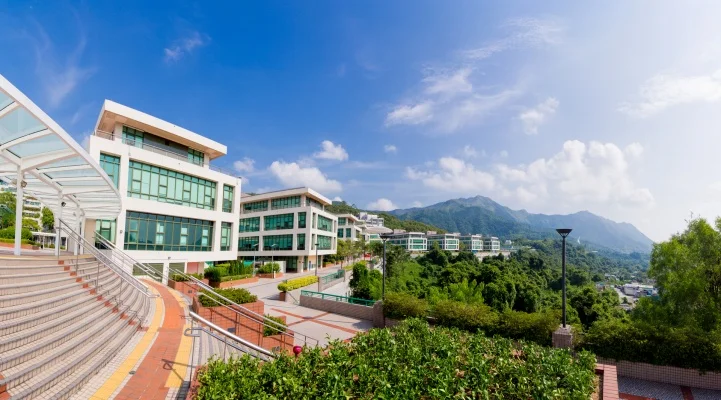 The Education University of Hong Kong
Hong Kong
Ready to apply? Start here.
Form here
Statistics

| | | |
| --- | --- | --- |
| | # 21 | QS World University Rankings by Subject 2023 - Education |
| | 25 | Undergraduate programs |
| | 0 | Postgraduate programs |
Overview
Statistics

| | |
| --- | --- |
| Institution type | Public |
| Year established | 1994 |
| Campus setting | Urban |
| Student population | Medium (1,001 to 10,000) |
| foreign students | Data not available |
| Nationalities | Data not available |
About The Education University of Hong Kong
The Education University of Hong Kong (EdUHK) is a government funded tertiary institution dedicated to the advancement of teaching and learning through diverse academic and research programmes on teacher education and complementary disciplines, including social sciences and humanities. We nurture educators and social leaders who are intellectually active, socially caring, and globally aware to become agents of change in the communities they serve. We place great emphasis on research capability with the aim of contributing to the advancement of knowledge, scholarship and innovation. EdUHK is committed to creating a sustainable impact on social progress and human betterment and defining the education landscape for not only Hong Kong, but also the Asia Pacific region.
Admissions
Intakes
Admissions Statistics

| | |
| --- | --- |
| IELTS | 6.0+ |
| TOEFL | 80.0+ |
For admission requirements and intakes for each individual course/programme please refer to course details.
Tuition and application fees
RM 25,130 - RM 83,567 per year
Estimated tuition fees as reported by the institution.
Tuition and Application Statistics

| | |
| --- | --- |
| Application fee (local students) | RM 89 |
| Application fee (foreign students) | RM 179 |
| Student visa fee (foreign students) | RM 137 |
Living cost
RM 2,089 per month
Average living cost in Hong Kong
The amount is indicated taking into account the average cost of food, accommodation, etc in Hong Kong for 2023
Costs Statistics

| | |
| --- | --- |
| Food | RM 1,313 |
| Accommodation | RM 495 |
| Others | RM 358 |
Ready to get started?
Kickstart your university life
Accommodation
First-year on-campus accommodation will be provided for international students. International undergraduate students enrolled government-funded programmes can choose either on-campus or off-campus accommodation in their subsequent years of study. International undergraduate students of self-financed programmes in principle will have to arrange for their own accommodation in their subsequent years of study, the University will actively support these students to meet their accommodation needs.
Campus
Nestled in a scenic mountain range, just one hour from Hong Kong's business districts, EdUHK is located in Tai Po, New Territories of Hong Kong, offering tranquility and world-class scholarship in a vibrant, inclusive community.
Student population
Medium (1,001 to 10,000)
Total population
Student Statistics

| | |
| --- | --- |
| Undergraduate students | 6100 |
| Postgraduate students | 3400 |
| foreign students | Data not available |
Mission
Committed to the Education-plus approach, the primary mission of EdUHK is to lead educational innovation, and to promote and support the strategic development of teaching, teacher education and disciplines complementary to education by preparing outstanding and morally responsible educators and professionals while supporting their lifelong learning.
Scholarships*
The University offers entrance scholarships to attract aspiring, committed, high-quality students with outstanding academic and non-academic achievements to join our undergraduate programmes and to encourage and support outstanding new entrants to develop their academic and non-academic talents to their full potential. These scholarships are primarily based on academic ability, personal qualities, interview performance and non-academic achievements.
Full Scholarship: HK$195,000 p.a. (renewable)
Tuition Scholarship: HK$145,000 p.a. (renewable)
Half-tuition Scholarship: HK$72,500 p.a. (renewable)
Applicants admitted to a full-time undergraduate programme will automatically be considered for entrance scholarships and no separate application is required.
*The information listed above is provisional and subject to changes. For up-to-date information, please refer to https://www.apply.eduhk.hk/ug/scholarships
Why Choose EdUHK?
The Future of Learning

No matter in which field you work, you need to harness the power of technology to succeed in the future. At EdUHK, we make sure the education you receive and the learning environment you are in give you the digital skills to stand out from your peers.

Career Success

EdUHK graduates are highly regarded by employers and enjoy an average monthly salary well above that of other graduates in the territory. Our programmes are designed to equip you with practical subject knowledge and professional skills to succeed in your future career.

We are the Leader in Education

As a global top 25 university in Education*, EdUHK's professors are not just world class researchers, but also great teachers who will inspire and guide you along your journey. (*2023 QS World University Rankings)

Go Global

Over 60% of our undergraduate students have at least one type of non-local experience during their studies—one of the highest among universities in Hong Kong. Full-time students can also apply for the Global Learning Enhancement Fund capped at HK$10,000 for financial support in these global activities.

More than Just Education

Guided by our "Education-plus" philosophy, we build a multidisciplinary learning environment that is not only about teacher education, but also Humanities, Social Sciences and Creative Arts and Culture. You will enjoy the flexibility to tailor your studies based on your passions and broaden your exposure for more future options.
Testimonials
Kato Yuka (Japan)

I chose EdUHK because it has well-structured programmes for students and it is ranked among the top universities for Education in Asia. One of the major things I learned at EdUHK is the passion people have for education, which includes the teachers who model for us, our seniors who guide us, and our peers who inspire us to improve ourselves. I would recommend others to study here because there are plenty of things to learn during both intra- and extra-curricular activities that could help one grow academically and socially.

Cheong Bing Qiang (Malaysia)

EdUHK is indeed a resourceful educational institution where you can pursue your tertiary education with its extensivity and inclusivity. From the broad but comprehensive curriculum, patient and caring lecturers and professors, abundance of learning opportunities out of the campus, to the diversity of students in our school, I would highly recommend students of different backgrounds to pursue your studies with EdUHK!