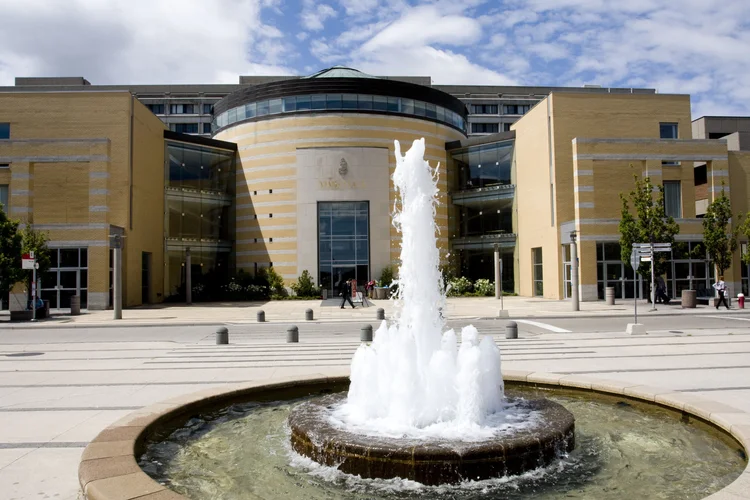 Statistics

| | | |
| --- | --- | --- |
| | # 250 | THE World University Rankings 2014-2015 |
| | 9 | Undergraduate programs |
| | 0 | Postgraduate programs |
Overview
Statistics

| | |
| --- | --- |
| Institution type | Public |
| Year established | Data not available |
| Campus setting | Data not available |
| Student population | Data not available |
| foreign students | Data not available |
| Nationalities | Data not available |
About York University
York University is helping to shape the global thinkers and thinking that will define tomorrow. York is Canada's third largest university, with a commitment to excellence which reflects a rich diversity of perspectives and a strong sense of social responsibility that sets us apart.
Admissions
Intakes
Admissions Statistics

| | |
| --- | --- |
| IELTS | Data not available |
| TOEFL | Data not available |
For admission requirements and intakes for each individual course/programme please refer to course details.
Tuition and application fees
Estimated tuition fees as reported by the institution.
Tuition and Application Statistics

| | |
| --- | --- |
| Application fee (local students) | Data not available |
| Application fee (foreign students) | Data not available |
| Student visa fee (foreign students) | Data not available |
Living cost
Data not available
Average living cost in Canada
The amount is indicated taking into account the average cost of food, accommodation, etc in Canada for 2023
Costs Statistics

| | |
| --- | --- |
| Food | Data not available |
| Accommodation | Data not available |
| Others | Data not available |
Accommodation
Living on Campus
Living in residence, you will develop lasting friendships and will have a variety of social and educational activities at your doorstep. Make the most of your York experience. Live on campus, get involved and become part of the vibrant and engaged community. Residence is more than just a place to live. It is the best way to take your academic and personal success to a higher level. For the total York Experience, York hope you choose to live in residence where together we learn, laugh and grow.
Late Applicants:  York cannot guarantee you a space in residence and you could be placed on a waiting list. Space will be offered as it becomes available throughout the summer, and priority will be given to first year students who live farthest away.
Living in one of York nine undergraduate residences - seven on the Keele campus and two at Glendon - means you're at the heart of the York community.
You should only apply to residences on your "home" campus e.g., if you are attending classes at the Keele Campus, apply for housing at the Keele campus. If you are attending classes at the Glendon campus, apply for housing at the Glendon campus.
Most of York residences are designed in a traditional style with comfortably furnished double and single rooms and access to common lounges and shared washrooms. At the Keele Campus there are also suite-style residences which feature ensuite kitchen and washrooms. Most buildings are co-ed, but some have all-female or all-male floors or sections. All of York residence buildings are smoke-free.
All residence rooms, on both campuses, provide wired Internet access and local telephone service (phone provided).
Campus
Keele Campus:
Located 30 minutes from downtown Toronto, the Keele campus offers a rigorous academic foundation balanced by real-world experiential education. Our 53,000 students, from across the world, are enrolled in 160+ undergraduate and 59 graduate programs.
Glendon Campus
Set on the historic Wood family estate, the Glendon campus is a lush parkland in the heart of Toronto offering an intimate learning community. Home to 2,700 students, Glendon specializes exclusively in the liberal arts, and is the only campus in Canada to do so in more than one language.
Located in the former municipality of North York
Student population
Data not available
Total population
Student Statistics

| | |
| --- | --- |
| Undergraduate students | Data not available |
| Postgraduate students | Data not available |
| foreign students | Data not available |