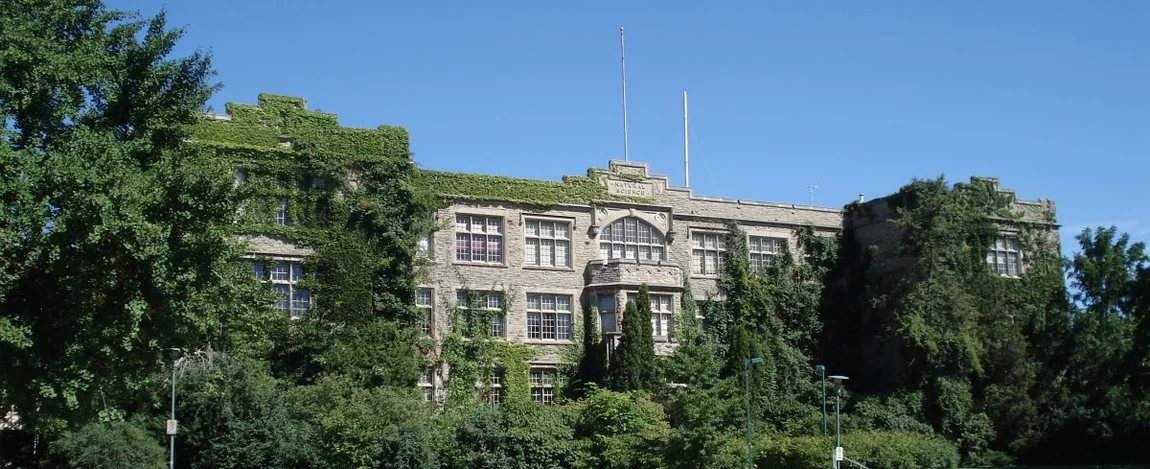 University of Western Ontario
London, Ontario, Canada
Statistics

| | | |
| --- | --- | --- |
| | # 192 | QS World University Rankings 2015 |
| | 7 | Undergraduate programs |
| | 0 | Postgraduate programs |
Overview
Statistics

| | |
| --- | --- |
| Institution type | Public |
| Year established | Data not available |
| Campus setting | Data not available |
| Student population | Large (More than 10,000) |
| foreign students | Data not available |
| Nationalities | Data not available |
About University of Western Ontario
The University of Western Ontario (UWO), which is commonly referred to among Canadian universities as Western or Western University, is a public research university located in London, Ontario, Canada.
The university was founded on 7 March 1878 by Bishop Isaac Hellmuth of the Anglican Diocese of Huron as "The Western University of London Ontario." It incorporated Huron University College, which had been founded in 1863. The first four faculties were Arts, Divinity, Law and Medicine. The Western University of London was eventually made non-denominational in 1908.
According to the 2012 Academic Ranking of World Universities (ARWU) rankings, the university ranked 201–300 in the world and 8-17 of 22 in Canada. The 2011 QS World University Rankings ranked the university 157th in the world, making it seventh in Canada. Several of Western's programs were also ranked in individual rankings. Social sciences at Western was ranked 96th in the world in the 2010 QS World University Rankings, and Western's Ivey Business School was ranked 1st in the World in the Global MBA Category of Bloomberg Businessweek.
Admissions
Intakes
Admissions Statistics

| | |
| --- | --- |
| IELTS | Data not available |
| TOEFL | Data not available |
For admission requirements and intakes for each individual course/programme please refer to course details.
Tuition and application fees
Estimated tuition fees as reported by the institution.
Tuition and Application Statistics

| | |
| --- | --- |
| Application fee (local students) | Data not available |
| Application fee (foreign students) | Data not available |
| Student visa fee (foreign students) | Data not available |
Living cost
Data not available
Average living cost in Canada
The amount is indicated taking into account the average cost of food, accommodation, etc in Canada for 2023
Costs Statistics

| | |
| --- | --- |
| Food | Data not available |
| Accommodation | Data not available |
| Others | Data not available |
Accommodation
We know that as an International student, your needs centre around comfort, a sense of security, convenience, and affordability. We also recognize that as an experienced student, you already have a good understanding of what campus life is like.
Western's residences offer some peace of mind when arriving to a new city and country, at times without an opportunity to visit beforehand and arrange accommodations. Living in residence at Western gives you the opportunity to get connected to campus and the important resources that help you get the most out of your University experience.
Glenmore Apartment
Online applications are now available for our University-owned student apartment buildings, the Glenmore Apartment complex. The one- and two-bedroom apartments, with 12-month leases, afford students the comfort and convenience of being within close walking distance of all university buildings. Bayfield Hall, which features one-bedroom apartments for graduate students, reopened in June 2008 after extensive renovations.
Platt's Lane Estates
Partnered or married students, or students with children, will enjoy the convenience of living at Platt's Lane Estates, a complex of university-owned apartment buildings and townhouses situated on a park-like setting of 20 acres. Western provides an Off-Campus Housing Service, where listings of available housing throughout London are maintained. London has one of the higher vacancy rates in the province, so there is no shortage of rental accommodations.
Off- campus Housing
It is important to note that you should view a property before signing a lease or paying a rent deposit. Please contact our service if you require temporary accommodation options to stay in while searching for a rental unit. Our in-person service operates on a self-serve basis, but staff are available to assist with your housing search questions. Located in Elgin Hall, you'll have free access to phones and city maps. Computers are available to conduct personalized searches based on categories such as rental price, location and housing type. These listings are also available online.
Campus
The majority of the campus is surrounded by residential neighbourhoods, with the Thames River bisecting the eastern portion of the campus. Western Road is the major transportation artery of the university, going north to south. While the campus covers 455 hectares (1,120 acres), the majority of the teaching facilities are centred within the core approximately 169.3 hectares (418 acres).
The University of Western Ontario is situated in the city of London, Ontario, located in the southwestern end of the Quebec City – Windsor Corridor.
Student population
Large (More than 10,000)
Total population
Student Statistics

| | |
| --- | --- |
| Undergraduate students | Data not available |
| Postgraduate students | Data not available |
| foreign students | Data not available |