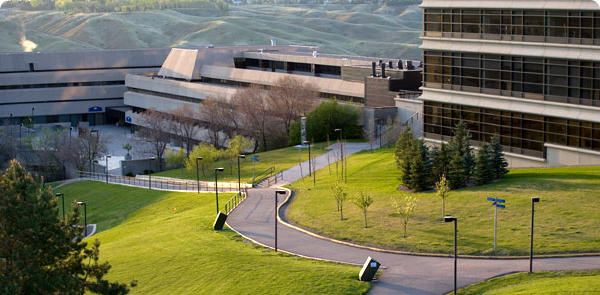 University of Lethbridge
Edmonton, Alberta, Canada
Statistics

| | | |
| --- | --- | --- |
| | 13 | Undergraduate programs |
| | 0 | Postgraduate programs |
Overview
Statistics

| | |
| --- | --- |
| Institution type | Data not available |
| Year established | Data not available |
| Campus setting | Data not available |
| Student population | Data not available |
| foreign students | Data not available |
| Nationalities | Data not available |
About University of Lethbridge
The University of Lethbridge is a publicly funded comprehensive academic and research university, founded in the liberal education tradition, located in Lethbridge, Alberta, Canada, with two other urban campuses in Calgary and Edmonton.
Nestled in the coulees in the heart of southern Alberta, the University of lethbridge ( U of L ) is more than just ''another place'' to get your degree. 
At a glance:
More than 8,400 students 
Established in 1967
Over 150 undergraduate program options 
Five faculties and a School of Graduate Studies 
Consistently ranked in the top ten primarily undergraduate university institutions by Maclean's Magazine 
Admissions
Intakes
Admissions Statistics

| | |
| --- | --- |
| IELTS | Data not available |
| TOEFL | Data not available |
For admission requirements and intakes for each individual course/programme please refer to course details.
Tuition and application fees
Estimated tuition fees as reported by the institution.
Tuition and Application Statistics

| | |
| --- | --- |
| Application fee (local students) | Data not available |
| Application fee (foreign students) | Data not available |
| Student visa fee (foreign students) | Data not available |
Living cost
Data not available
Average living cost in Canada
The amount is indicated taking into account the average cost of food, accommodation, etc in Canada for 2023
Costs Statistics

| | |
| --- | --- |
| Food | Data not available |
| Accommodation | Data not available |
| Others | Data not available |
Campus
Canadian Centre for Behavioural Neuroscience 
Alberta Water and Environmental Science Building 
Financial trading room with live data feeds
Simulation Health Centre and Addictions Counselling Lab
Art collection featuring works from Canada, America and Europe, spanning the 19th, 20th, and 21st centuries 
53 foot climbing wall, indoor track and community stadium
U of L main campus: 490 acres
One hour north of the US border
Two hours south of Calgary
Lethbridge population: 88,000
Two hours either east or west to the Saskatchewan or BC border
Student population
Data not available
Total population
Student Statistics

| | |
| --- | --- |
| Undergraduate students | Data not available |
| Postgraduate students | Data not available |
| foreign students | Data not available |