Xi'an Jiaotong-Liverpool University equips students with world-class education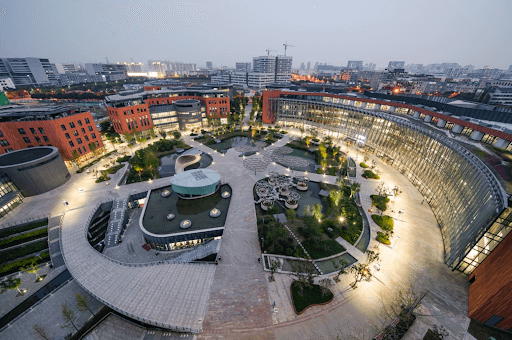 Xi'an Jiaotong-Liverpool University South Campus in China
China has been one of the fastest-growing economies in the last four decades, a member of the United Nations and the World Trade Organisation, renowned for contributions to art, language and trade, and home to scientific and technological research achievements and innovation.
Those with insight into this country can expect to have an edge in a world of globalised trade, cultural exchange and mobility. China's increasingly influential role in the world has led to its popularity among international students as a study destination to both get a degree and learn Mandarin.
According to the Chinese Ministry of Education, in 2018, there were nearly 500,000 international students studying at more than 1,000 Chinese universities. Indonesia ranked seventh in the number of students sent to China that year.
Top standards, diverse programmes
One of the leading international universities in China is Xi'an Jiaotong–Liverpool University (XJTLU), a joint venture university between Xi'an Jiaotong University in China and the University of Liverpool in the UK.
XJTLU alumni say the insight they gained into China during their studies is a key benefit of attending this university. In addition, they note that undergraduates will receive two degrees – one from the Chinese Ministry of Education and the other from the University of Liverpool. Postgraduate students receive a degree from the University of Liverpool that is also recognised by the Chinese Ministry of Education.
As an international university, XJTLU uses a UK-based curriculum and English as the delivery language.
An XJTLU alumna from Indonesia, Audrey Ardianto, says the biggest draws to XJTLU are its high standard of education, the diversity of its more than 90 degree programmes, the well-equipped facilities, and the boost to students' job prospects.
Audrey studied BA Accounting at XJTLU's International Business School Suzhou (IBSS), which last year received its "Triple Crown" accreditation by the three largest and most influential business school accreditation bodies: AACSB (Association to Advance Collegiate Schools of Business), EQUIS (EFMD Quality Improvement System), and AMBA & BGA (Association of MBAs and the Business Graduates Association).
Now, she works as a competitive intelligence analyst at one of south-east Asia's largest e-commerce companies.
"Compared to other international universities in China, XJTLU is among the most diverse in its majors. It offers a variety of study programmes, ranging from Architectural Engineering to Digital Media Arts," Audrey says.
Audrey added that XJTLU's Accounting programme uses international accounting standards, one of which is the International Financial Reporting Standards (IFRS). IFRS is widely used by multinational companies, including the Big Four accounting firms: Deloitte, PricewaterhouseCoopers (PwC), KPMG, and Ernst & Young (EY).
"I feel very grateful for XJTLU's international quality in preparing me to enter the professional world," Audrey says.
World-class facilities
In addition to providing international-standard education, XJTLU also offers modern laboratory facilities to optimise students' learning experience.
Another XJTLU alumna, Kelly Williams, says during her studies, she appreciated the cutting-edge laboratory facilities at the School of Science.
"For example, there is a nuclear magnetic resonance (NMR) tool to analyse the chemical components in a mixture. Such advanced facilities demonstrate XJTLU's efforts in supporting practical learning so that students master more than theory," Kelly says.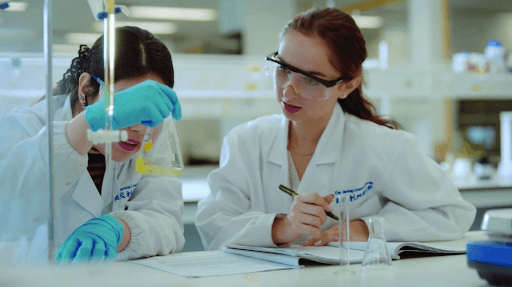 Students at XJTLU's School of Science
In addition to those at the School of Science, students enrolled in other XJTLU schools will also enjoy top-quality facilities.
Nicolas Keefe Sutanto, an alumnus of the BSc Economics and Finance programme, says he appreciated the IBSS Financial Lab and Trading Floor, developed in collaboration with Thomson Reuters, the world's leading source of intelligent information for businesses and professionals. The lab is equipped with Eikon, Thomson Reuters' flagship financial trading system, providing students with insight into how financial professionals access and utilise information.
"The laboratory helps users collect financial data which is very helpful for research and student learning development," he says.
In addition to state-of-the-art facilities, XJTLU also provides its students with various kinds of soft and hard skills through projects and challenging assignments. "All of that has been useful for my career now," says Nicolas, now a digital strategy associate at Astra International. Previously, Nicolas worked as a consultant at EY and Deloitte Indonesia.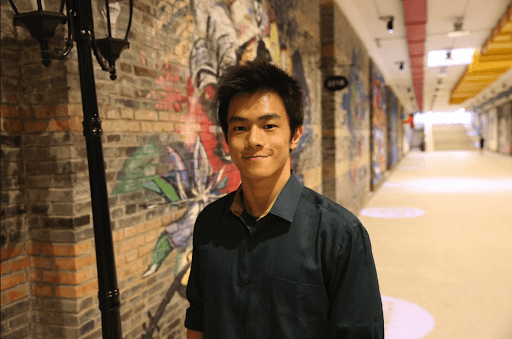 Nicolas in XJTLU's South Campus Tunnel
Graduates who are competent
In addition to getting two degrees, Nicolas's background as a graduate from one of the leading universities in China also contributes to increasing his credibility when competing in the job market.
"One of the companies I worked for previously had many Chinese clients and partners. The company will consider recruiting alumni of Chinese campuses because they have an understanding of the country and can speak Mandarin," he says.
Like Nicolas, Kelly says her credibility as a graduate from a Chinese university greatly helps her in competing in the professional world.
Currently, Kelly works as a research and development formulator at an Indonesian beauty company, SYCA Cosmetics.
Mandarin language skills helped her stand out from other candidates during the recruitment process, she says.
"Among all applicants, I was the only one who graduated from a Chinese university. My company imports packaging from China and saw that as a Mandarin speaker, I could contribute positively to the company. Today, Mandarin proficiency is a significant asset that many employers are looking for," she says.
Finding the right university to study at, and preparing to become a young professional, is not easy. Moreover, competition is just getting tougher.
However, a world-class university such as XJTLU can provide graduates with an extra edge. In addition to having an excellent curriculum and facilities, XJTLU has many scholarship programmes for south-east Asian students interested in studying in China.

XJTLU alumni
For more information about XJTLU, please visit the following link.