What To Consider When Choosing Your Study Abroad Destination
By EasyUni Staff | Last modified 26 Dec 2019
Share this page with friends
We all have a dream of studying abroad and spend some years living in another country to learn a new culture and language. What's bad about pursuing our studies locally? There's no difference in terms of educational opportunities, but when it comes to gaining new experiences, studying abroad offers you broader fresh experiences.
Planning to study abroad comes with a comprehensive set of intention and the process is not that easy. Not only you need to have enough financial support in order to fly over to your dream country, but you also need to be prepared for other things that might come in your way.
Spending 4-5 years in a country you've never stepped in before can be overwhelming. This is why you need to prepare emotionally, mentally and physically, homesickness happens and from what we've heard from students who studied abroad, the feeling was never pleasant.
Below are some of the obvious things you need to be aware before deciding the country you want to pursue your studies at: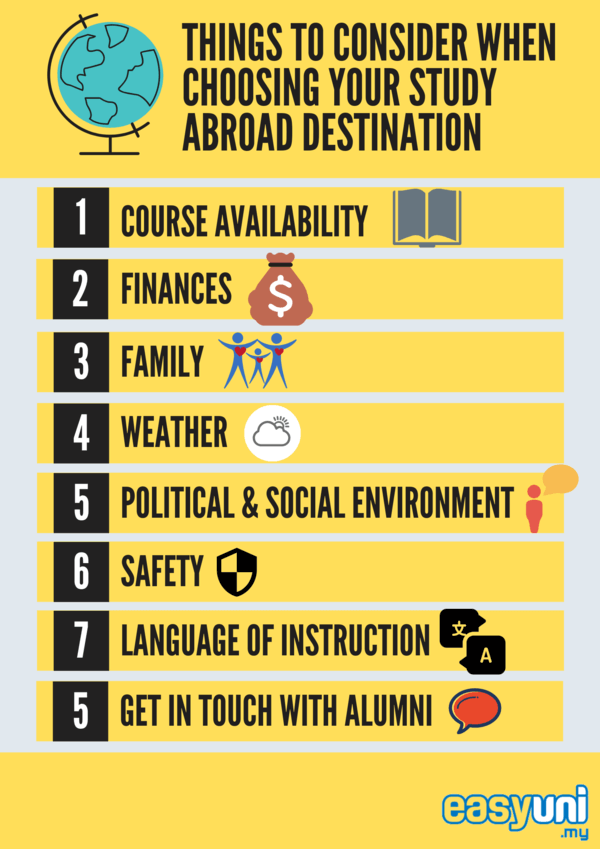 ---
1. Course availability
Some countries don't offer certain courses, especially for international students, be it due to the educational system or government regulations. For example, in the US medicine and law are not available at an undergraduate level, but they are in the UK and Australia. In the US you would only be able to do medicine or law at a postgraduate level.
This means that you can only practice after you finish your postgraduate studies while in the UK or Australia you would be able to practice after you get your undergraduate degree. Countries like Singapore and Indonesia also prefer local students in these courses and give greater priority to local students for medicine and law courses.
Always check the course availability before deciding upon a country or university.
You can read our guides to find out the admissions and entry requirements needed by country and course.
2. Finances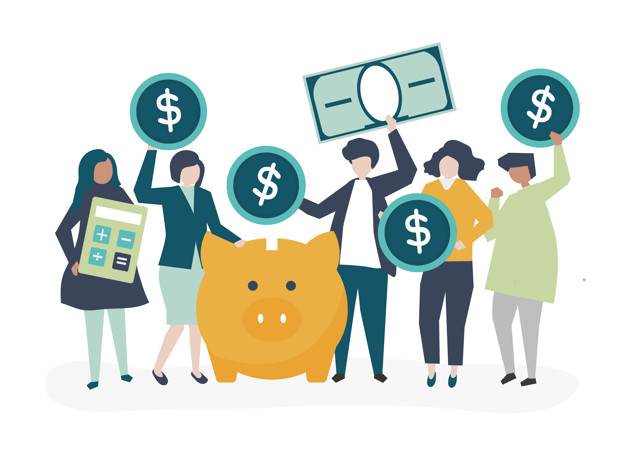 It is more expensive to study in some countries compared to others. Compare the tuition fees of the universities you'd like to go to. Discuss with your parents which universities are realistically possible. (It is a waste of your time and effort to apply to a university that is neither affordable nor providing any scholarships or aid).
Also take into consideration that living costs are not only higher in some countries, but they are also typically higher in large cities compared to small towns. For instance, the costs of living, such as rent, are much higher in places like London then they are in Bristol.
Find out which scholarships or grants you are eligible for. However, bear in mind that the number of scholarships offered to international students is very limited in most places.
3. Family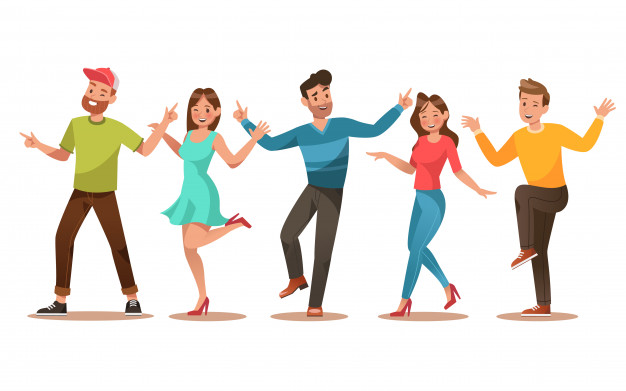 Living abroad is always easier if you have some family in that city or a nearby city. They provide not only moral and emotional support but also security. You will be assured that if something happens or you are in trouble there is someone near you that you can rely on to help you out. It is also good to know that when you're feeling homesick, there is someone or someplace to go to.
4. Weather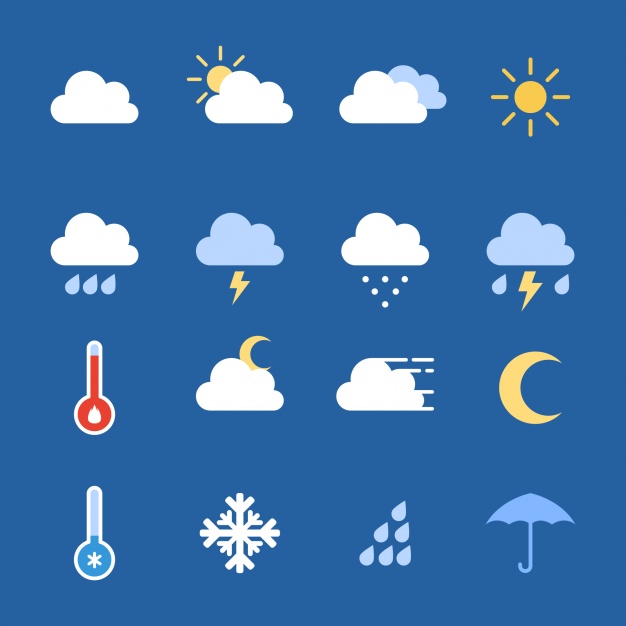 In some places, the weather goes to the extremes while in other, more tropical, places it may be sunny all year round. Research the country's weather year-round before making your decision. If you can't stand a certain kind of weather or climate, whether it be for personal reasons or health reasons, universities in that country may not be your ideal choice.
You need to take into consideration factors like sunrise and sunset. In the UK, for instance, the sun sets around 4 in the afternoon for almost half of the year. If you prefer long days and can't stand the rain or cold, the UK might not be an ideal choice for you.
5. Political and Social Environment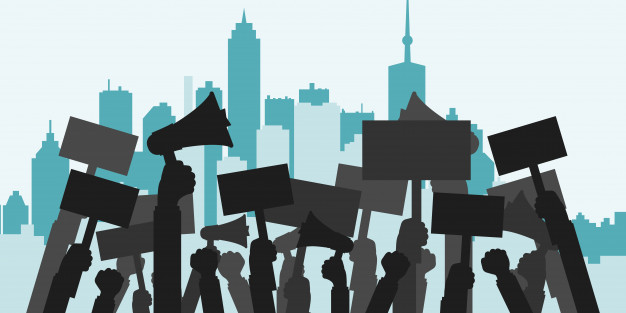 A lot of countries are going through political instability with riots, killings, and changes in the political structure. These countries are best to be avoided for your own safety. Take note that some countries are known for their racism against certain other nationalities.
Research the background of the city and country before you make your decision. Certain cities may be more stable than others, and certain regions or border areas may be more dangerous. It is unwise to study in a country that is under attack or is known for attacks on students of your race or nationality. Do not put yourself in a potentially dangerous situation unnecessarily.
6. Safety
Some places are known for their high crime rate. Finding universities in this area is not a good idea. Look for safer places. Both your residence or home areas and your university's location should be safe. You wouldn't want to have to worry about your safety 24/7 and be unable to focus completely on work and other activities. You also wouldn't like your parents to be worried about your safety every day.
7. Language of Instruction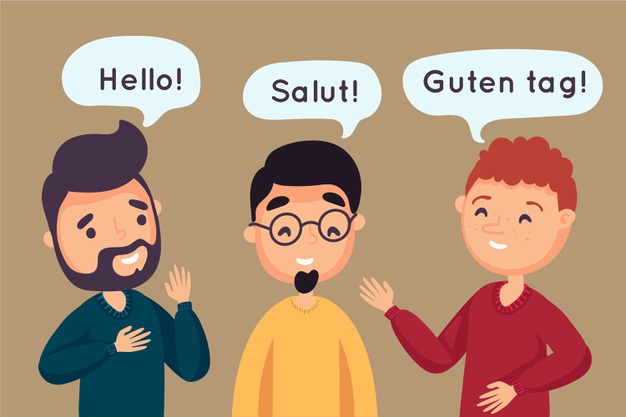 Some universities only hold courses in the local language while others offer the option of the local language and english. For instance, almost all local universities in Italy teach their courses in Italian, while the American universities in Italy conduct their courses in English.
Sometimes this may be the requirement for obtaining a student visa. Germany, for example, has an excellent education and is tuition-free. However, a high level of German is required as most of the courses are conducted in German.
So, check which language the university has chosen as its medium of instruction. If you haven't learnt the language of instruction, do not assume that you'll just pick it up as you live there. This will pose unnecessary challenges for you as the course material itself will be taxing enough.
8. Have a chat with students who have studied abroad
The best to get first-hand tips is to get in touch with any of your family members, friends or seniors who have studied abroad. With this, you get to have a bigger picture of what to expect when studying in another country.
You can request for tips and ask specific questioned that can distract your worries away. This is a part of the main steps you should take because you never know what others went through during their studying abroad experience.
Every individual may have a different or similar journey, but this will definitely help you secure better chances and expectations.
Do you have any other tips in mind? Share with us your experience if you're currently studying abroad. If you are one of the students who will be going abroad for your tertiary education, we hope the tips above help you in making your decision.