Event Management Guide For University Students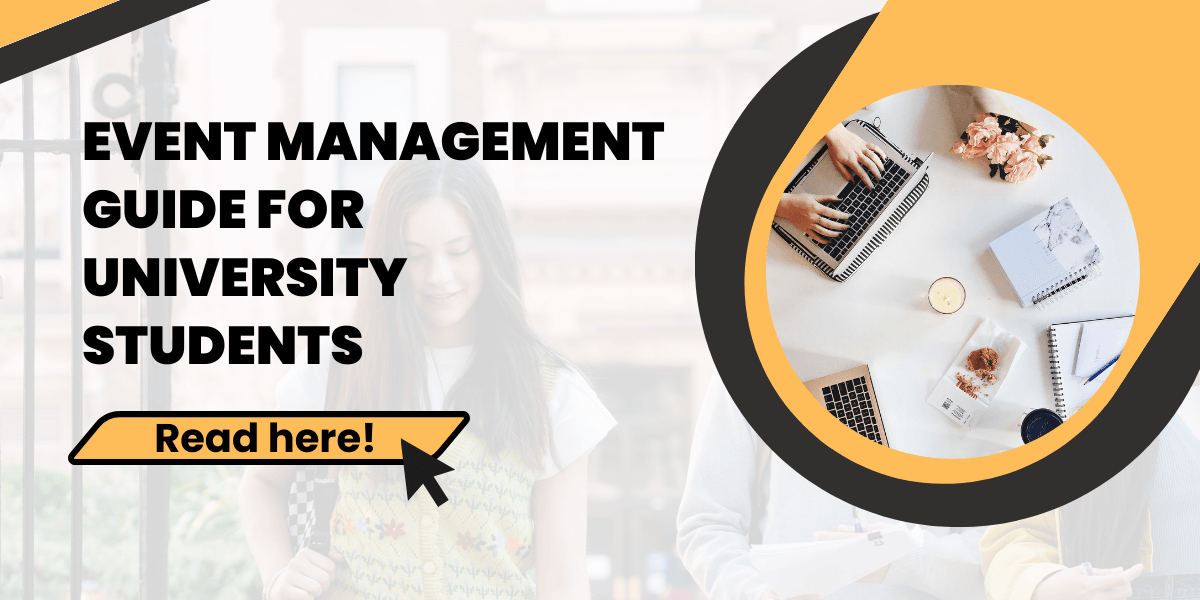 When you think of event management, what's the first thing that comes to mind?
If you said managing an event, you're technically correct - that is the essence of event management.
However, it's much broader than that, not limited to handling occasions.
Let's explore the truth about event management so that you can get a better understanding of it.
What Is Event Management?
Event management is a broad term that encompasses a variety of specialized tasks.
To manage an event successfully, one must build a concept, identify the target audience, budget effectively, and secure a safe venue.
If you search for event management courses, you will likely encounter subjects such as event risk management, promotion, and branding.
Event management is a combination of business and management knowledge, covering everything from A to Z and beyond.
An event is where people from different backgrounds come together, from strangers, to form connections.
Therefore, event managers and their teams are responsible for the occasion's objective, finding the right audience, and ensuring safety, including sponsorship for significant events.
Since the event will likely attract significant figures such as the CEO and artists, the organizer must promote and brand the event to attract the right audience.
For example, the organizer wants to hold a university food festival.
In that case, they must identify their target audience's age, occupation, other notable events on the same day, and venue.
From this information, the organizer should know what to sell, how to set prices, and prepare for safety precautions on the event day.
The organizer must also plan a suitable medium to promote the event, such as WhatsApp blasting, Twitter or Instagram posting, or distributing posters/flyers.
Inviting a famous influencer or celebrity to perform on the day of the event is also a good idea, as this can help attract more attendees.
But what if the organizers fail to meet these essential requirements?
If the event fails, it could damage the organizer's reputation and network connections.
Planning and executing the event to the best of their ability is essential to ensure success.
How To Hone Your Event Management Skills?
This knowledge can be helpful to you even if you are a student studying event management at a university.
It is particularly applicable when your faculty organizes an event, as it will help you understand your role and responsibilities.
1. Establish your "signature" style
As an event manager or coordinator, you have the opportunity to develop your own unique style.
For instance, if you enjoy grand and lavish events, you may include sparkling rose gold decorations in your venue.
This gives you clear direction and allows you to use your creativity to bring your event to life.
Additionally, keeping up with the latest trends can provide inspiration for future events and is a valuable skill.
2. Befriend with technology
It's 2023, everybody.
Technology has become integral to our daily lives, and its usefulness cannot be denied.
To ensure that you stay informed about event management, it is important to keep up-to-date with current issues.
This will enable you to identify the advantages and disadvantages of various events.
For instance, if an event has a large turnout, you can draw inspiration from similar occasions you have seen online.
This will also help you anticipate any potential risks and take necessary precautions.
3. Develop new network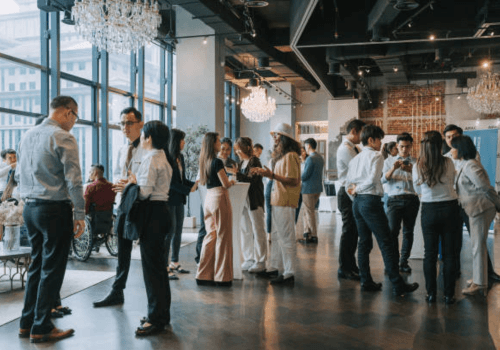 Image source: iStock
Event management involves making connections, which means stepping out of your comfort zone.
You can't stick to the same routine and repeat the same style over and over again.
Eventually, you may become exhausted by your own creativity in event planning.
To avoid this, meeting new people and learning from their experiences in organizing different events is vital.
Additionally, maintaining good relationships with former colleagues is crucial.
This will help you build an effective team of volunteers and learn from their contributions.
As a university student new to event management, don't be discouraged.
You can form professional relationships with your classmates or students from other courses.
8 Easy Steps To Conduct Your Event
1. Determine your event goals and objective
Before you start organizing your event, it's important to take the time to identify its purpose and objectives.
It will help you determine the effort you want to put into planning it and the amount of time and money you're willing to invest.
You can choose from many different goals or objectives, depending on your needs and interests.
Some examples include raising awareness about a community issue or encouraging students to exercise during finals week.
By setting clear goals and objectives for your event, you can create an impactful experience for everyone involved.
2. Develop a budget planning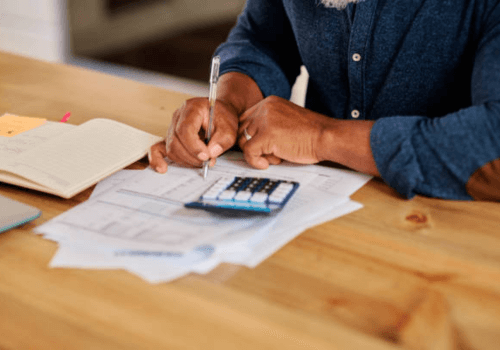 Image source: iStock
To ensure your event's success, creating a budget is highly recommended.
It allows you to plan and distribute funds for the project efficiently.
Besides that, you can prepare for any possible expenses during the planning process or on the event day.
A helpful approach is to categorize your projected expenses and determine the cost for each category.
For example, venue rental, setup fees, and catering costs.
The greater the detail you provide for each category, the more precise your overall budget will be.
If there are unexpected expenses, a well-structured budget can assist all parties in making necessary adjustments effortlessly.
3. Who is your audience?
When it comes to organizing an event, one of the most critical factors to consider is the audience.
You need to know who will attend your event to tailor your planning to suit their needs and preferences.
To help you narrow down your possibilities, here are some tips that can help you identify your audience effectively.
You should start by identifying who will attend your event and why they are attending.
For example, you're planning an alumni get-together.
In that case, you need to consider your attendees' age range and their specific interests.
In addition to this, you should also consider your attendees' demographics.
It includes age group, gender identity, and cultural background.
By considering these factors, you can ensure that your event is inclusive and welcoming to everyone attending.
It is also helpful to plan an off-campus event or one away from school or work environments.
This way, you can avoid pressure from management or other stakeholders with competing priorities.
It lets you determine who should attend your event before worrying about logistics and other details.
4. Create an event program
When planning an event, an event program can effectively convey your message, promote your cause, and solicit donations.
The first step in creating an event program is to consider which aspects you want attendees to remember and how they relate to the organization's mission or purpose.
Next, assess whether certain elements would be beneficial for guests on the day of the event.
For a formal occasion such as an awards ceremony, consider providing personalized invitations or ticket stubs with each guest's name printed on them.
Additionally, offering printed directions from various locations ensures attendees arrive safely.
5. Find a suitable venue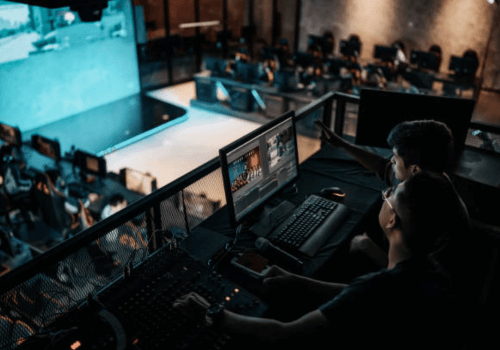 Imge source: iStock
Now that you are all set to organize your event, it's time to find the perfect venue that suits your needs and budget.
Start by checking out the available facilities on your campus.
Consider utilizing a classroom or office building if you have a small group of attendees.
Alternatively, look at local businesses like restaurants or community organizations offering free space or reduced rates.
On the other hand, if you have a larger group of attendees, consider reserving meeting rooms, conference rooms, or lecture halls.
6. Don't forget the Master Plan!
It is crucial to establish a comprehensive master plan.
The document should comprise the event's name, a brief overview, date/time, contact details, a list of essential materials, and a timeline for completing each task.
The master schedule is a central point for organizing the event and keeps everything in one place.
Furthermore, it serves as an archive, enabling easy reference if any issues arise later in the planning process.
With a clear understanding of the status of things, you can guarantee seamless production from start to finish.
7. Task delegation to your team
As a team leader, it's important to ensure everyone does their assigned tasks correctly.
This includes yourself, so be sure to set your own role in the planning process.
Throughout the event planning, check in with each team member regularly to ensure that they understand their responsibilities and deadlines.
It's vital to be aware of any potential roadblocks that may hinder progress.
For example, if a team member is busy with other projects or coursework. In that case, they may be unable to complete their tasks.
To avoid issues, address the situation early on by assigning someone else to take over.
Be sure to provide feedback to each team member after the event to help them improve their planning skills in the future.
8. Develop a marketing strategy
After setting up your event's vision, mission, and budget, it's time to shift your focus toward promoting it.
Your marketing strategy should aim for a clear attendance goal and list the tactics that will help achieve it.
Also, send out invitations to prospective attendees.
When creating a marketing plan, provide all the necessary details to help the students decide whether or not to attend.
It includes essential information such as the time commitment and the benefits they can expect from attending.
Be mindful not to oversell the event or the university.
Keep in mind that attendees are human and can easily become overwhelmed by too much hype.
To sum up, organizing an event requires a significant amount of time and effort.
Some events can even take more than six months to plan.
Therefore, it's essential to follow this step-by-step guide for your university event. Buckle up and keep these tips in mind.