Indonesians Talk About Their Experience Studying In Malaysia
November 30, 2018
EasyUni Staff
For most students studying abroad or anyone moving to a different city, the common problem is always the separation from familiarity. Not these guys! Meet our Team members from Indonesia as they talk about their student life here in Malaysia.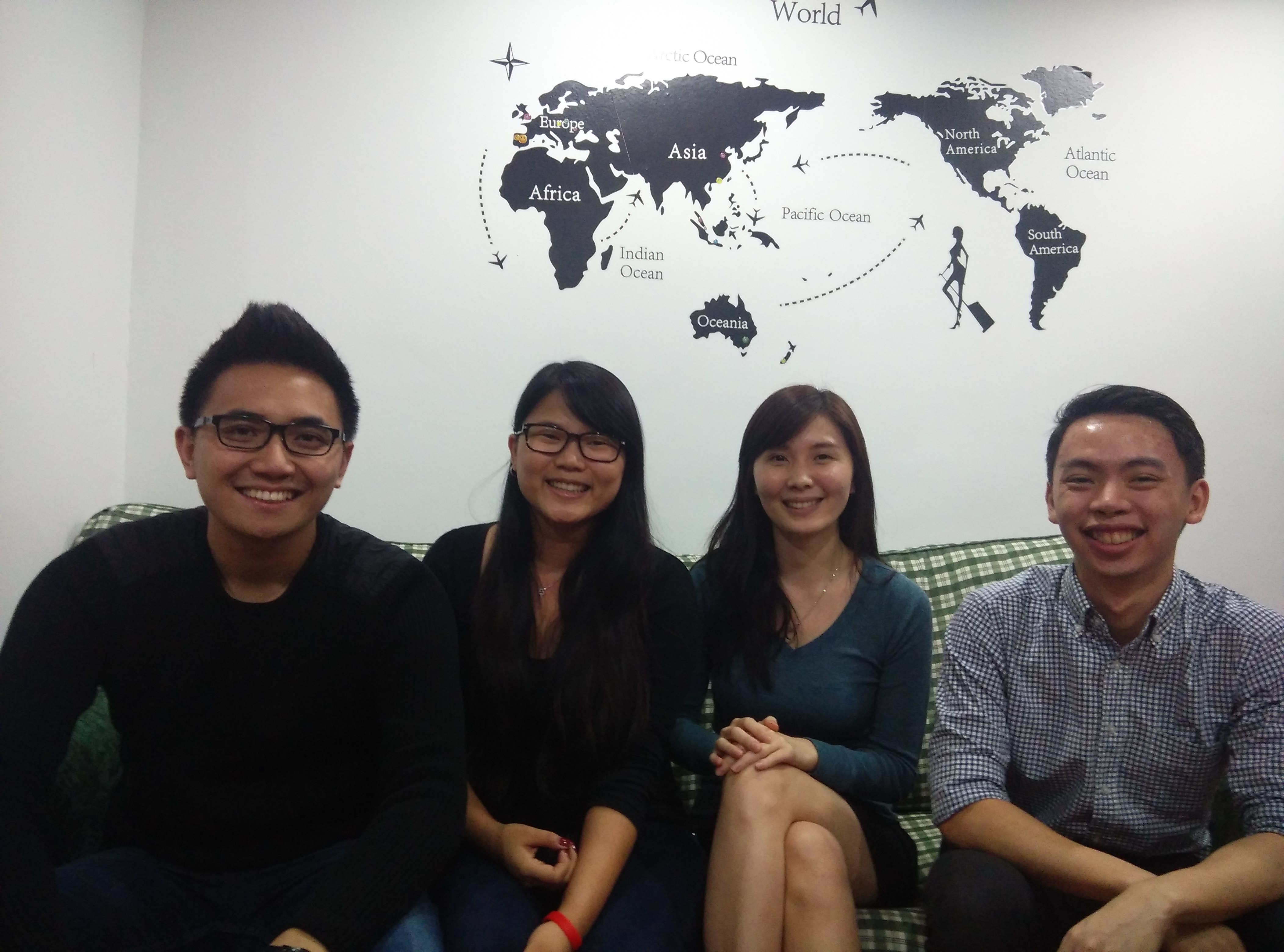 easyuni's Oliver, Metty, Yeny, and Edward
Guys, introduce yourself to everyone and tell something about yourself.
Edward: I'm the youngest child in my family. Unlike any youngest kid, I wasn't pampered at all. I've been guided to get outside my comfort zone which has brought me to where I am now. I'm one of the Account Managers here in Easyuni.
Metty: I'm the education counsellor here. I call and follow up with the students every day to make sure they make the right choice for their future :D
Oliver: Hi, I am Oliver. I work in easyuni as an Account Manager.
Yeny: I'm an introvert and I enjoy cooking and going for adventure trips like hiking, cliff jumping, rafting, parasailing, etc. In easyuni, I am the point of contact for our sub agent partners around the world and I also handle content on social media.
Can you tell everyone as to which university did you guys go to and what did you study? What were your majors at that time?
E: I went to Staffordshire University, UK programme through one of their partners here in Malaysia, Asia Pacific University of Technology and Innovation (APU)
[Read: 13 Tell - All Signs That You Are An APU Student].
I studied International Business Management. I chose my major because I know what I wanted to do - to be involved in the globalization happening all around us.
M: I studied in INTI International College Subang, majoring in Computer Science. My dad decided for me what I should study :(
O: I studied in APU and I was doing my Bachelor's degree in International Business Management. It's quite a straight-forward decision after my parents failed to convince me to study Engineering. I wanted to study International Business all along.
Y: I studied at APU and took International Business Management. I took that major because I would like to become manager in a company and I want to get international exposure in my working life.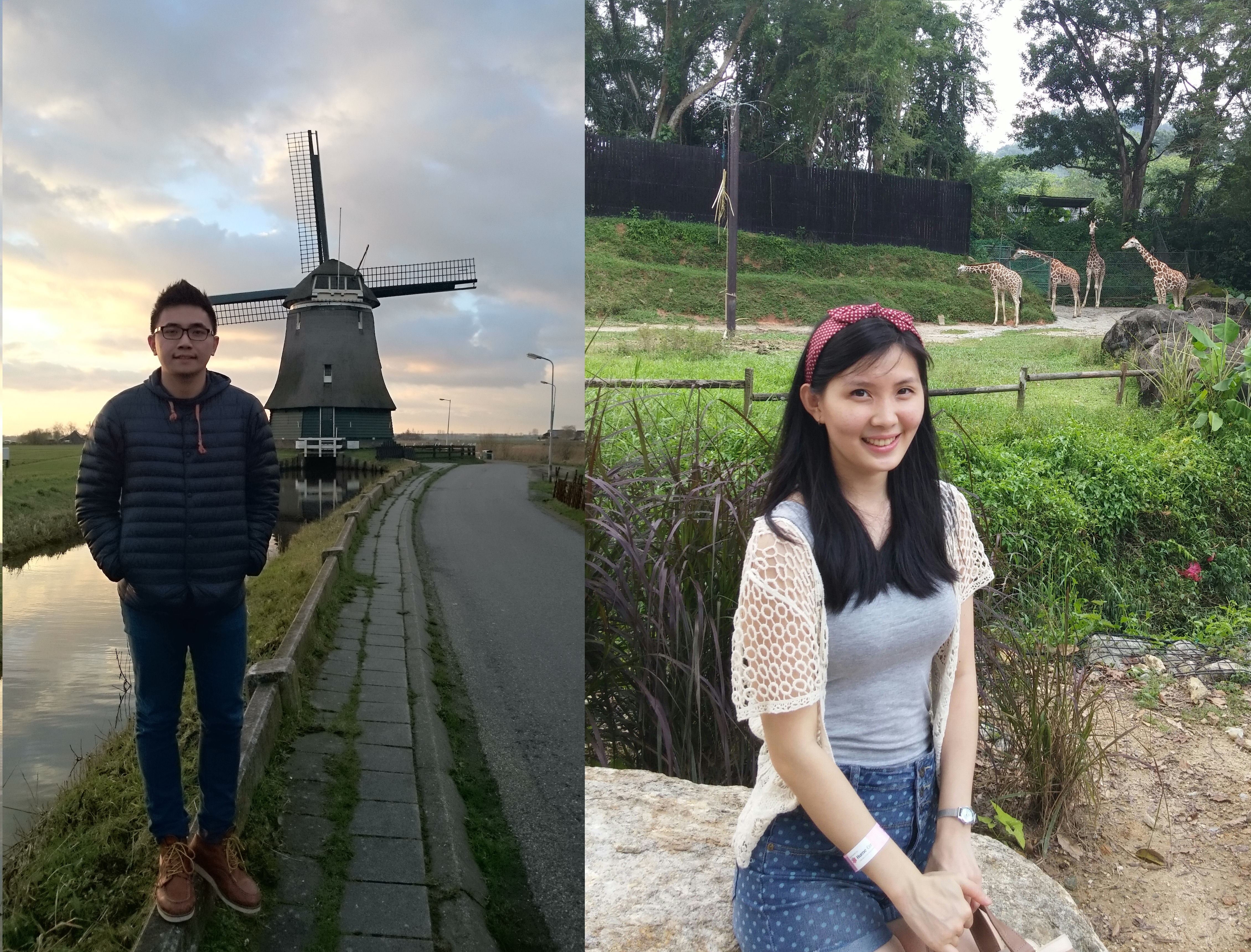 (L-R) Oliver in the Netherlands, Yeny in Zoo Negara (Malaysia)
Tell us a little more about your university life?
Living on-campus, or out of campus, what's the living cost, what you do on your free time, what's interesting about your university/ location?
E: It was fun, I met people from countries I haven't heard of before. Hahaha! My lecturers were very supportive and gave us a lot of practical case studies. I lived in a very decent amount of budget, enough for me to be entertained. I spent a lot of time with my group for entertainment. We explored the nearby cities, tried delicious foods and we did BBQ quite often.
I stayed under my university's accommodation when I first came, but later after I found my pact, we decided to move out and look for our own accommodation. As long as you know the market rate, you won't be cheated. This is where you need to learn to use your instincts! [Read: How Is It Like Studying In The Ukraine?]
M: My University life is full of Coding and it was quite stressful. That's why I did a lot of shopping (Sunway Pyramid is just 10 minutes by taxi from my campus). The location of my campus is awesome, super convenient for me to go anywhere. During my free time, we always hang out at the campus. I joined the International Student Society and also helped to organize International Students events once a year (I organized 3 events!). Living cost in Subang is quite high, because it is Sunway's territory!
O: My University life in Malaysia is quite entertaining so I enjoyed it a lot. Many things that I do will be related to sports though. I played football, futsal, basketball, badminton and so on. These activities took up a lot of my time. Other than that, I like to travel with my friends and in Malaysia you'll be spoiled with so much choices. We went to places like Genting Highlands, Malacca, Cameron Highlands, Penang, etc.
Y: During University, I stayed off-campus with 2 friends who went to an agency with me in Jakarta, so our agent set 3 of us to stay together in an apartment near our university. Living costs in Malaysia for me is comparatively similar with Jakarta because I did not spend so much on entertainment nor shopping. I spend more money on food. During my free time, I love to sleep, watch TV, and cook (trying new recipes). At my university, almost 80% of the students are foreigners, so, for me it's very interesting because I get to learn different cultures, and see how they think.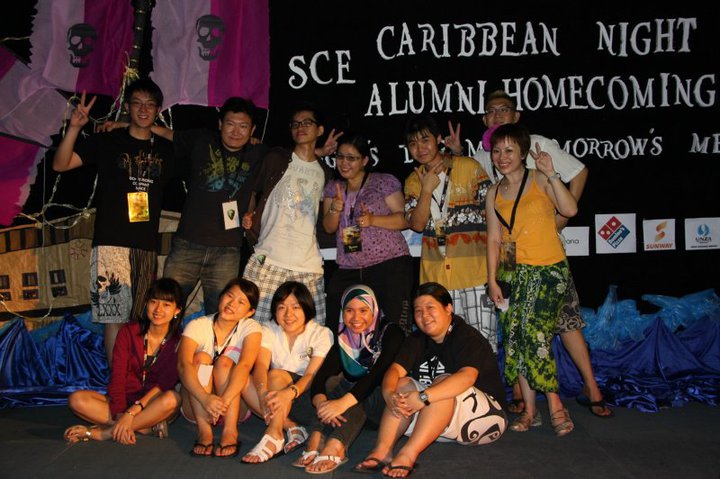 Metty in one of university event that she organized
What was the biggest adjustment you have to make when you studied in Malaysia?
E: There's not a lot of difference between Malaysia and Indonesia. All I can is that the variety of food here is awesome. First time I had the Roti and basically most Indian cuisine.
M: I don't see a lot of difference with Indonesia and Malaysia. I was pretty much at ease here. Oh yeah, making friends because I was very new.
O: It's faster here, and you are more productive with one hour here than in Indonesia, I think because I drive a car too.
Y: For me it is the language because my lecturers and professors are using English but sometimes they end up using "lah", "mah", so as a first year student, I have no clue what is going on!
What were the life lessons you learned during your studies?
E: I learned a lot. Most of it are the fundamental lessons like time management & decision making. What I valued the most is the understanding of different people from different backgrounds and how you need to deal with them. This gives me a lot of insight in the true working environment.
M: I need to be more hardworking (I didn't get first class honours), my dad is disappointed.
O: Time is money, so spend it wisely.
Y: I learned to be more independent on making decisions, and to adapting to other people's culture.
Edward with his band
What 3 Advice would you give 17 years old self?
E: Find the right group of friends! Because who they are will define who you are. Find not only those who share the same interests, but those who can bring yourself to the next level.
If you ever feel like delaying something, please don't. Most of the time, it might be difficult to get it started, but once you get started no one can stop you. Stepping out of your comfort zone is exactly how you will grow.
No matter how far or how busy you are, please make time for your loved ones. Call them often.
M: Don't shop too much (I spent too much during my 4 years of college). Be more independent. Do internships (I regretted not doing an internship, I feel so lost when I got my first job).
O: Study Harder. Do internships. Travel more.
Y: Go for your dreams, especially on your academics. If you want to study abroad, go for it, don't think twice to make that decision. Study what you really want to become, not what your parents want you to be or what would give you lots of money in the future. Surround yourself with people who will make you a better person.
What advice would you give students who are looking for a university?
E: Choose course first over destination. The best place to study can be just right next to you.
M: Choose what you like, be hardworking, and your bright future is waiting for you in 4-6 years. :D
O: Look for the university and major that you really want, not the ones chosen by others. It's your future so you have the right to choose, but of course to consider the advice from your inner circle especially your parents.
Y: Go for the university which is good/ well known for the course that you want to apply.
Thank you guys! I hope this will inspire not only Indonesians but also other nationalities who want to study in Malaysia or anywhere around the world. - S