Are You Really Ready to Study Abroad?
March 23, 2020
Nur Hafiza Abu Bakar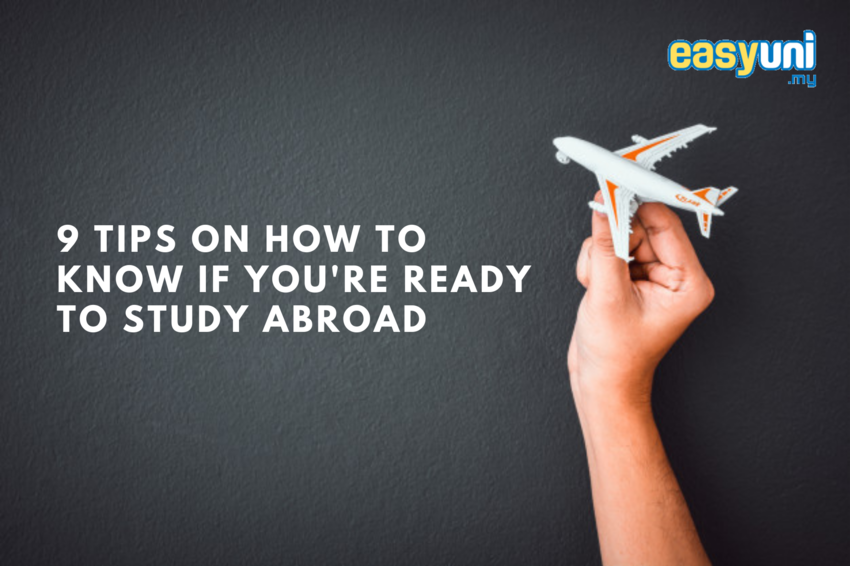 Studying abroad can be exciting but at the same time, it can also be a bit of fear to some. While you can set yourself to be independent and handle things on your own, it's not only about that. Staying far away from your motherland can be daunting and it can awhile for you to properly set yourself into the situation.
Your choice to study abroad may seem easy the first time you decide. The more you think about it, the more doubts you create on your readiness. Almost every school leaver has the dream of pursuing their studies abroad. If you are one of them, are you sure you are completely ready for it?
If you've never been abroad before (this doesn't include going on an overseas holiday trip with your family), you will go through a struggle to adapt to the new environment. We are not trying to scare you, but the reality can be this way and it's a fact.
Good news is that the struggle will not last forever. You will find it hard in the first few months, but later you are already and snap yourself out of it.
Below are 9 tips you can follow to make sure you are fully ready:
1. Choose a country that fits you
Living in a foreign country for years will make you miss your home. For Malaysian students to live and study abroad, the only thing they would miss the most is the food.
Maybe you already imagined yourself living yourself in a country as a student. Like here in Malaysia, we have our own culture and way of socialising, whenever we see foreign visitors coming in, they might be surprised by our culture.
Every country has a different pace of life, cultural norms and food. This is why it's important for you to do research on what you can expect and be fully ready. Feed all your curiosity with facts and information about the country you'll further your studies at.
You will find and adapt much easier if you are already equipped yourself with the details.
2. Do thorough research on your school and course
If you are that kind of students who prefer knowing about the course or program you are going to take, then you have another research to do.
Besides the country, you might want to know about the university's expertise, tuition fees, student demographic, employability and the extracurricular activities it offers. You don't want to spend your study time abroad but not gaining anything from it.
It's all up to you and what your goals are. When you are abroad, you will be exposed to different and interesting opportunities that you will never get in your local university.
3. Living far away from your family and friends
If you are attached to your family and friends, it will be a huge challenge for you on this one. Your life will not be the same and it will be hard for you to have your usual meet-ups.
Although the chances for you to make friends with new people are high, it can be lonely at times in the beginning. But you don't really have to worry much about it because things like these take time. Typically there will be an international student support group to help you networking out with other people.
If you miss your family and friends at home, technology now makes communication much more convenient with the help of internet.
3. You have to be financially aided
If you are moving to a country that costs much higher than Malaysian Ringgit, you have to make sure that your finances are fully supported. Studying abroad can be expensive. This doesn't only apply to the tuition fees, the living cost also matters.
Your expenses have to be planned beforehand. Some students do part-time jobs while they're studying, so if you plan to do the same, how are you planning to survive? Lay down all your budget in advance, better be prepared on any unexpected situations.
It will be even better if you could secure a scholarship, or least do well in your studies so that you can change entire study fees into scholarship.
4. Where are you going to live?
Finding a place to stay is one of the most difficult challenges you have to face. It's a stranger country and you have nobody to rely on. Renting is not cheap and housing can be scarce too. You need to find a place that is conveniently located so that you can easily go back and forth to the campus.
Just to cheer you up is that finding accommodation is always possible, although it's hard, if you put your effort in searching, you will be able to find one. Another way is that you can ask the university if they provide international students accommodation or hostel.
You have to find a place that you will be comfortable living on your own. Some students prefer living together in a house and split their own share on the rent, this way can save your cost as well.
6. Can you make friends and adapt to the culture?
Meeting new people is fun, but to build trust is another part you to consider. Putting that aside, you don't want to ruin your years of studying abroad not making any new contacts, it will be a waste. This is the time for you to live up your international experience.
This kind of cultural exchange can be meaningful to you. You will find it hard to blend yourself together, but it will a new experience for you to witness other traditions.
You also have to be ready to become a representative of your own country. You will be asked to share your own experience as a Malaysian for example, the local people there would surely like to know.
8. Prepare your student visa
The law is the law, so you have to follow all the logistics rules applied by the country. Of course, a visa is needed and vital for you to have a long stay. Do your research and take note of the requirements to allow you to travel and live in the country as a student.
Some countries may have strict rules, so make sure you will able to move to the country and fulfil all the requirements as demanded.
9. What are the benefits you will get from studying abroad?
Try to set your level of expectations and what you expect to receive upon returning to your own country. Study abroad experience can be overwhelming, but you can anticipate the benefits you earn to be useful for your future.
Most students who graduated abroad reported a positive experience in terms of their academics and social life. If you list down all the goals you want to achieve, you will have a fulfilling student life abroad once you achieved your aims.

Not sure where you want to study? Read our study guides here.