More Than 30 Courses Dropped Out from 19 Public Universities in Malaysia
By Nur Hafiza Abu Bakar | Last modified 19 Dec 2019
Share this page with friends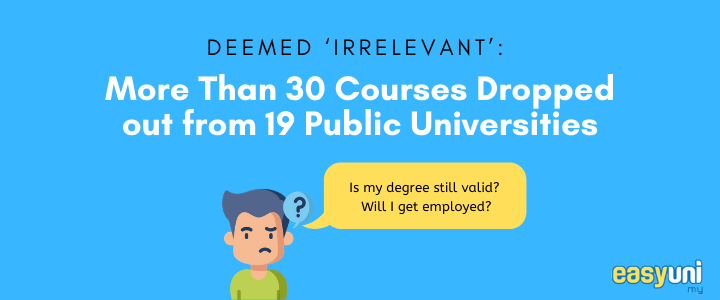 Malaysia was surprised by an announcement made by the Ministry of Higher Education to drop more than 30 academic programmes in 19 public universities to ensure the future of graduates. This has raised public concern to view the affected courses as 'irrelevant' in the current and future job market demands.
Now, every public university is required to revise the list of programmes offered. It has been observed from different viewpoints and research must be done in order to understand if the courses are still applicable for future graduates.
The news has especially given a big surprise to the graduates of the affected courses. Mixed reactions were expressed by the public once the news was shared, some even wondered if their bachelor's degree is still worth it in the job market today.
List of Dropped Courses
Below are the courses affected according to the respective universities: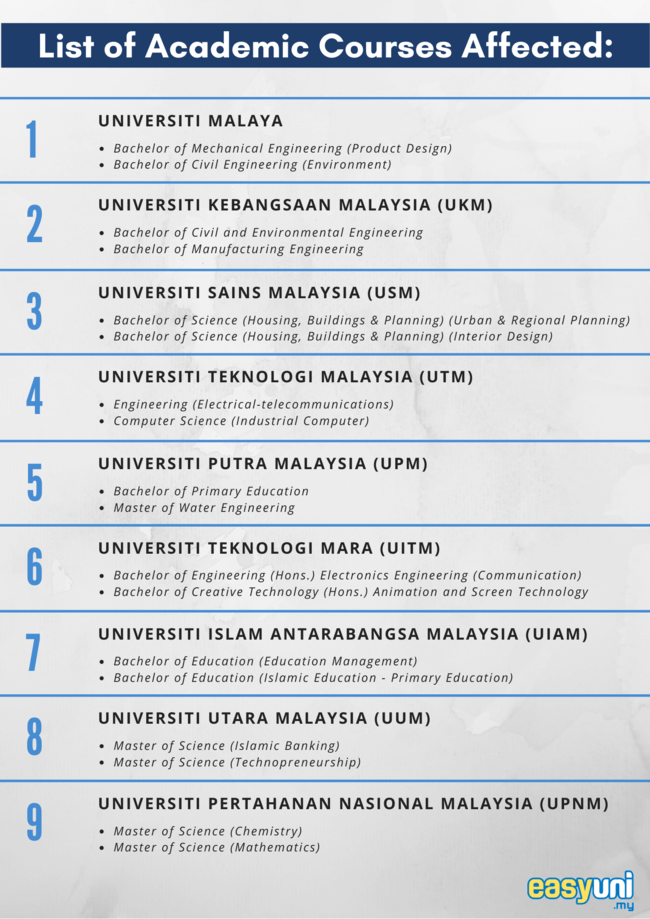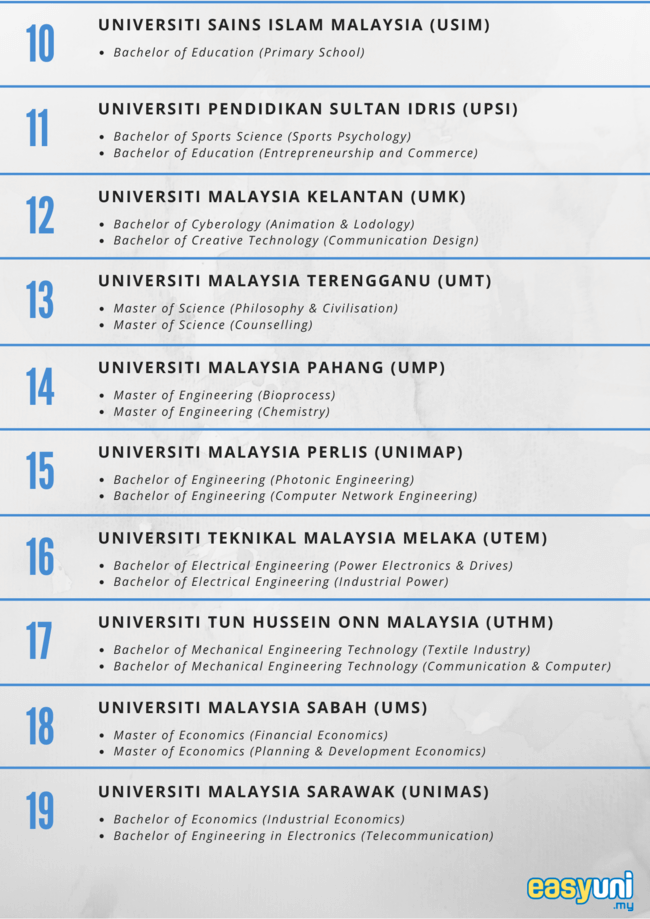 Is your course included in the list? If yes, share your thoughts with us on this!
The industry is revolutionising
So, why and how did this happen? The possible answer would be the industrial revolution. The industry is gradually revolutionising and we can see how Malaysia is aiming towards becoming a developed nation. This is what supported the government's decision to drop the courses.
However, this news has been misinterpreted when it was circulated in the media. The vast majority of the audience perceives the dropped courses as insignificant and cannot be applied for their future employment.
Many graduates quickly rendered the subject into a judgment thinking that the knowledge they learnt for years is going to be 'useless.'
The issue of irrelevant academic programmes has been in discussion since 2017. The then Higher Education Minister, Idris Jusoh, stated that the irrelevant courses should be replaced and combined with new courses that offer relevant and applicable skills to the industry.
Related: Is Malaysia ready for Industrial Revolution 4.0?
There's no such thing as 'useless knowledge' or 'irrelevant course'
It can cause misunderstanding to claim an academic course as irrelevant.
Professor Emeritus Datuk Dr Mohamed Ghouse Nasuruddin, an honorary fellow at the Centre for Policy Research and International Studies, Universiti Sains Malaysia (USM) and Associate Professor Dr Azeem Fazwan Ahmad Farouk, director of the centre shared their views and thoughts in an article regarding the issue. They relate it with Bertrand Russell, a British philosopher's defence on 'useless knowledge'.
"A rational human being will accept the pronouncement as sound, assuming that the main task of a university is to provide skilled workers for the industry. Put in another way, knowledge is relevant only if it enhances the bottom line, and only if it is technical and practical. Other forms of knowledge are considered 'useless'."
"The ministry is attempting to match the education universities offer with the requirements of large local employers. The reasoning is simple: if the primary goal of higher education is employable graduates, higher education should adjust its curriculum to the requirements of the largest employers."
Knowledge signifies a positive connotation as it involves the process of learning and gaining comprehensive information, both theoretically and practically. Therefore, to label knowledge as useless is discrediting the good term it represents. A suitable term that can be used to replace 'useless knowledge' is indirect knowledge; it is "the type of knowledge that solves problems by introducing new perspectives from outside the world of business".
The ministry's goal is to let universities produce employable graduates in related to what they are taking in their tertiary studies. It is reasonable to improvise the syllabus and curriculum offered by the universities towards the skills students can learn before getting employed.
Are there too many graduates in Malaysia?
The debate regarding the increasing number of graduates, mainly from the same fields or courses is never-ending.
Is the overproduction of graduates make job employment more competitive?
Is every graduate fighting for the same position and are there enough jobs available to fit all graduates?
These are the most popular questions asked among graduates.
There have been many cases of graduates ended up working on a different track from what they majored in. This mismatching occurs due to the lesser searches made by corporations and companies, therefore the graduates opted for another job where their skills can be made applicable.
Everyone experiences post-university life differently and there is no manual to follow. Feeling lost after graduation is common because that is when everyone started to step into the real world.
In this economy, getting employed is all about selling oneself to the employers; show them the potentials and skills you have. But it is not as easy as it sounds because employment in Malaysia is highly competitive.
With the recent Graduate Tracer Study report by Minister of Education, there are more than 120,000 students graduate from universities every year. However, close to 20% of graduates remain unemployed. This data shows that a job guarantee is not secured by every graduate.
Khazanah Research Institute presents its findings on the reasons for fresh graduates unemployment which are:
Skills and qualifications mismatch as sought by employers
A low take-up rate of Science, Technology, Engineering and Mathematics (STEM) subjects
Lack of interests participating in Technical, Vocational Education and Training (TVET)
Lack of entrepreneurship skills
The future of Malaysian graduates
This entire issue can be further discussed in many perspectives. In the current economic condition, the university needs to enforce more strategies by outlining the educational system and curriculum standards for the students. The youths, on the other hand, need to participate in.
Of course, getting a tertiary education is important, but to equip oneself with soft and hard skills are essential too. The skills are what influence and attract employers to hire fresh grads into their companies.
To build a strong personal portfolio throughout the university years is proven to be helping out the graduates in getting a job.
What can you do? There is a different kind of opportunities out there and it's up to us on how we want to look out for it. Equip yourself with dynamic skills so that you can build a platform to impress your potential employers in the future.