What is Nursing about?
Nursing is a profession within the healthcare sector focused on the care of individuals. A nurse is always projected with an image of a care provider.
It is not easy to be a nurse as being a professional nurse requires a lot of knowledge in the medical field and also many soft skills to deal with patients and their families.
To be a professional nurse, you can earn your qualification by studying a diploma or a bachelor's degree in nursing.
In a typical nursing course, you will learn about nursing fundamentals, communication, primary health care, psychology, nursing care for various types of patients and other subjects which are important to provide the best health care support to patients.
As nursing is a specialised profession that focuses on caring and educating within the healthcare system, you will expect to gain your knowledge as a nurse not only through these subjects but also through hands-on practice in any healthcare setting.
What are the major fields in Nursing?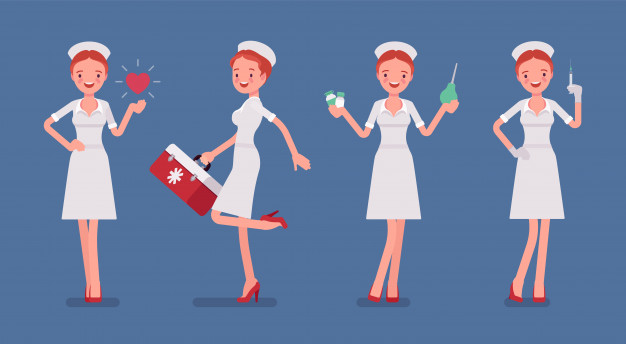 There are so many specialities and career path options and each of them has their own challenges and responsibilities. Here are some which are quite popular:
1. Children's Nurse
As a children's nurse, you will be involved in everything from nursing a sick newborn to a sick adolescent by providing care and support needed by the patients.
Children's nurses are typically employed by hospitals, nursing agencies, and health centres to provide care for infants, adolescents, and children with a range of medical needs.
2. Registered nurse
A registered nurse (RN) is a fully qualified nurse who is licensed to practice and offer healthcare services. An RN works in a variety of healthcare settings including hospitals, outpatient facilities and dialysis centres. An RN with advanced education/certification may be responsible to perform patient diagnosis and case management.
3. Labour and Delivery Nurse
Labour and delivery nurses bring new lives into this world by helping to deliver healthy babies and get moms through the process safely. The primary responsibilities of a labour and delivery nurse range from monitoring baby's and mother's vital signs during labour to coaching new mothers throughout the delivery.
4. Staff Nurse
A staff nurse is a hospital nurse whose rank is slightly below that of a charge nurse. They are responsible for assessing a patient's condition and administer medications and injections. They are basically the first person you'll come in contact with when you visit a hospital or a clinic.
What are the important skills I need in this field?
1. Detail Orientation
As a nurse is responsible for patients' health and well being after treatment, and is involved in their recovery process from administering medication to their post-hospital treatment, a nurse needs to pay attention to all the details so that the patients and their families are well taken care of.
2. Compassion
Compassion is an essential component of nursing care. They are always on the front line dealing with patients and their families, thus it is good for a nurse to be compassionate by providing emotional support during critical times of the patient's treatment and recovery.
3. Time management
No matter which field you are in, time management skills are a must-have to keep your work-life balance. Managing your time well can help you improve in your career while keeping your personal life balanced too.
Time management skills include a variety of skills that help you to manage your time, including organisation, prioritisation, goal-setting, planning, delegation and stress management.
4. Communication
Communication is a skill you can't miss as you will be the vital link between the patient and the doctor. On top of that, be sure to keep your emotions well-managed when communicating and dealing with patients and their families as they might be difficult to handle sometimes.
What are the entry requirements and qualifications?
Every institution has different requirements for admission into a Nursing programme and the entry requirements are different for different levels of studies too. Generally, the requirements to study Nursing in Malaysia are:
Foundation/Diploma:
SPM/O-level: min. 5 credits (including BM, Mathematics, 1 Science)
Bachelor's Degree:
Diploma in Nursing or its equivalent
STPM: min. CGPA 2.5
A-level: min. 3C
Master's Degree
A relevant degree qualification
How long will I be studying in this programme?
The duration of study in Nursing programmes is different depending on your level of study. Below is the duration of the programme listed according to their study levels:
| | |
| --- | --- |
| Study Levels | Duration |
| Foundation/Diploma | 1 - 3 years |
| Bachelor's Degree | 3 - 4 years |
| Master's Degree | 2 - 2.5 years |
How much does it cost to study Nursing?
The cost of studying Nursing in Malaysia is different for every institution but the fees are estimated to be around the cost as the table below:
| | |
| --- | --- |
| Programme | Estimated Fees |
| Foundation/Diploma | RM 15,000 - RM 50,000 |
| Bachelor's Degree | RM 15,000 - RM 84,000 |
| Master's Degree | RM 18,000 - RM 30,000 |
Nursing professions in Malaysia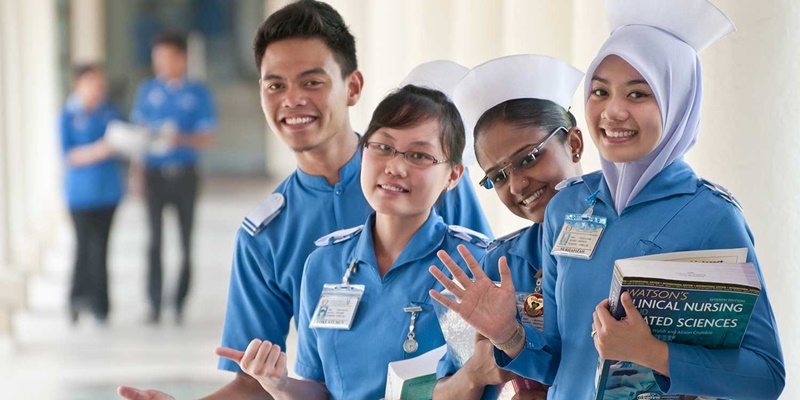 Image source: iMoney
Studying a nursing course in Malaysia does not mean that your career option is limited to being a nurse. Here are some jobs that are directly related to a Nursing education or which a Nursing education would be useful:
Adult nurse
Children's nurse
Paramedic
Physician associate
Health service manager
Learning disability nurse
Midwife
Nurse educator
Travel nurse
Nursing administrator
Which recognised universities offer Nursing course in Malaysia?
It might be a hard decision to make when it comes to choosing the best nursing school to pursue your dream. Therefore, we have listed some suggestions of where to study Nursing in Malaysia below:
University of Malaya (UM)
Universiti Kebangsaan Malaysia (UKM)
International Medical University Malaysia (IMU)
AIMST University
Universiti Sains Malaysia (USM)
SEGi University
MAHSA University
Monash University
Universiti Putra Malaysia (UPM)
Management & Science University (MSU)
---
1. University of Malaya (UM)
University of Malaya, or UM, Malaysia's oldest university is situated on a 922-acre campus in the southwest of Kuala Lumpur, the capital of Malaysia.
The University of Malaya is committed to conduct teaching and learning, carry out research and provide quality services on a global level, generate and enhance knowledge through continuous improvement efforts for the benefit of all stakeholders, especially University of Malaya's students.
2. Universiti Kebangsaan Malaysia (UKM)
Universiti Kebangsaan Malaysia is the National University of Malaysia and is ranked in the Top 150 of the 2022 QS World University Rankings. It is a public university located in Bandar Baru Bangi, Selangor.
Since its inception, UKM has grown from three faculties to its current 13 faculties and 12 research institutes with approximately 172,000 alumni worldwide. It also partners with universities across the world to offer Student Mobility Programmes.
3. International Medical University Malaysia (IMU)
International Medical University is Malaysia's first and most established private medical and health sciences university with 29 years of dedicated focus in healthcare education.
It is a university specialising in medicine, health sciences and complementary medicine programmes, and it's comprising of five schools in the Faculty of Medicine and Health, having campuses in Bukit Jalil, Batu Pahat, Seremban and Kluang.
4. AIMST University
AIMST University is registered with the Ministry of Higher Education, Government of Malaysia, as a tertiary educational institute under Sections 38 and 39 of the Private Higher Educational Institutions Act of 1996. It formally began its operations on 30 October 2001, coinciding with its registration with the Department of Private Education under the Ministry of Higher Education.
5. Universiti Sains Malaysia (USM)
Universiti Sains Malaysia is the first university in Malaysia to be selected by the Malaysian government to participate in the Accelerated Programme for Excellence (APEX), a fast-track programme that helps tertiary institutions achieve world-class status.
USM offers undergraduate and postgraduate programmes that are conducted in their three campuses: main campus, engineering campus and health campus.
6. SEGi University
Known as one of the largest private higher education providers in Malaysia, SEGi University now serves more than 20,000 students in five major campuses located in Kota Damansara, Kuala Lumpur, Subang Jaya, Penang and Sarawak.
It has experienced significant growth by adapting to increasing demand for tertiary education and professional qualifications in Malaysia by providing a wide range of programmes.
7. MAHSA University
MAHSA University has been a renowned and esteemed private institution of higher education since its inception in 2005. MAHSA offers programmes at various levels, from foundation and diploma to degree and postgraduate programmes in Healthcare such as Medicine, Nursing, Pharmacy, Dentistry, as well as Bioscience.
8. Monash University
Monash University Malaysia is the third-largest campus of Monash University - a premier research-intensive Australian university ranked among the top 100 universities in the world by the Times Higher Education World University Rankings.
Their campus offers a distinctly international and culturally rich environment with approximately 8,400 students from 78 different countries and students are taught by highly qualified academic staff from across the world.
9. Universiti Putra Malaysia (UPM)
Universiti Putra Malaysia is a leading research university in Malaysia located in Serdang.
As a world-renowned centre of learning and research, UPM has attracted students and staff from all around the world, making it a well-respected global entity. It is also recognised by independent government assessments as one of Malaysia's leading research Universities.
10. Management & Science University (MSU)
Management & Science University prides itself as a college-turned-Tier 5 Excellence rated university.
Specialising in Medicine, Health and Life Science, Nursing, Pharmacy, as well as Business, Management, Accounting, Hospitality, and more, graduates can be assured that the university prioritises their employability and hence, devises a curriculum capable of preparing them to become highly demanded fresh graduates.
(Check this out: List of highly-recognised Nursing programmes)