Communication is the most crucial aspect of any industry or sector you are in. This skill allows you to effectively communicate and interact with everyone inside and outside the company.
If you are interested in studying mass communication and media locally, you are in luck because Malaysia has a great variety of high-quality universities available for you.
Degree programmes in mass communication and media will prepare you for a satisfying and fulfilling media career. Before you continue, you might want to check out our general guide on mass communication and media for a better understanding of the field.
Top 10 universities in Malaysia for mass communication and media courses
Here is a list of public and private universities that you should definitely check out:
Universiti Malaya (UM)

Universiti Kebangsaan Malaysia (UKM)

Universiti Sains Malaysia (USM)

Universiti Teknologi MARA (UiTM)

University of Nottingham Malaysia

Monash University Malaysia

UCSI University

Taylor's University

SEGI University

INTI International University
Makes these institutions some of the best study options for this field? Let's dive deeper into each of them.
Public universities
If you want to study pre-university or undergraduate programmes at a public university in Malaysia, you need to submit your application to an online system called Unit Pengambilan Universiti (UPU). When you apply, make sure you meet the entry requirements - otherwise, your application will be rejected. Some public universities offer direct intakes for those who don't want to go through the UPU system, so you might want to check if the university of your choice has this option.
1. Universiti Malaya
Universiti Malaya (UM) produces well-rounded media graduates that are not only knowledgeable but also skilled for real-world projects. Students are equipped to become professional industry practitioners such as media writers, filmmakers, entrepreneurs, or even scholars in the field. Apart from the courses offered, students get to choose interesting elective subjects such as electronic publishing, documentary production, screenwriting and more.
2. Universiti Kebangsaan Malaysia
Universiti Kebangsaan Malaysia's (UKM) programme is unique because aspects of management are blended into the curriculum. UKM also places a strong emphasis on research, which gives students not only an extra avenue for learning, but also an extra edge in the workforce. Examples of courses that students will study include media entrepreneurship, management of mass media organisations, statistics and data analysis.
3. Universiti Sains Malaysia
Universiti Sains Malaysia's (USM) school of communication offers specialisations in three areas – Film & Broadcasting, Journalism and Persuasive Communication. Students are encouraged to actively apply classroom knowledge in various projects. A few of USM's student projects include USM TV, Berita Kampus (Campus News) and Campus Internet Radio.
4. Universiti Teknologi MARA
Universiti Teknologi MARA (UiTM) is yet another educational option for students who are passionate about media and mass communication. The university has an in-depth communication and media studies department. The department offers Bachelor's Degree programmes, Master's Degree programmes and even diplomas. The courses discuss everything from electronic media to creative development and beyond.
Private universities
You may want to consider studying at private universities as well. Compared to public universities, the selection process is less strict since you don't have to go through a centralised system like UPU. However, the fees at private universities are generally higher.
5. University of Nottingham Malaysia
In the 2022 QS World University Rankings by Subject, the University of Nottingham UK scored a place among the Top 200 worldwide for its communication and media programmes. Students can study the internationally-acknowledged syllabus and earn the same prestigious degree at the Malaysian branch campus. Plus, they can do so at a lower price. One of the university's highlights is that you can learn a foreign language as part of the programme!
6. Monash University Malaysia
Another foreign institution to consider is Monash University Malaysia, which is the Malaysian campus of one of the best universities in the world (Monash University Australia was crowned number 58 worldwide in the 2022 global QS scale). The university offers a Bachelor's and Master's degree programme under its School of Arts and Social Sciences. Besides communication theories, other interesting areas of study include global trends, celebrity, fashion and publicity.
7. UCSI University
Currently ranked the 347th private university in terms of overall global rankings, UCSI University has a mass communication degree programme that enables students to study for a three years BA (Hons) degree. During the programme, you will learn everything about mass communication and its place in today's society where mass communication is more important than ever. Core courses include expository writing, basic photography and visual communication.
8. Taylor's University
Taylor's University is another reputable private higher learning institution in Malaysia. The School of Communication has strong linkages to both local and international companies in the industry where students can intern at as part of their internship programme. Students also learn using state-of-the-art facilities, ranging from a TV broadcast studio and video editing laboratory, to a newsroom and recording studio.
9. SEGI University
SEGi University has an extensive communication programme available for you. Students of communication studies can learn a lot through classes that revolve around new media and communication, mass communication and even corporate communication. Not only that, there are also broadcast media and mass communication diploma options available to students.
10. INTI International University
INTI International University focuses on individual development and innovative learning for students to grow holistically. The university offers programmes in collaboration with world-renowned universities such as the University of Hertfordshire and Southern New Hampshire University. These programmes enable students to study fully in Malaysia and still earn a degree from advanced nations like the UK or USA.
Apart from these 10 universities, there are many other institutions that offer mass communication and media courses in Malaysia. It all depends on you – which university fits you best?
Duration to study mass communication and media
The duration of study depends on the type of programme you choose. Here is a general guide of how long it takes to complete your programme per level of study:
Foundation – 1 year

Diploma – 2 to 2.5 years

Bachelor's degree – 3 years

Master's degree – 1 to 3 years

Doctorate – 3 to 6 years
What are the entry requirements?
Your eligibility depends not only on the institution, but also the current stage of your educational journey. Are you fresh out of secondary school? Or have you completed your degree and want to further your education in the field? Here is a brief overview of the typical entry requirements you need to meet per level of study:
Foundation
5 credits including English in SPM or equivalent
Diploma
3 to 5 credits including English in SPM or equivalent, or

At least 1 Principal Pass in STPM or equivalent, or

Certificate in relevant field
Bachelor's degree
5 credits in SPM or equivalent, and

Minimum CGPA of 2.00 or 2 Principal Passes in STPM or equivalent, or

Foundation or Diploma in related field (usually with minimum CGPA of 2.00)
Master's degree
Bachelor's degree or equivalent in relevant field

Working experience may be required if the Bachelor's degree is not an Honours degree

Some institutions may ask for a portfolio of your work (especially if you want to specialise in an area like visual communication)
Doctorate
Master's degree or equivalent in related field, or

First Class Honours Bachelor's degree with excellent CGPA of at least 3.70 (for direct Bachelor to PhD students)
What do you learn in mass communication and media?
Image source: Brett Sayles, Pexels
Mass communication and media is such a wide field, covering from advertising and journalism to broadcasting and graphic design. You may choose to study a general programme and get a basic foundation in every type of media, or you might want to specialise in a particular area.
Whichever you choose to study, make sure you have a balance of theoretical knowledge and hands-on experience. Below are just a few examples of topics that you are likely to cover in the degree programme:
Public Relations

Advertising Principles

Computer Graphics

Feature Writing and Media Writing

Communication and Culture

Event Management

Film and Television

Media Criticism

Photography and Videography
How much does it cost to study mass communication and media?
The cost to study media and mass communication in Malaysia is significantly less than in other parts of the world, the United States, UK, Australia and Canada.
As prices vary for each institution, you can use EasyUni to easily search and compare mass communication courses from various universities. Take into account additional costs for your course, including course materials, access to institution facilities, and medical insurance fees.
What are the career options?
Public Relations (PR) Manager: RM 5,550
Social Media Manager: RM 3,397
Journalist: RM 3,492
Media Planner: RM 2,904
If these options sound good to you, take your first step by choosing a course to study now.
How to pursue studies in mass communication and media?
If you're still in secondary school or you've just finished SPM or O-Levels, you might be wondering how to get from where you are to where you want to be in the exciting and engaging world of mass communication and media. Here's what your education pathway would look like:
Step 1 – Finish SPM. Aim to get 5 credits including English.

Step 2 – Study a pre-university programme such as A-Levels, STPM, Foundation in Arts, or other equivalents. You can also pursue a Foundation or Diploma programme in communication and/or media.

Step 3 – Continue with a Bachelor's degree programme. You can choose a specialisation or a general programme that covers parts of every major component of the field.

Step 4 – At this point, you can already start working! Alternatively, you can opt to continue your studies.

Step 5 – Take up a Master's degree! Some programmes at this level are on a part-time basis so you can work and study at the same time (make sure you can handle it - it's not for the faint-hearted!).

Step 6 – Want to reach even greater heights? Go for a Doctoral programme. If you want to be a lecturer at a higher learning institution, this step is important to take.
(Click here to view all courses available on our website)
Why study in Malaysia?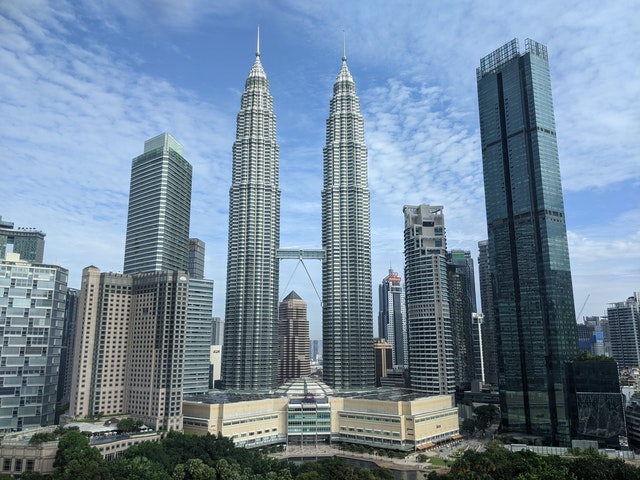 Image source: Suhail Azmi, Pexels
Here are the top 3 reasons why you should study mass communication and media locally:
Malaysia is a global hub
The field of mass communication and media is all about connecting and networking with people around the world. You don't have to fly to another country just to do that, though! You can do it right here in your home country, which is not only one of Southeast Asia's most multicultural nations, but an increasingly popular study destination among international students as well.
This way, you can work on your local and global network at the same time and place. As you do that, you'll be an effective, culturally-insightful communicator not just in theory, but in practice too.
Malaysia's academic reputation
In the 2022 QS World University Rankings for communication and media studies, Universiti Malaya, Universiti Kebangsaan Malaysia and Universiti Sains Malaysia were included among the 241 institutions on the list for their academic reputation, employer reputation and number of citations per paper. We covered these universities and more in the Top 10 universities section above, so if you missed it, scroll back up to check out some possible study options you might want to consider.
Mass communication and media courses are available at various levels in Malaysia. You can take a certificate, diploma, degree or even Master's, depending on which stage you are currently at in your student life.
Fast-rising industry in Malaysia
According to professional services firm PricewaterhouseCoopers, Malaysia's Entertainment and Media (E&M) industry is projected to grow at a rate of 6.4% from 2014 to 2019, compared to the 5.1% experienced by the overall international market. In other words, the growth rate of Malaysia's E&M market is higher than the global average – this expansion could mean more potential areas in the field that you can tap into once you graduate!
So, if you were to study mass communication and media in Malaysia now, you would be part of the local E&M boom. Additionally, there are annual award ceremonies such as the prestigious Malaysian Kancil Awards and Marketing Excellence Awards as well as the regional Festival of Media APAC Awards that recognise super talents in the field (future you, maybe?), and encourage the industry's continuous development, accomplishments and excellence.