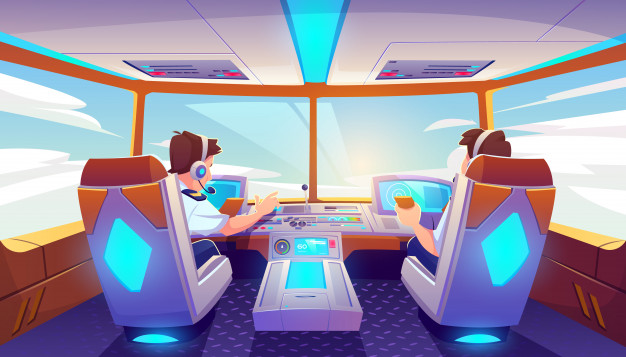 You can't have wings to fly high but at least you can fly around the globe on an airplane.
Want to go around the globe and the best part is to be paid for it? Look ravishing in your uniform and you are the control as you begin announcing "Here's your captain speaking".
Keep reading as we'll be guiding you through on why you should study aviation in Canada.
Why study in Canada?
Studying abroad could be the dream of most of us but there are certain criteria to determine our choice of country. It could be the cost of living, the quality of the institute, the culture, the prospects of the job opportunity there and many more.
Here are some of the reasons why we feel Canada could be your destination for higher studies.
1. Low cost of studying compared to other International countries
Whether you are going to study in Canada or the UK could depend on certain criteria that you wish to focus on. The cost of studying in Canada is cheaper compared to other International countries like UK, USA and Australia. The annual tuition fee in Canadian institutes is a lot more affordable.
2. Quality Education
The quality of education in Canadian Institutes is one of the major reasons why international students pursue their higher education there. A Canadian degree is widely recognised and is world-class. Three Canadian universities are ranked in the top 50 QS World University Ranking 2020.
3. Work part-time while studying
Studying abroad could be expensive. Nevertheless, students can work part-time to earn some side income. Most students do not need a work permit to work part-time while studying. International students in Canada are allowed to work part-time for 20-30 hours per week during school terms.
4. Job opportunities after graduation
Many students would want to work in Canada after graduating. Working abroad could open many doors to international students. Options like post-graduates work permit allow graduates to stay back after graduation and work to get Canadian work experience.
Canadian work experience and education could increase your chances of receiving a job offer from employers of all around the world.
Also read:
Keep reading as we will be guiding you with more important guides on a few topics.
What is Aviation about?
What are the major fields in Aviation?
What are the important skills I need in this field?
What are the entry requirements and qualifications?
How long will I be studying in this programme?
How much are the average tuition fees?
What are the job opportunities?
Universities in Canada offering Aviation programmes.
---
What is Aviation about?
Aviation means flying of aircraft for either commercial or military. One can enrol into aviation management and operation in airline or airfield. Apart from aircraft pilot, there are other jobs involving aviation such as aircraft systems, aircraft operation management and air traffic management.
What are the major fields in Aviation?
In Aviation, there are a number of major segments that students can further into. Some of the topics you will learn are listed below:
Aeronautical Engineering
Air Traffic Control
Aircraft Maintenance
Aviation Management
Aviation Safety
Avionics Engineering
Cabin Crew
Civil Aviation
Commercial Pilot
Flight Instructor
Helicopter Training
What are the skills needed in this field?
Furthering into this field one needs a number of skills to qualify. The field of Aviation requires specific skills that you might have already possess.
1. Good communication skills
If you are friendly in nature and have good communication skills you are almost for this field. As you will be interacting with people, it will be crucial to be able to communicate and interact confidently with others.
2. Good problem-solving skills
Aviators are someone that has to find quick and safe solutions. The use of technical knowledge in locating the aptitude requires good mathematics and physical skills.
3. Self-oriented
You're someone who has self values and discipline. Your team can trust you and hand over challenging tasks as management requires strategic thinking and planning skills to accomplish tasks.
How long will I study in this programme?
A bachelor's degree is the minimum requirement to pursue a career in aviation. The study duration could vary from one institute to another. However, as a general estimate, we have compiled a general estimate of the duration according to the study levels and qualifications.
| | |
| --- | --- |
| Study Levels | Duration |
| Foundation/A levels | 1 year |
| Diploma (optional) | 2 years |
| Undergraduate Degree | 3 - 4 years |
What are the entry requirements and qualifications?
To successfully get admission into an Aviation degree or pathway programme, students must meet the minimum academic and entry-level English language requirements.
However, requirements could vary according to institutions. We advise you to refer to the institutions directly for more details.
Foundations / A levels in Science
SPM with minimum 5 passes
Pass 4 relevant subjects in STPM, including English
Bachelor's Degree in any related subjects
Completed any relevant Degree or any equivalent International Degree with minimum CGPA 2.5 from any International Institute.
Airline pilots are also required to obtain relevant professional licences such as EASA Part 66, General Civil Aviation and CAAM.
English language requirements:
TOEFL score 55
IELTS score of 5.5 (no bands below 5.0)
Kaplan iBT 61
Pearson Test of English (PTE) 53
Also read: General Visa Requirement for Canada
How much are the average tuition fees?
The average tuition fees for Aviation can vary from one institute to another according to different levels and qualifications. Here are the average estimated tuition fees below :
| | |
| --- | --- |
| Programme | Estimated Fees (MYR) |
| Foundation/ A levels | RM15,000 – RM 30,000 |
| Bachelor's Degree | RM110,000 – RM250,000 |
| Masters/PhD | RM150,000 - RM200,000 |
Also read: Cost of Living in Canada
What are the job opportunities after Aviation?
There are a number of job possibilities for an Aviation major. The right job will be dependent on your personal skills, preferences and personality.
Here are the career choices available for Aviation graduate:
| | |
| --- | --- |
| Career | Estimated Monthly Income (RM) |
| Airline Pilot | RM8,000 |
| Aviation Maintenance Manager | RM7,500 |
| Air Traffic Controller | RM5,600 |
| Aircraft Manufacturing Engineer | RM 5,600 |
Also read:
Top Universities in Canada that offer Aviation programmes
Canada is becoming one of the most preferred countries for many local and international students to further their higher education. In addition, graduates with Aviation degrees are high in demand and it keeps growing.
For those who are interested to pursue Aviation in Canada, below are some of the notable institutions that offer the course.
1. The British Columbia Institute of Technology
The British Columbia Institute of Technology (BCIT) has been offering aerospace courses for more than half a century. It is the first institution to be considered as the best aviation schools in Canada.
The courses are designed to train aircraft maintenance engineers (avionics and maintenance), gas turbine/jet engine technicians, airport operations specialists and professional pilots.
2. University of Waterloo
The two aviation degrees from the University Of Waterloo (UW) were first introduced in 2007, but have already made a name for themselves because they combine practical training with academic education.
3. University of Fraser Valley
Aerospace students at the University of the Fraser Valley (UFV) in southwestern British Columbia may choose either an academic path combining flight training with a bachelor's degree in business administration or a more practical option to earn a two-year degree to acquire a pilot license.
The university also offers a program for aircraft technicians. A course approved by Transport Canada that provides a thorough introduction to the repair and maintenance of aircraft.
Also read: University Rankings in Canada