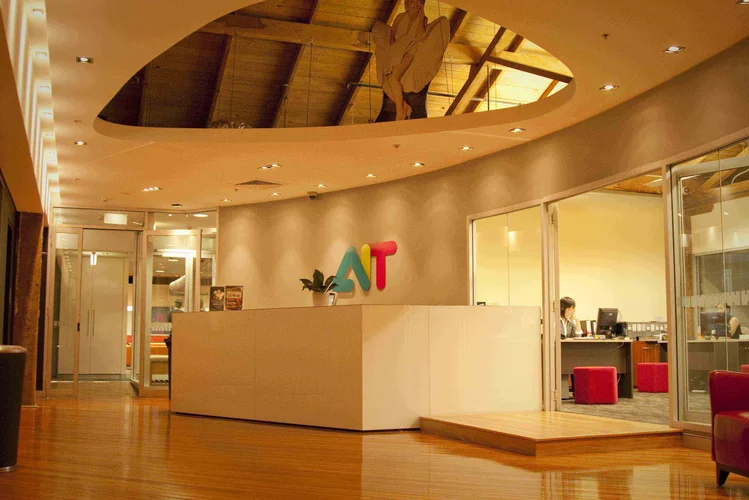 Academy of Information Technology
Ultimo, New South Wales, Australia
Statistics

| | | |
| --- | --- | --- |
| | 10 | Undergraduate programs |
| | 0 | Postgraduate programs |
Overview
Statistics

| | |
| --- | --- |
| Institution type | Private |
| Year established | Data not available |
| Campus setting | Data not available |
| Student population | Small (1,000 or less) |
| foreign students | Data not available |
| Nationalities | Data not available |
About Academy of Information Technology
The Academy of Information Technology (AIT) is a specialist higher education and vocational education institution in the fields of digital media, creative business and mobile applications. Its purpose-built campus is located in the heart of Sydney's education precinct. AIT's unique blend of creativity and technology allows its graduates to pursue fulfilling careers in this growing industry.
Bachelor and Diploma courses offered at AIT are recognised by many of Australia's leading universities and the creative industries. AIT's students and instructors share a passion for the unique blend of art and technology, where technology and creativity converge. But most of all, students come to AIT to seek practical skills, knowledge and experience needed to enjoy a fulfilling career.
Over the years, AIT graduates have worked all over the world pursuing their passions. Students who wish to start a creative career, doing what they love, are welcomed to study at AIT.
Admissions
Intakes
Admissions Statistics

| | |
| --- | --- |
| IELTS | Data not available |
| TOEFL | Data not available |
For admission requirements and intakes for each individual course/programme please refer to course details.
Tuition and application fees
Estimated tuition fees as reported by the institution.
Tuition and Application Statistics

| | |
| --- | --- |
| Application fee (local students) | Data not available |
| Application fee (foreign students) | Data not available |
| Student visa fee (foreign students) | Data not available |
Living cost
Data not available
Average living cost in Australia
The amount is indicated taking into account the average cost of food, accommodation, etc in Australia for 2023
Costs Statistics

| | |
| --- | --- |
| Food | Data not available |
| Accommodation | Data not available |
| Others | Data not available |
Accommodation
There is no accommodation available on campus. Most students in Sydney will live locally with family, opt for homestay accommodation or rent shared accommodation.
Campus
AIT is a friendly and multicultural environment that aims to make students feel at home on campus. By caring for the well-being of students, students are encouraged to focus on their studies and be part of the creative bubble. AIT has a wide range of lecture theatres, computer labs, classrooms and special purpose venues. Features include:
Nine computer labs with the latest in multimedia workstations and software
Five lecture theatres with networked instructional PCs and data projection
A purpose-built green screen room with a Mac editing suite
A range of general purpose classrooms
Australia's first and only markerless Motion Capture System
Games development rooms
Sunlit student lounge with cafe style seating
Two large agoras for student gathering
A range of gaming facilities such as Xbox, PS3 and even old school arcade games
A dedicated library with a broad range of e-book titles that are available on- or off-campus, 24/7.
ATI headquarters is conveniently located close to Sydney's Central Station. Eligible domestic and international students may apply for travel concession cards at the AIT student services office. To ensure a smooth arrival to Sydney, students can request a pick-up from the airport and organise accommodation arrangements with AIT's student services team.
Student population
Small (1,000 or less)
Total population
Student Statistics

| | |
| --- | --- |
| Undergraduate students | Data not available |
| Postgraduate students | Data not available |
| foreign students | Data not available |