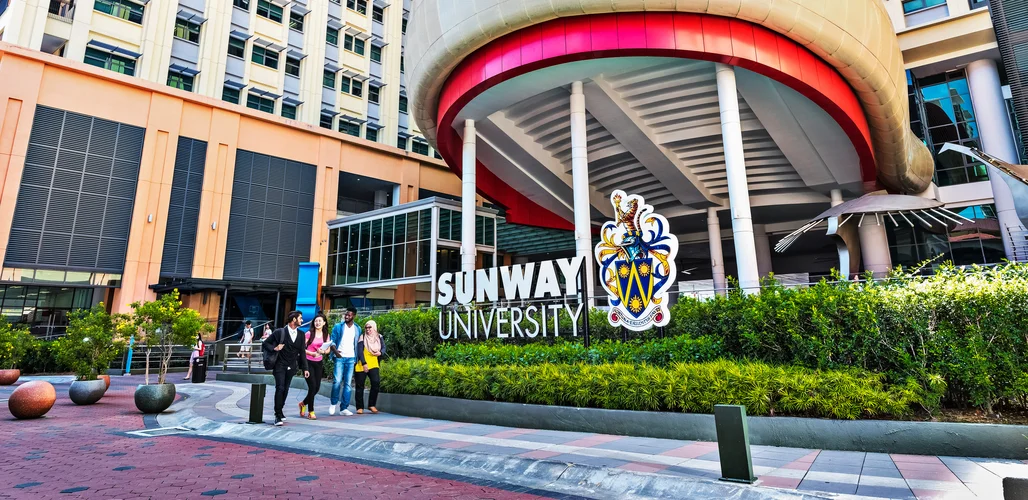 Sunway University
Petaling Jaya, Selangor, Malaysia
Ready to apply? Start here.
Form here
Statistics

| | | |
| --- | --- | --- |
| | 42 | Undergraduate programs |
| | 26 | Postgraduate programs |
Overview
Statistics

| | |
| --- | --- |
| Institution type | Private |
| Year established | 2004 |
| Campus setting | Urban |
| Student population | Large (More than 10,000) |
| foreign students | 15% |
| Nationalities | 56 |
About Sunway University
Sunway University is a leading not-for-profit private university committed to the pursuit of education through scholarship, research and enterprise. It is ranked among the top 2% of universities in Asia and rated as a 5-star institution by Quacquarelli Symonds. The University has also been awarded a 5-Star rating in the SETARA 2017 assessment of Malaysian Higher Education Institutions, and is one of only eleven universities in Malaysia to be awarded the Premier Digital Technology University status by the Malaysian Digital Economy Corporation.
The University is committed to multi-disciplinary research in sustainable development within an urban environment, and promoting health, well-being, and the development of new technologies in addressing some of the world's most pressing problems. We are establishing ourselves on the global stage with some of our researchers being among the most highly cited globally and actively engaged in cross-border collaborations. The University is committed to investing in the next generation through research-led teaching and to this end, continues to equip our campus with state-of-the-art teaching and research facilities.
The University is recognised by the Ministry of Education of Malaysia and the Malaysian Qualifications Agency, and its programmes are designed to fulfil the needs and interests of a modern society. In adopting a global approach, the University has established close partnerships with Lancaster University and Le Cordon Bleu International, which lend international qualifications to Sunway's programmes. The University has fostered ties with Harvard University and University of California, Berkeley in the United States, and University of Oxford and University of Cambridge in the United Kingdom in multiple bilateral exchanges of expertise and research.
To date, the University has drawn more than 26,000 students from over 90 countries to its vibrant, 880,000-square-feet campus. Supported by the Jeffrey Cheah Foundation, the University has invested in excess of RM400 million in its infrastructure and continues to expand its teaching and learning, and research spaces. Here at Sunway, students and academics thrive in the discovery of ideas and opportunities in the heart of Sunway City, adjacent to some of the best public, medical and social amenities in Malaysia.
Admissions
Intakes
Admissions Statistics

| | |
| --- | --- |
| IELTS | 5.5+ |
| TOEFL | 6.0+ |
For admission requirements and intakes for each individual course/programme please refer to course details.
Tuition and application fees
RM 10,000 - RM 120,000 per year
Estimated tuition fees as reported by the institution.
Tuition and Application Statistics

| | |
| --- | --- |
| Application fee (local students) | RM 150 |
| Application fee (foreign students) | RM 700 |
| Student visa fee (foreign students) | RM 2,400 |
Living cost
RM 2,000 per month
Average living cost in Malaysia
The amount is indicated taking into account the average cost of food, accommodation, etc in Malaysia for 2023
Costs Statistics

| | |
| --- | --- |
| Food | RM 600 |
| Accommodation | RM 700 |
| Others | RM 200 |
Accommodation
The accommodation units are fully furnished. Rental in the hostel include water, electricity and WiFi/internet connections. There are three on-campus hostel facilities which are fully furnished.
Sunway Monash Residence:
Over 2,000 rooms available.
3 types of rooms available:

Twin rooms (share room) = RM2340 per 3 months
Single rooms (own room, share the unit) = RM3450 per 3 months
Single Ensuite rooms (own unit) = RM4950 per 3 months

10 minute walk to Sunway University.
Facilities:
Half Olympic-sized swimming pool (without life guard)
Gymnasium
3 badminton courts in MPH (free for residents)
Half basketball court
BBQ pit at pool side
Par court for exercise
Cafeteria
ATM Machine
Sun-U Residence
Space for 2000 students.
3 types of rooms available:

Twin rooms = RM2190 per 3 months
Single rooms = RM2940 per 3 months
Single Ensuite rooms

3 minute walk to Sunway University.
Facilities:
24-hour security
Gym
Swimming pool
Basketball court
Car park
Prayer room (Surau)
Free Wi-Fi
Free shuttle bus service
Student lounge
Sun-U Apartment
This apartment has a capacity of 1,108 students in 151 units.
2 types of rooms available:

Twin-sharing room = RM1500 per 3 months
Four-sharing room = RM1170 per 3 months

10 minutes walk away from the campus.
Facilities:
2 air-conditioned study rooms with internet facilities
Visitor's lounge
Swimming pool
Launderette
Cafeteria
Surau (prayer room for Muslims)
Badminton courts and squash courts
24 hours security
Campus
Occupying 22 acres of prime land in Bandar Sunway, Petaling Jaya, the current RM350 million campus is fully equipped with academic, hostel and sports facilities and is amongst the largest and most modern private institutions in Malaysia.
Our campus comes complete with wireless access coverage (Wi-Fi) available 24-hours per day which covers classrooms, lecture halls, cafeteria, library, concourse and open areas that are conducive for student discussions, communications, eLearning and working on course assignments.
The University values security and have therefore set up a 24-hour Security and Auxiliary Police & Security personnel who are accorded full-fledged auxiliary police status.
Student population
Large (More than 10,000)
Total population
Student Statistics

| | |
| --- | --- |
| Undergraduate students | 6000 |
| Postgraduate students | 1000 |
| foreign students | Data not available |