Early Childhood Education - What will you study?
Early Childhood Education is a branch of education theory that relates to the teaching of children. Early childhood education is described as an important period in a child's development and it refers to the development of a child's personality.
It is mandatory that early childhood educators have knowledge about children's development and their changes during development.
During children's development, their biological, psychological and emotional changes occur and an early childhood educator must be familiar with the process of development and take notice to the changes to make sure that the child obtains the most essential to his/her personal development.
In an Early Childhood Care and Education (ECCE) course, you will learn to aid children whom brains are developing faster than any other part of their body, to help them to absorb knowledge through effective teaching processes.
This can be done by understanding the inner workings of children aged 0 - 8 years old. Therefore, you will need to study subjects like child development, infant and toddler care, learning and play, communication skills, etc.
What are the subjects in Early Childhood Education?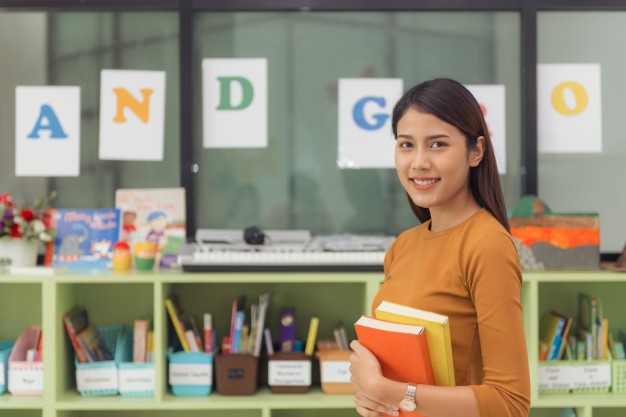 To have a career in Early Childhood Education, you will need to be knowledgeable in many subjects like child development, learning and play, children's safety, and nutrition.
1. Child Development
Child development refers to the sequence of physical, language, thought and emotional changes that occur in a child from birth to the beginning of adulthood. It includes various skills like cognition, social interaction, speech and language, sensory awareness, etc.
2. Learning and Play
Learn and play is one of the cores of early childhood education. It's all about designing activities that match each stage of a child's development so that the children can learn new skills and knowledge while having fun.
3. Children's Safety
Children's safety is the basic element of a good child care facility and should be a top priority for parents. Therefore, as an early childhood educator, it's a subject that must be learned to create a safe environment for the children so that any unnecessary mishaps can be prevented.
4. Nutrition
The relationship between nutrition, health and learning is undeniably strong as nutrition is a key part of every child's development. Ensuring that children receive the right balance of nutrients for their growth and development is part of the job of an early childhood educator and is required to be learned.
How long do you study Early Childhood Education?
The duration of studying nursing course depends on the level of study of your course. For most institutions, a bachelor degree in Early Childhood Education will usually take 3 years to complete while a diploma course will take 2 - 2.5 years to complete. If you would like to further pursue your career, you can continue your study in Master degree for another 1-2 years.
Why should you study Early Childhood Education?
1. Absolute satisfaction
As an early childhood educator will be able to influence and shape many lives of young children, a career in early childhood education will surely be rewarding and satisfying. For example, you will feel rewarded when you see a child spell his/her first word successfully, as you are the one who makes it happens.
2. Cheerful working environment
Children can be troublesome and naughty, but who could deny that children are cute and lovely? Imagine going to work and seeing these lovely children every day, how good is that! I really can't find another career where you can work in such a cheerful environment.
3. Understand the early learning process
A person's personality is often shaped by his/her childhood education. By studying early childhood education, you can understand the early learning process of a child and take part in the important stage of their lives and benefit them the rest of their lives.
What skills do you need for Early Childhood Education?
1. Patience
As children are always overloaded with energy, they can be difficult to handle in class. You might see them running around in the classroom while classes are being conducted. Therefore, early childhood educators should bring a great deal of patience to keep children engaged in lessons.
2. Creativity
To get the attraction of children and get them focused on you in the class takes lots of creativity. You will need to be creative in conducting your lessons so that the children will be interested in learning and kept engaged. Lessons do not necessarily need to be conducted in traditional ways, you can be as creative as possible to keep the kids' eyes on you.
3. Communication
As an early childhood educator, communication skills are very important. Not only that communication skills are essential for an early childhood educator when they are communicating with parents regarding children's learning progress, but an early childhood educator must also be able to communicate with children on their level too.
What career can you have with an Early Childhood Education education?
Here are some jobs that are directly related to an Early Childhood Education education or which an Early Childhood Education education would be useful:
ECCE Lecturer
ECCE Curriculum Developer
Pre-school Teacher
Educational Toy Consultant
Daycare Teacher
School Teacher
What is the Expected Salary?
Have you wondered how much you can earn from a career in early childhood education? Below are the expected salaries of some popular jobs in this industry:
| | | | |
| --- | --- | --- | --- |
| | Early Childhood Educator (ECE) | Preschool Teacher | Daycare Teacher |
| Entry-level | US$ 34,627 | US$ 30,182 | US$ 27,918 |
| Mid-career | US$ 35,003 | US$ 31,913 | US$ 28,556 |
| Experienced | US$ 37,899 | US$ 32,560 | US$ 28,617 |
| Late Career | US$ 41,304 | US$ 32,677 | US$ 28,958 |
(Source: Payscale)
Top 10 Universities that offer Early Childhood Education courses
Here is the list of Top 10 Early Childhood Education schools around the world which are well-reputed:
1. The UCL Institute of Education
The UCL Institute of Education is the education school of University College London (UCL). It specialises in postgraduate study and research in the field of education and is one of UCL's 11 constituent faculties. Since 2014, the faculty holds its rank as the first in the world for education in the QS World Rankings.
2. Harvard Graduate School of Education
Founded in 1920, Harvard Graduate School of Education (HGSE) is one of the graduate schools of Harvard University. It is one of the top schools for education in the United States of America. HGSE is missioned to produce good leaders in education and to establish knowledge among students who can grab opportunity and achievement.
3. Stanford Graduate School of Education
The Standford Graduate School of Education is one of the seven schools of Standford University. The school was found in 1891 and it offers master's and doctoral programs in 25 different fields of specialisation, as well as joint degrees option with other courses.
4. Columbia University
Founded in 1754 as King's College by a royal charter of King George II of England, Columbia University is one of the oldest institution of higher learning in the United States. Today, it stands one of the world's most important research centers as well as a renowned educational institution catering to both undergraduate and graduate students in various disciplines and fields of profession.
5. Nanyang Technological University
Nanyang Technological University (NTU) is one of the two largest public universities in Singapore. NTU provides a high-quality global education to about 33,500 undergraduate and postgraduate students. The student body includes top scholars and international olympiad medallists from the region and beyond.
6. Melbourne Graduate School of Education
The Melbourne Graduate School of Education is a global leader in teaching and education research, offering wide range of courses, world-changing reserch and contemporary learning spaces for future educators.
7. University of Cambridge
The University of Cambridge (also known as Cambridge University or Cambridge), founded in 1209, is a public research university located in Cambridge, England, United Kingdom. Cambridge is regularly placed among the world's best universities in different university rankings. Besides academic studies, student life is centred on the colleges and numerous pan-university artistic activities, sports clubs and societies.
8. University of Oxford
University of Oxford is a collegiate university, consisting of the central University and colleges. The central University is composed of academic departments and research centres, administrative departments, libraries and museums.
9. Monash University
Established in 1958, Monash University is a widespread global university located in Melbourne with eight of its campuses paved across the world, including Malaysia and South Africa, with an additional centre in Prato, Italy. At Monash University, it highly encourages the operation of conducting education and research in hopes of creating more research prospects and close-knitted community relationships.
10. Vanderbilt University
Founded in 1873, Vanderbilt University enrolls approximately 12,000 students from all 50 U.S. states and over 90 foreign countries in four undergraduate and six graduate and professional schools.