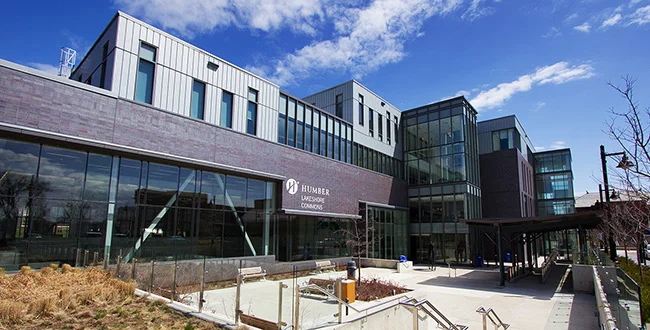 Statistics

| | | |
| --- | --- | --- |
| | 10 | Undergraduate programs |
| | 0 | Postgraduate programs |
Overview
Statistics

| | |
| --- | --- |
| Institution type | Public |
| Year established | Data not available |
| Campus setting | Data not available |
| Student population | Data not available |
| foreign students | Data not available |
| Nationalities | Data not available |
About Humber College
A polytechnic education offers a distinct third option between university and college – one that combines the deep, theoretical learning with applied, hands-on experience. At Humber, we believe this unique combination gives our students the very best chance to succeed in their personal and professional lives.
Humber emphasizes hands-on, career-focused learning. We offer a broad range of credentials including bachelor's degrees, diplomas, certificates and postgraduate certificates — and will help you chart the best path towards your goals.
Humber's programs are delivered by eight specialized schools. Each one features state-of-the-art facilities and professors who have extensive real-world experience.
Applied Research & Innovation supports collaboration, applied research, and innovation at Humber and in the community.
HumberLaunch provides innovative startups with the resources they need to launch and succeed.
Admissions
Intakes
Admissions Statistics

| | |
| --- | --- |
| IELTS | Data not available |
| TOEFL | Data not available |
For admission requirements and intakes for each individual course/programme please refer to course details.
Tuition and application fees
Estimated tuition fees as reported by the institution.
Tuition and Application Statistics

| | |
| --- | --- |
| Application fee (local students) | Data not available |
| Application fee (foreign students) | Data not available |
| Student visa fee (foreign students) | Data not available |
Living cost
Data not available
Average living cost in Canada
The amount is indicated taking into account the average cost of food, accommodation, etc in Canada for 2023
Costs Statistics

| | |
| --- | --- |
| Food | Data not available |
| Accommodation | Data not available |
| Others | Data not available |
Accommodation
Live on campus in Residence and find a whole new world! Study hard, play hard, make friends, stay up late and get involved. Humber Residences - your launching pad for discovering what you are all about.
The residence application is available to students within 48 hours of accepting their full time Humber program offer. Residence rooms are offered on a first come, first served basis and the Residence is typically at a wait list by April. We strongly advise students to apply as soon as they accept their program offer.
Campus
We've got three beautiful locations, each with their own unique character.
North Campus
Situated in northwest Toronto adjacent to the Humber River and 100 acres of parkland.
Home to more than 19,000 full-time students
Residence for 1,000 students
Library, an indoor pool and sauna, athletics facilities and a fully functioning spa
On the Toronto public transit line
Nearby Toronto attractions include the Air Canada Centre, Rogers Centre, clubs, theatres, the Royal Ontario Museum, the Art Gallery of Ontario, CN Tower, Ontario Place and Harbourfront
A variety of eating establishments, a pub, and a student-run fine dining restaurant
The Arboretum, a beautiful 100-acre park
Varsity and intramural leagues
The Centre for Trades and Technology (just up the street), featuring two full-sized townhomes and dedicated labs for construction, home renovation, plumbing, electrical, woodworking and cabinetmaking programs
The nearby Transportation Training Centre, offering programs for DZ and AZ truck licenses
Lakeshore Campus
Situated in the west end of Toronto, on the shores of Lake Ontario.
Home to more than 10,600 full-time students with 400 living in residence
Residence for 400 students
Library and a variety of eating establishments
Hiking, walking and biking trails
Minutes from downtown and on the Toronto public transit line
Close to cultural attractions of Toronto including the Air Canada Centre, Rogers Centre, clubs, theatres, the Royal Ontario Museum, the Art Gallery of Ontario, CN Tower, Ontario Place and Harbourfront
Listen to jazz and other concerts in the performing arts centre
Attend live theatre and comedy shows
LEED-Silver certified Lakeshore Commons building, featuring airy, open common areas and workspaces, computer labs, multi-media production suites, an art gallery and a cafeteria
Orangeville Campus
Home to more than 200 full-time students
Closely connected with the Orangeville Community
Study in wireless classrooms along with a student commons and computer lab
On-site fitness centre, including swimming pool, two hockey rinks, library, and food court
Humber - North Campus is located in the northwest part of Toronto, within 10 minutes of Pearson International Airport. This location is also home to the University of Guelph-Humber.
The site is conveniently connected to miles of walking paths through the nature gardens of Humber Arboretum and cycling paths along the Humber River which creates a very relaxing atmosphere for our guests to enjoy.
Humber - Lakeshore Campus sits on the quiet shores of Lake Ontario in a park-like setting just a short streetcar/subway ride from the hustle and bustle of  "downtown" Toronto.
This is the perfect location to host corporate meetings, conferences, community events or make us your home base while you visit the many tourist attractions in Toronto.
Student population
Data not available
Total population
Student Statistics

| | |
| --- | --- |
| Undergraduate students | Data not available |
| Postgraduate students | Data not available |
| foreign students | Data not available |