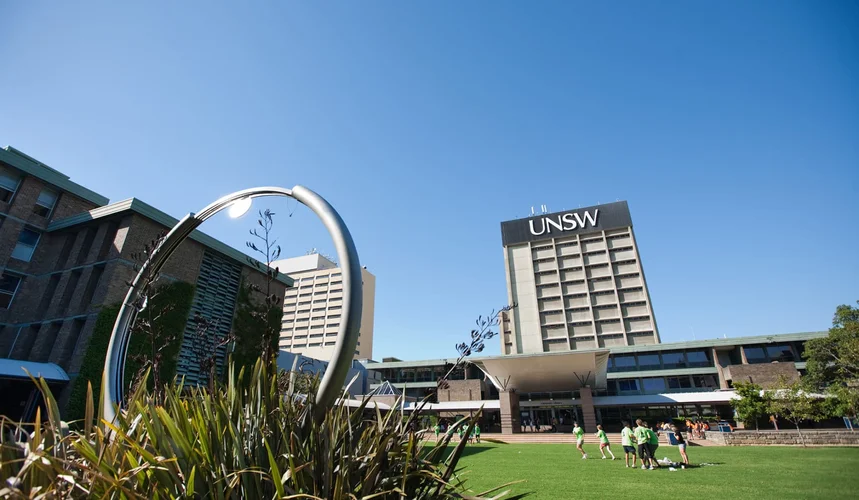 University of New South Wales (UNSW)
Australia
Statistics

| | | |
| --- | --- | --- |
| | # 109 | THE World University Rankings 2014-2015 |
| | 4 | Undergraduate programs |
| | 5 | Postgraduate programs |
Overview
Statistics

| | |
| --- | --- |
| Institution type | Public |
| Year established | Data not available |
| Campus setting | Urban |
| Student population | Large (More than 10,000) |
| foreign students | 26% |
| Nationalities | Data not available |
About University of New South Wales (UNSW)
University of New South Wales (UNSW) is renowned for the quality of its graduates and its commitment to new and creative approaches to education and research. Its motto –Scientia Manu et Mente "Knowledge by Hand and Mind"– encapsulates the University's central philosophy of balancing the practical and the scholarly.
UNSW is a founding member of the prestigious Group of Eight research intensive universities in Australia and a member of the Universitas 21 international consortium. After 50 years of rapid development, the University tradition is one of sustained innovation, a blend of scholarship and practical realism. Its tone is lively and informal, its atmosphere exciting and happy.
The university offers a wide range of Faculties. Initially, its emphasis was on science and technology, now excellence excellence is spread across various disciplines such as Arts, Fine Arts, the Built Environment, Commerce, Law, Life Sciences, Medicine, Management.
Admissions
Intakes
Admissions Statistics

| | |
| --- | --- |
| IELTS | Data not available |
| TOEFL | Data not available |
For admission requirements and intakes for each individual course/programme please refer to course details.
Tuition and application fees
Estimated tuition fees as reported by the institution.
Tuition and Application Statistics

| | |
| --- | --- |
| Application fee (local students) | Data not available |
| Application fee (foreign students) | Data not available |
| Student visa fee (foreign students) | Data not available |
Living cost
Data not available
Average living cost in Australia
The amount is indicated taking into account the average cost of food, accommodation, etc in Australia for 2023
Costs Statistics

| | |
| --- | --- |
| Food | Data not available |
| Accommodation | Data not available |
| Others | Data not available |
Accommodation
There are On-campus and Off-campus accommodations for the students to choose from. UNSW provides On-campus accommodation for the students' conveniences to live near the campus. There are two type of housing for the students to stay in; College and Apartment.
UNSW College
UNSW provides a safe, secure, and comfortable home for the students. The college provides a friendly community lifestyle that will encourage new friendships to bloom and gain experiences which are essential to a fulfilling University life. The UNSW Colleges consist of six Colleges all together; Colombo House, Fig Tree Hall and The Kensington Colleges (Basser College, Philip Baxter College and Goldstein College) and UNSW Hall. Each of these colleges will offer unique experiences for the students by providing a combination of strong support network delivered through an established residential care program as well as academic mentoring.
UNSW Apartment
The UNSW Apartments are located either on-campus or off campus. The apartments are designed for independent living for students, including couples and families with children. All of the independent living accommodation at UNSW is located within an easy reach to the city centre, Sydney's white beaches and blue waters, Centennial Park, Sydney Airport, major shopping areas and bus routes. UNSW Residential Communities manage all the off-campus apartment such as University Terraces, Barker, Mulwarree and High St Apartments.
Campus
There are many services and facilities being provided to the students by the University for their conveniences. The facilities are as below:
UniWide wireless internet
UNSW library
Student Central
The Student Equity and Disabilities Unit
UNSW Childcare
UNSW online
The Learning Centre
Peer mentoring
Counselling and Psychological Services
UNSW, located in the eastern suburbs, is just minutes away from the city and is easily accessible from Central Station and other major transportation hubs located throughout Sydney. Below are the description regarding the location of the 3 famous campus:
Kensington Campus
The main UNSW campus is located on a 38 hectare site at Kensington. The distance between Kensington campus to the city of Sydney is only 7km away. With nearly 1,700 UNSW Express Bus services per week, coupled with several other bus and train services available, the UNSW Kensington Campus is easy to get to via public transport no matter where you are travelling from.
Paddington Campus
The Pandington Campus is located in the heart of Paddington city and is within walking distance of major train stations and bus services. It is extremely well-serviced by public transport and is connected to Kensington Campus via regularly scheduled free shuttle services.
Canberra Campus
The Canberra Campus is located at the Australian Defence Force Academy (ADFA). ADFA is located off Northcott Drive which is less than 5 km from the Canberra city centre and Canberra airport. It is easily accessible by car.
Student population
Large (More than 10,000)
Total population
Student Statistics

| | |
| --- | --- |
| Undergraduate students | Data not available |
| Postgraduate students | Data not available |
| foreign students | Data not available |
Mission
UNSW consistently scores highly in a range of national and international rankings.
The University was ranked 47th in the world in the UK's 2009 Times Higher Education Supplement THES) World University Rankings. The annual rankings of the leading 200 universities are based on six factors: academic and employer surveys, staff-student ratios, research citations and the proportion of international staff and students.
The AGSM MBA Program was ranked as the leading full-time MBA in Australia and 32nd in the world in the Financial Times (UK) 2009 ranking of the top 100 global MBA programs.
This is the tenth consecutive year the AGSM MBA Program has ranked in the top 100 MBA programs worldwide.
UNSW's accounting research was ranked first out of 1087 institutions worldwide in the June 2007 edition of the international journal Accounting and Finance.
UNSW scored highly in the 2010 Good Universities Guide, being awarded the maximum five-star rating for seven key performance indicators: including research grants, research intensivity, student-staff ratio, staff qualifications, cultural diversity, graduate starting salary and positive graduate outcomes.
According to the Graduate Destination Survey, UNSW maintained its leading position in graduate salaries with median starting salaries of more than $50,000 across all major disciplines.