Facon Education Fair – Your Super Runway to A Great Education Experience
By EasyUni Staff | Last modified 11 Nov 2017
Share this page with friends
Difficulties in gathering information of renowned tertiary education nearer to home is now a thing of the past as Facon Education Fair has been growing tremendously in terms of the number of institutions and groups participation from Asia and around the world since its inception in 1990.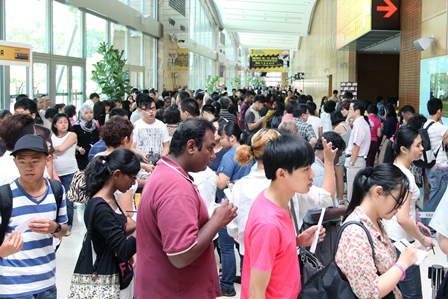 This ever-popular Fair is back again to provide a platform for globally recognized institutions of higher learning to disseminate information on further education opportunities to Malaysians. The Fair is endorsed by Ministry of Higher Education Malaysia in recognition of its success and contribution to the education industry and human resource development for more than 26 years!
The kicks off of this one of the largest and longest education roadshow in the Asian region was on 3rd December 2016 and the Fair will make it final stop with a mammoth event in KL Convention Centre on 17 & 18 December 2016 where four huge halls are fully occupied by more than 350 booths. Concurrently, the Fair will also cater the Johor demand on the same days in Persada Johor International Convention Centre. Since debut, the Fair has been attended by millions of visitors underlining its popularity. More importantly, the Fair is often superbly timed to be held after the SPM and STPM examinations and around the release of the UEC results.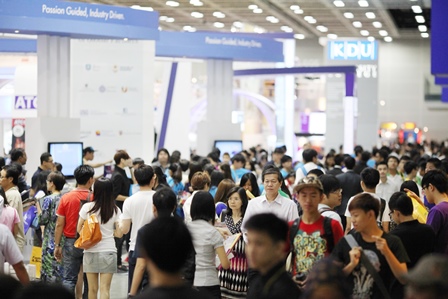 Those who are interested to complete their higher education locally will not be disappointed as major local big boy and award-winning institutions will be at the Fair, providing a superb platform for visitors to meet all these institutions under one roof. These include Asia Pacific University Of Technology & Innovation (APU), Advance Tertiary College (ATC), Brickfields Asia College, HELP University, LimKokWing University of Creative Technology, MAHSA University College, Nilai University, Quest International University Perak, SEGi University, The One Academy, UCSI University… and more!!
Visitors will also get to meet representatives from International groups like Japan, Korea, Singapore and the United Kingdom and of course renowned institutions from Australia, India, Indonesia, New Zealand, Russia, USA and others, making it a Fair to gather vital information on further education locally and abroad that no one can afford to miss.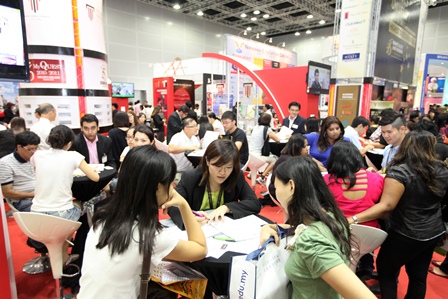 With a variety of programme being offered, visitors will be spoilt for choices as an option of courses ranging from Design to IT, Business to Law, Medicine to Mass Communications, Engineering to Sciences, Accounting to Finance, Healthcare to Baking & Culinary and the list goes on. Many of this programme not only emphasised academic excellence but also give equal emphasis on work experience and communication skill, thus boosting students' employability. Working adults who wish to pursue Postgraduate programmes, there is a wide range being offered at the same time.
Besides the institutions and programmes being offered; Facon Education Fair is definitely a comprehensive version of education fair by ensuring the following aspect are being address too:
Scholarship: An information booth on scholarship will be specially set up at KL Convention Centre & Persada Johor Convention Centre to provide the visitors with information on scholarships and tuition fee waiver offered by participating institutions.
Study loan and financial aids:  PTPTN (National Higher Education Fund Corporation) will be at the Fair to disseminate information on study loan together with a few other organizations disseminating information on scholarships, bursaries and grants application and its criteria.
Academic presentations, seminars and special talks: At the Kuala Lumpur and Johor Bahru venue, visitors are invited to attend a series of presentation to have a better understanding of the programmes, institutions and its facilities conducted by the respective institutions. Special talks on various topics that helps in the enhance the performance of study and soft-skills enhancement seminar will be held too. Admission is free and seats are limited.
Career Personality Test: Booths will be specially set up at Kuala Lumpur venue to provide visitors an opportunity to have FREE career personality test.
Brand's Smart Achiever Award: Still want to stand a chance to win the Brand's Smart Achiever Award? Extended deadline only available at Facon Education Fair, come and get the registration form at the fair, and submit directly there!
Special Activities (KL Convention Centre): We have invited the director and cast of 'Goodbye Mr. Loser' (the 2017 CNY blockbuster) to the Fair! Meet them in person! You will stand a chance to get the limited and special movie merchandise. Besides, there will be a public speaking seminar on "Make People Listen Up", come and join the seminar that conducted by a speaker from Speech Academy Asia, Singapore, Mr Kelvin Tan.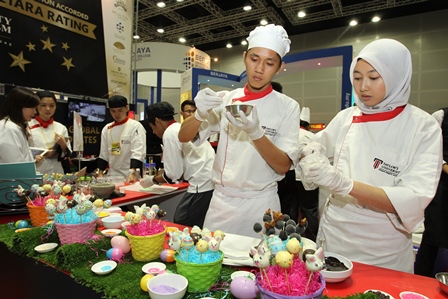 Facon Education Fair will be held on 17-18 December 2016, at KL Convention Centre and Persada Johor International Convention Centre. The opening hours are from 12noon to 6pm.
Visit www.faconedufair.com or like and follow us on facebook; www.facebook.com/faconeducationfair.
FORGET the REST, GO with the BEST!