Empowering Women in Computer Science: Taylor's Student Receives Google Scholarship Heads to China
26 Nov 2015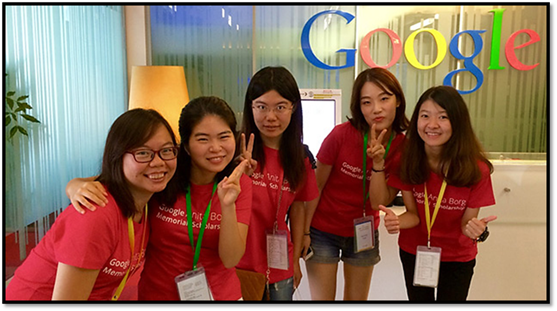 Janice Chau (far right), standing with her fellow scholars at the Google Shanghai office during
the Google Anita Borg Memorial Scholarship Retreat recently.
Janice Chau, a second year student at the Taylor's University School of Computing & IT, was one of 43 scholars handpicked by Google's Anita Borg Memorial Scholarship Asia Pacific to join their Scholars' Retreat at the Google Shanghai office. Janice, 20, was the only Malaysian undergraduate student in the all-women applicant pool across Australia, China, Hong Kong, Taiwan, New Zealand, Japan, Korea and India to take part in this experience. She was also joined by post-graduate counterparts, where they were all recognised for their academic background and demonstrated leadership. "We were pleased to learn that Janice's triumphs were recognised by a prestigious establishment. Her motivation to excel in computer science is inspirational to girls and women interested in the field," said Professor Dr. Hiew Pang Leang, Dean of School of Computing & IT. The programme was inspired by Anita Borg, who passionately believed to include women in technology and dedicated her life to increase the percentage of women among graduates earning computing degrees to 50% by the year 2020 – a vision known as "50/50 by 2020". Google's aim is to continue Anita's work by encouraging women to excel in computing and technology, as well as become active role models and leaders in the field. For the rest of the story click here. To learn more about the Taylor's University School of Computing & IT click here.