As soon as you turn on the TV, you will see news about accidents, the amount of visitors in the hospitals, the serious issue of overweight children, a disease caused by an insect or an animal, or the need for donors. Doctors are involved with all these factors daily. They are very busy with doing diagnoses, saving lives, and subscribing medication that are right for their patients.
Bear in mind that no day will be the same if you decide to take up on this career, because it is a very dynamic industry.
What is Health and Medicine?
Health and Medicine is a degree that will give you a lot of insights of all the fields of the medical sector. Some of these fields are:
Mental Health
Nursing
Public Health
Dentistry
Human Medicine
Optometry
Working in this industry, is a well-known and well-respected career. If you do not like to work with people, this career might not be the right one for you.
Why Should You study Health and Medicine?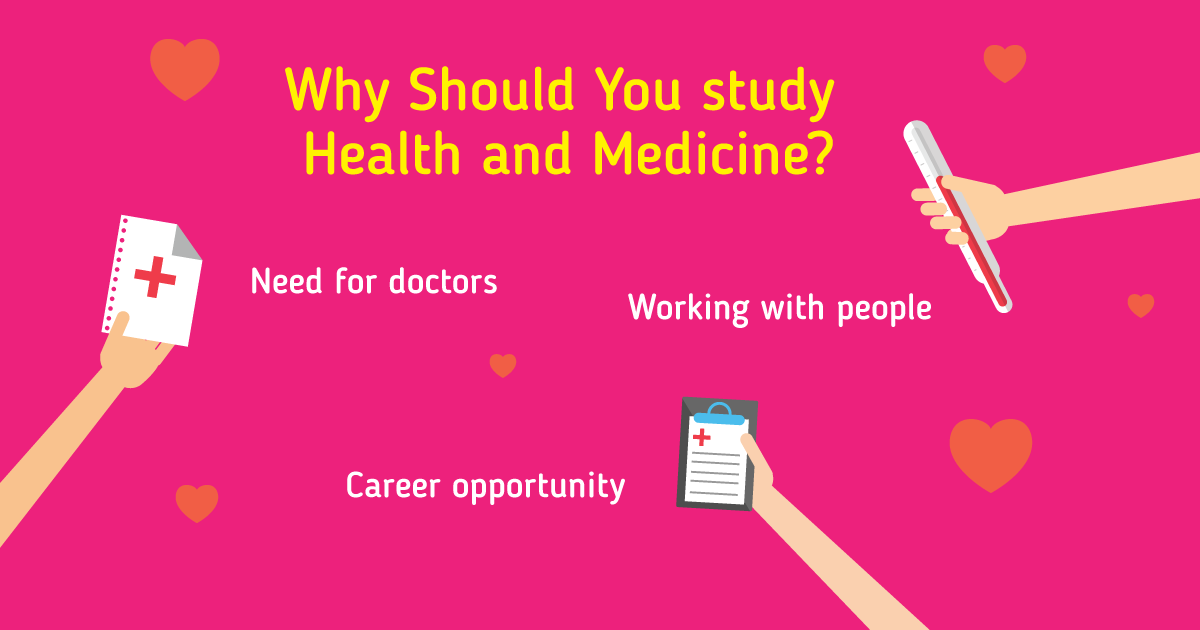 1. Need for doctors
You can never have enough doctors, health is the most important thing. As a matter of fact, the Washington Post predicts a shortage of 90,000 doctors by 2025!
2. Working with people
Most people in the Health and Medicine industry, are people persons. So if you like talking to people, giving them advice, and helping them, then this is your reason to study Health and Medicine!
3. Career opportunity
As a graduate of Health and Medicine you get to work in public and private hospitals, scientific institutes, nursing homes, public health care, or in healthcare management and administration.
What Skills do you Need?
A. Interaction Skills
You will be working with people all the time, so you need to be very good at interacting and communicating. Besides patients, you will also meet their families, medical staff, and technicians. Do not be too interactive though! You do not want to intent and bond with them, especially with children, because that will only make your job harder.
B. Behavioural and Social Qualities
With behavioural and social qualities you need to develop mature, sensitive, and effective relationships with patients and their families, employees, and the rest of the staff. You need to be able to function properly during uncertainties and function effectively under stress.
C. Positive Mind
If you are not able to see the bigger picture in bad situations, this job will bring you down. It is very important to keep your head up and see the positive things in every situation. If you stay positive all the time, then so will the patients and that will give you positive energy.
What are the Job Opportunities?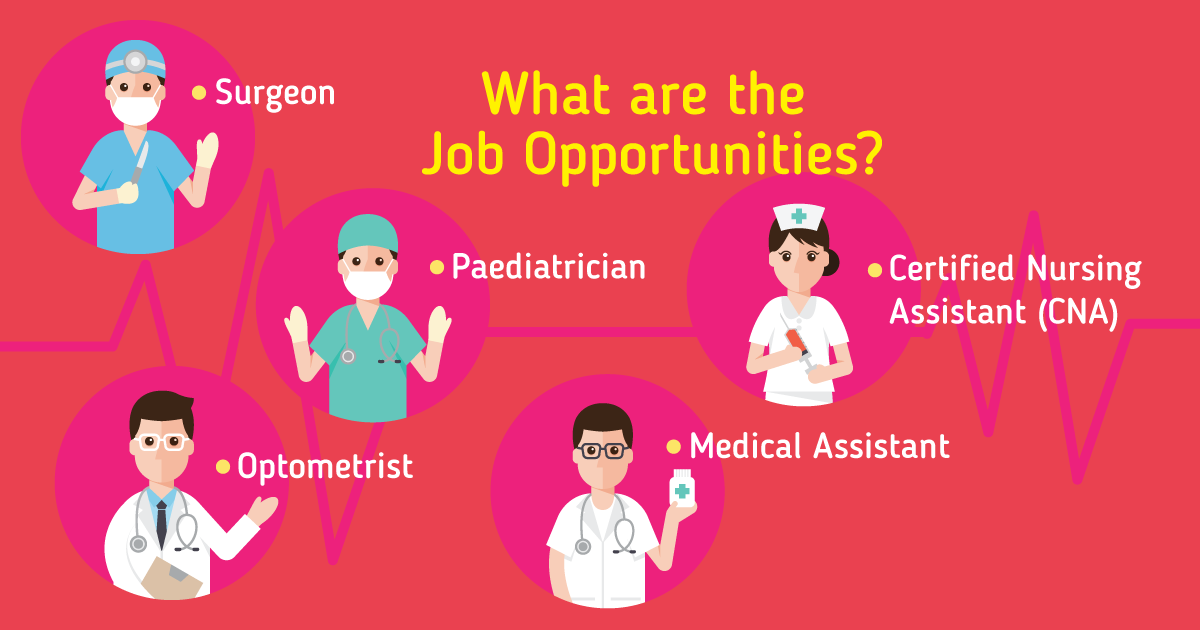 1. Surgeon
A Surgeon diagnoses and treats injuries and illnesses. They also perform medical surgeries that could last for more than 12 hours! Surgeons know everything about a patient's medical history, and they educate patients and their families on the risks and benefits of a surgery.

2. Paediatrician
A Paediatrician is a doctor who is specialized in the care of infants, children, and young adults. They are responsible for diagnosing and treating illnesses, handling vaccinations, and treating accidents.

3. Optometrist
Optometrist are specialised in people's eyes. They perform vision tests and analyse results to see if the problem lays with near-sightedness, farsightedness or even an eye disease. They will be the ones to subscribe eyeglasses, contact lenses, or vision therapy for the correction of visual disorders.

4. Certified Nursing Assistant (CNA)
Certified Nursing Assistants provide basic care to patients, often in nursing homes. The basic care tasks include assistants in bathing, dressing, positioning, eating, and mobility. Since CNA's help patients with their personal nature, it is important that they carry out their work with passion and joy.

5. Medical Assistant
A few duties Medical assistants have are preparations of treatment rooms, interviewing patients, taking patient's vital signs, writing down information, symptoms and medication, and show the patients to the examination rooms.
What is the Expected Salary?
Below you will find the salaries of a few jobs related to Health and Medicine:
Surgeon

Per year

Pediatrician

Per year

Optometrist

Per year

Certified Nursing Assistant

Per year

Entry level

US$ 240,000

US$ 134,000

US$ 96,000

US$ 22,000

Mid-career

US$ 253,000

US$ 147,000

US$ 103,000

US$ 24,000

Executive

US$ 267,000

US$ 150,000

US$ 112,000

US$ 25,000

Senior

US$ 295,000

US$ 164,000

US$ 117,000

US$ 27,000
Source: (payscale, 2016)
Top 10 Health and Medicine Schools
These are the Top 10 Health and Medicine schools in the world according to the QS World University Rankings: