The field of engineering recognises and drives the global industrial trend. Combining skills of science, mathematics, and technology, they are responsible for everything that we see and use on a daily basis.
It is divided into a large number of speciality areas. But at the heart of it, it is a discipline dedicated to finding solutions to society's problems.
They figure out how things work and how to make innovations better and available for everyday use. It is no different than in the field of Computer Engineering.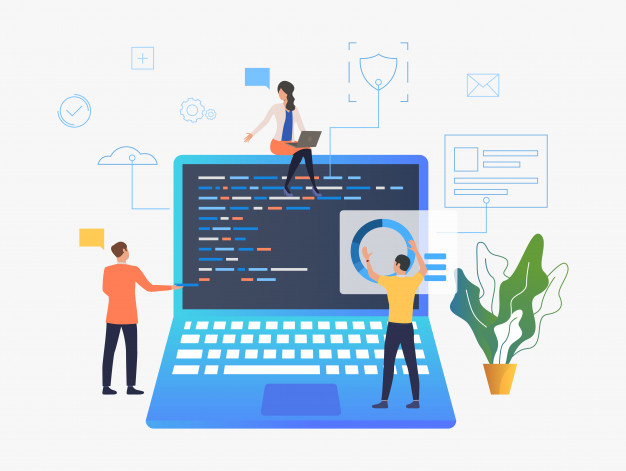 Computer Engineers is a leader of technology and innovation. It offers the broadest career paths in both hardware and software development which drives advances in different industries at scale.
Are you an expert in computers and anything digital? Do you find yourself losing track of time in front of the computer screen coding? If this sounds like you, you will probably be an excellent candidate to become the next best computer engineer.
The following guide provides an in-depth and comprehensive of computer engineering which includes what you will study, related skills and technologies, your earning potential as well as employment opportunities.
What is Computer Engineering course?
Computer Engineering is another popular branch in Engineering field that focuses on the learning of computer science and electronic engineering. A computer engineer will learn how to develop a computer networking system as well as the hardware tools.
Learning a Computer Engineering course prepares students for a comprehensive set of skills and practical knowledge. Upon graduation, you will be able to involve in numerous industries that require skilled individuals in the computer engineering field.
What are the differences between Computer Engineering and Computer Science?
You have probably been wondering the difference between these two courses. Is it similar? If you take either one of the course, will you miss important parts on the other?
The common principle that these two courses have is that they both focus on the understanding of digital software and hardware. Students will be exposed to similar learning skills and experiences.
Computer Engineering: Students of computer engineering deal more with computer systems. It emphasises on the studying of computers and digital hardware tools. It also involves problem-solving skills in the scope of digital hardware and software.
Computer Science: As the name suggests, students of computer science deal with scientific learning of computer and its programs. It focuses on computer data and the algorithm system. The students also get to study specialised computer programming techniques and application domains.
What subjects are there in Computer Engineering?
Setting aside the practical fundamentals of computer science and mathematical subjects, the curriculum consists of topics covering electrical engineering and information technology:
1. Foundation of Computer Engineering
Students will gain background knowledge of a standard machine and what it means when a problem can be tracked by a computer. It will introduce students into capabilities of automation; how it carries out simple computations as well as its limitations.
2. Signals and Systems
It covers the basic fundamentals of signal and system analysis by focusing on time signals and representations as differential equations, system functions, diagrams.
3. Hand-on measurement training
The course describes why and how measurement is important in terms of product risk management. It introduces students to the various components in the calibration systems and how to make the best measurements.
4. Digital circuitry
It is one of the first course when you first undergo your undergraduate Computer Engineering curriculum. The topic covers the elements and networks in limped circuits.
For most institutions, it is compulsory that you complete internships as part of the program requirements. It will give you the chance and opportunity to obtain real-world experiences in a company setting. In addition, it will help you give an insight into the working of the field and help you discover which areas of interest you can thrive in.
How long do you study to get a Computer Engineering degree?
Normally, for most institutions, it is possible that students can obtain a Computer Engineering Degree in under 3-4 years. In all Engineering disciplines, you will need at least a bachelor's degree to obtain an entry-level job post with others requiring a master's degree or higher for more specialised roles.
Students will be able to complete their programs of students earlier but it may take a little bit longer depending on the number of credits you will be accumulated.
There is an option for you to complete your degree in two years under, engineering technology. You will be under the career description of engineering technician or technologist.
You will be able to work directly with equipment and assists other engineers to complete their designs instead of being able to have the leverage to implement your own ideas or projects.
For individuals that undertake the degree program on a part-time basis, the completion of the degree may require twice as long.
What requirements do you need?
Prospective Computer Engineering students require minimum entry requirements to qualify a seating in the engineering schools around the world. The requirements below are general so all applicants are advised to refer to the educational and university institutions of your choosing for more details.
Applicants require providing Grade 10 and Grade 12 latest examination transcripts.
Applicants to provide English proficiency test scores as TOEFL, IELTS or SAT provided that your previous syllabus was not in the English Language.
Why should you study Computer Engineering?
1. Excellent Graduate Prospects - As you look under Graduate Prospects for different institutions, you will realise that the students have a strong chance to be employed as a professional even within the first six months of completion of a degree. Your chances are multiplied if you attend an established, reputable university for the subject.
2. Hand-on Skills - When you take on the subject of Computer Engineering, you will develop skills to be able to design, build and program a computer. Unlike other disciplines, you will not find yourself muddled in theoretical textbook materials. You will be able to develop hands-on skills in the engineering lab and will be able to undertake different projects that can challenge your skills set.
3. Expert Problem Solver - anyone who has worked in the field of Computer Engineering field, they will tell you that they often encounter different problem sets and troubleshoot. Things don't always work out in the way we want to and often a program can go haywire with the wrong code. A degree in Computer Engineering will teach you the techniques and strategies to solve these issues when they occur.
4. The forefront of Innovation - It is much more than programming and more so, inventing new solutions. Computer Science Major use software languages to build environments whether it be in a smartphone or computer applications.
What skills do you need for Computer Engineering?
1. Good Interpersonal skills
by being able to communicate is an important skill you will need to navigate the field of computer engineering. He or she must be able to interact with managers during the length of a company's project especially considering that they are working to develop solutions for its customers. A computer engineer would need to plan around a project budget and conduct new developments and update on the progress of the projects.
2. Good Decision-Making Skills
Computer Engineers are involved in the direct design and development process within a company's organisation. A computer engineer would be able to come up with a complete analysis of a program in question with the increasing demands and needs of the customers and company. In some cases, they may even need a computer engineer to troubleshoot any issues found. Luckily, you will get the training and experience when you are pursuing a Computer Engineering Degree.
3. Strong Research Skills
Computer Engineers must have strong extensive research skills, especially if they are in a managerial position. The field of Computer Engineering is constantly evolving and expanding with new possibilities. They then need to stay on top of the game by researching and learning new programming skills to be able to deliver the best possible innovations for their customer and the company going forward.
4. Strong Technical Skills
Considering that they working with hardware and software components for a project, they must have extensive technical skills to design around a project needs. These include having a grasp of technical languages as C++, Java, JavaScript, HTML and CSS amongst many. They too must know how to navigate the different operating systems in the market as Windows, Mac and Linux.
What career can you have with a Computer Engineering degree?
The beauty of having a Business degree goes a long way, due in part to its wide practicality and overall relevance to many various industries. If you love numbers, you can get a degree in the investment & banking sector, but if getting creative is more your thing, opt instead for a career in media & advertising.
Here are some of the more popular career options you can pursue with a Computer Engineering degree:
Software Developers, Applications
Network and Computer System Admins
Computer Network Support Specialists
Computer Network Architects
Software Developers, Systems Software
Computer Hardware Engineers
A Computer Engineering degree is a widely recognized degree that gives you the flexibility to explore employment opportunities in many industries such as:
Software Developers
Digital Consulting Firms
Semiconductor Companies
Research Laboratories
Advertising and Mass Communication
Armed Forces
Educational Institutions
Business Enterprises
What is the Expected Salary?
Computer Engineering is a popular field of study. Below are the expected salaries of some popular jobs in this industry.
| | | | | |
| --- | --- | --- | --- | --- |
| | Software Developers, Applications | Software Developers, Systems Software | Computer Hardware Engineers | Computer Network Architects |
| Entry-level | US$ 56,310 | US$ 63,250 | US$ 66,070 | US$ 55,160 |
| Mid-career | US$ 95,510 | US$ 102,880 | US$ 108,430 | US$ 98,430 |
| Executive | US$ 149,480 | US$ 154,800 | US$ 160,610 | US$ 150,460 |
(Source: computerscienceonline.org)
Top 10 Computer Engineering Schools
Here is the list of Top 10 Computer Engineering schools located in the United States, United Kingdom, Switzerland and Japan.
| | |
| --- | --- |
| University | Location |
| Massachusetts Institute of Technology (MIT) | Cambridge, USA |
| Stanford University | Cambridge, USA |
| University of Cambridge | London, United Kingdom |
| Imperial College London | London, United Kingdom |
| University of Oxford | London, United Kingdom |
| Harvard University | Cambridge, USA |
| University of California-Berkeley | California, USA |
| ETH Zurich | Zurich, Switzerland |
| Ecole Polytechnique Federale De Lausanne | Lausanne, Switzerland |
| University of Tokyo | Tokyo, Japan |