There is a reason why the United States (US) has the highest number of international students in the world, approximating more than 1 million annually.
In this guide we tell you why – read through and find out, and possibly choose the US as your study abroad destination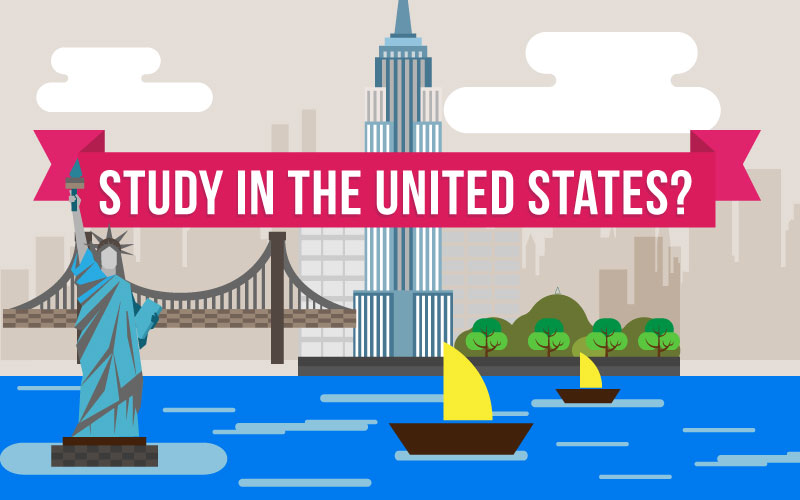 What's in the USA?
From the skyscrapers of New York to the beaches of California, the US has a lot to see (and offer!) from east to west.
Even if you haven't visited the country as of yet, you're sure to be aware of its global influence, in business, entertainment, politics, human rights – the US is at the forefront of it all.
In higher education, America continues to thrive - the #1 university in the world, Massachusetts Institute of Technology (MIT) is in the USA, five of the top 10 universities in the world are in the USA.
Malaysian students heading to the US for the first time may experience a bit of a culture shock - western culture tends to be far more liberal than what Malaysians are used to.
However, as the 4th largest land area in the world, the US is truly a melting pot of cultures – with people from all nations coming to this country. The birthplace of the American dream and home to several of the world's greats in different industries, the US is a definite force to be reckoned with.
Meanwhile, when it comes to higher education, the country's institutions host thousands of academic programmes. This flexibility and freedom for students to choose and arrange their timetable as they see fit makes studying the US ideal for any student.
In addition to that, the US boasts the world's best universities, with top-quality systems and programmes.
Over the years, the institutions of higher education in the US have topped several world rankings, including QS World University Rankings® and Times Higher Education World University Rankings.
You will also get a chance to learn, even work with the top minds in various industries. Furthermore, you will have the state-of-the-art facilities and research centers within your reach when you study in the US.
Top Universities in the US
The US ranks as the top country in the world with the most US universities constantly appearing in the top world rankings. In fact, half of the top 10 universities in the rankings of US-based universities, and a further many more in the top 300.
Moreover, while there are a lot of options to choose from when it comes to studying in the US, the fact remains the same: a lot of students would always want to go to the Ivy League schools.
This group is deemed to be a selection of the most prestigious universities in the world, being inclusive of Brown University, Columbia University, Cornell University, Dartmouth College, Harvard University, University of Pennsylvania, Princeton University, and Yale University.
In 2018, more than 8000 students were reported to be studying in the US. Should you decide to follow their path and study in the US, you will be spoilt for choice as to where you want to go. It will surely take the time to select which one to go to, so here's a list for your reference.
Universities and colleges in the US usually comprise of two semesters: the Fall semester, commencing around September until December, and the Spring semester, from January to May.
At times, these institutions may also have a short summer semester as well, between June and August.
During semester breaks, Malaysian students often return home for the holidays or take up part-time jobs in the US, to earn some extra pocket money (not to mention that part-time jobs amplify your resume as well!).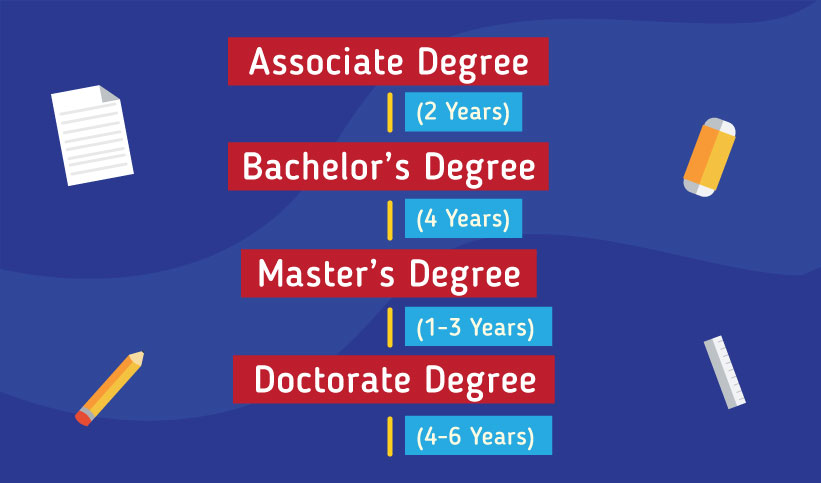 Going to the US for your higher education, a variety of institutions are available to students to enroll in; they differ in the qualification and type of degree obtained through them. Find out what each type of institution in the US can offer you:
Community Colleges. Also known as Junior Colleges, these institutions offer two-year courses after which graduates receive an Associate's Degree. Tuition fees at Community Colleges are typically lower than state of private schools.
Colleges. Colleges in the US allow students to obtain a Bachelor's Degree after completing their studies within the span of 4 years. The number of both the students and fields of study are larger in comparison to other institutions.
Liberal Arts Colleges. As per their name, these colleges focus on Liberal Art Studies, and are known for being residential and have a smaller enrollment and classes – they have a higher teacher-student ratio.
Universities. The most popular amongst Malaysian students, these are research-oriented institutions offering both undergraduate and graduate programmes. Some universities offer professional schools, tailored to specific fields of study, such as Journalism, Medical, Business schools.
What to study in the US?
Higher education institutions in the US offer some of the most diverse and interesting of courses – there's something for everyone, in the US.
However, some of the most popular courses international students in the US tend to enroll in are Engineering, Mathematics, Computer Science and Business and Management. Which will yours be?
Entry Requirements
Enrolling in an institution in the US can tend to be a stressful experience – considering their rankings, competition to enroll into top US universities is high.
However, apart from the popular universities you may have heard of, the US is home to thousands of more academic institutions.
As a Malaysian student looking to study abroad, you must keep in mind that, while rankings do impact your employment opportunities upon graduation, it is important to first and foremost choose a university based on your preferences.
Whether it's the availability of course, location, tuition fees, student life, the university you decide to enroll in must be the right fit for you to flourish.
Academic Entry Requirements
These typically differ according to the university and the course you are applying for.
For example, if you hope to study an Engineering degree in the US, you should have ideally studied Maths during your STPM and achieved a good grade. Without this prerequisite, you may be unable to study an Engineering degree.
To pursue a Bachelor's degree in the US, Malaysian students must have completed the following qualifications:
SPM (Form 5)/UEC with a minimum of 4 passes
STPM with a minimum of 2 passes
Other pre-university qualifications such as the O-Level and A-Level examinations would require you to have a minimum of 3 O-Level passes and 2 A-Level passes.
Students should also note that these are the very minimum of academic entry requirements – the more high-ranking and elite the university, the more higher grades are required.
Language Entry Requirements
For admission into a US university, Malaysian students are required to complete a certain number of tests prior to applying. The popular MUET examination cannot be used to apply for a US university. Instead, the below tests must be completed:
Completion of the SAT/ACT tests
Completion of the TOEFL test
Grade requirements for such tests usually depend on the university itself – prospective students must ensure that they check through their university beforehand and achieve the required test scores.
Here's a tip! Want to secure your position at an Ivy League university? Make sure to do these!
Tuition Fees
While amongst the best in the world, private universities in the US are notorious for their steep tuition fees and tend to be amongst the most costly to attend. Most times, however, the cost of such an education is worth it. You can decide on the approximate prices listed below, per year:
| | | |
| --- | --- | --- |
| Study level | USD per year | MYR per year |
| Bachelor's degree | 25 - 70,000 | 99 - 280,000 |
| Master's degree | 30 - 60,000 | 120 - 240,000 |
| PhD | 28 - 50,000 | 111 - 199,000 |
* Tuition prices in MYR are subject to conversion from USD
Living Costs
Similar to Malaysia, living costs in the US vary according to the area you reside in. Urban areas, close to city centres tend to be costly, while suburb areas may cost students far lesser, for accommodation in particular.
Malaysian students are urged to also take note of the currency difference between the ringgit and the US dollar while considering living costs. Listed below are some basic living costs:
| | | |
| --- | --- | --- |
| Expense category | Monthly cost in USD | Monthly cost in MYR |
| Student accommodation | 600-3,000 | 2,400-12,000 |
| Transport, monthly pass | 45-100 | 180-400 |
| McDonald's combo meal | 7 | 28 |
| Simple meal in a foodcourt | 13 | 52 |
| A pair of jeans (Levi's 501 or similar) | 42 | 166 |
Compared to Malaysia, the US would seem quite pricey – however, international students like you are allowed to work part-time jobs 20 hours a week during academic semesters, and full-time during semester breaks.
Application & Visa Requirements
Applying and receiving a student visa for study in the US can be a bit strenuous and lengthy — but it is always well worth the effort. Much of what you will need to present to start your visa application process is dependent on your country, so you must ensure your personal requirements beforehand.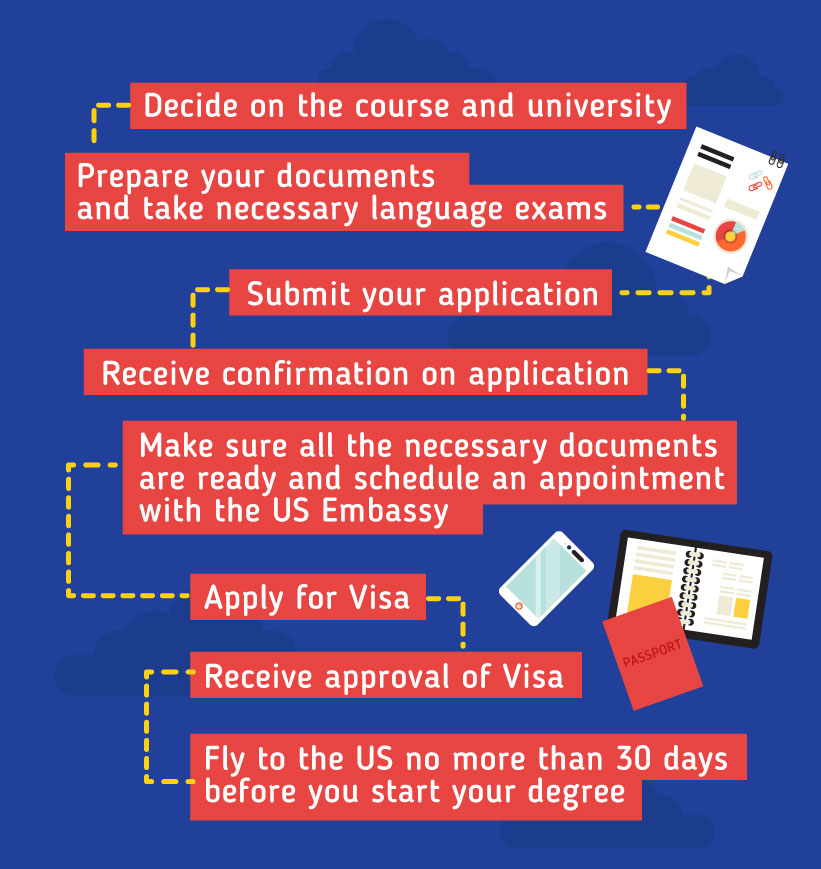 Once you are accepted into your university of choice, you will receive an offer letter along with a Form I-20 or DS-2019. It is integral, however, that your university is a certified and accredited institution by the Student Exchange and Visitor Programme (SEVP).
Fill these out, and then you must proceed to visit your local US Embassy for an interview to apply for the F-1 non-immigrant visa, where you must remember to bring:
Your passport, which does not expire until six months after the end of your degree

Form DS-160, the Online Nonimmigrant Visa Application form, filled in online with a photo attached and fees paid beforehand

Form I-20/DS-2019, and any other forms provided by your university

Your offer letter from the university

Proof of financial stability throughout the course of your degree

Academic transcripts and certificates

Your intention to leave the USA upon completion of your degree

Other forms and requirements based on your country
The decision to provide you with a visa is dependent on your interviewer, and you will receive your student visa no more than 120 days before your degree's start date — though you are not allowed to travel to the USA until 30 days before the commencement of your degree.
Student Life
Within the universities' campus and dormitories themselves international students in the US can find plenty to do – from catching a meal at a café, attending parties, having movie nights or enjoying outdoor extracurricular activities.
If your university is in or nearby the main city, you'll have plenty more to do and explore on a daily basis – it's always a good idea to do this right off the bat to familiarise yourself with your university and the area you live in.
The US, with its innumerable cities and states, offers tourist attractions everywhere you go: from beaches to national monuments, museums and theatres – it's difficult to get bored in a country such as the US.
The state of California in the US is by far the most popular for international students, with New York coming in at a close 2nd. Institutions such as the University of California and New York University host a large number of students annually.
After-Graduation Opportunities in the US
Upon completion of your programme, international students are required to leave the country within 60 days.
Job-hunting after studying in the US might be a difficult task as employers are often reluctant regarding visa and immigration. However, if you are determined to start your career in the US, there are plentiful of option available.
To get more information, check out the US Citizenship and Immigration Services website.
Further your studies
Finished up your Bachelor's degree and not sure what your next step should be? Continuing your studies with a Master's degree or PhD in the US would give your resume a boost for future employers. You'd be a catch! This is also a good option for those who do not wish to start working just yet and would rather continue their studies in university.
Seek employment
While the US job market may be tough, having graduated with a US degree would open doorways for you within the country itself. However, it is suggested that you begin seeking employment in the US before the completion of your degree, since the process can tend to be long and strenuous. Once you start working in the US, it is also possible to obtain a Green Card (permanent residency) for yourself.
Did you know? If you are a Master's degree holder in a STEM subject,
you may stay in the US on an OPT visa and begin working.
Return home
Let's face it – Malaysia is home. It's been a long 4 years in the US and you can't wait to get home. What's more, with a US qualification in hand, employers would be looking forward to hire you once you arrive back in Malaysia safely. Do ensure, however, to tie up all loose ends in the US – pay your bills, obtain all certifications required from your university and say goodbye to the friends you've made during your tenure.
Frequently Asked Questions
Are there many international students that stay in the USA after graduation?
According to Pew Research Centre, there are over 1.6 million students that obtained OPT (optional practical training). OPT allows students who graduated to work temporarily in the United States. Read here for more info.
Can international students work while studying in the USA?
Yes. However, you need to have an F-1 an M-1 visa to be able to work on-campus. Working off-campus are only permissible after their first academic year.