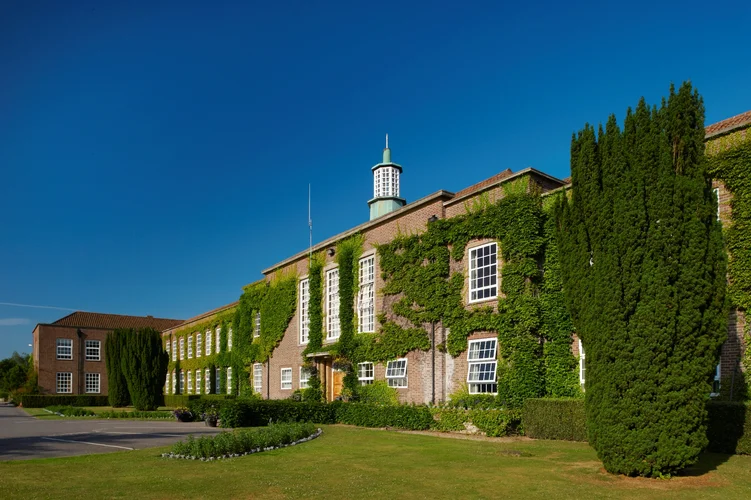 Writtle University College
England, United Kingdom
Statistics

| | | |
| --- | --- | --- |
| | 9 | Undergraduate programs |
| | 1 | Postgraduate programs |
Overview
Statistics

| | |
| --- | --- |
| Institution type | Public |
| Year established | Data not available |
| Campus setting | Data not available |
| Student population | Medium (1,001 to 10,000) |
| foreign students | 8% |
| Nationalities | Data not available |
About Writtle University College
Established in 1893, Writtle University College has valued and nurtured its international links and is held in high regard by related industries worldwide for providing highly skilled and knowledgeable students for their chosen sectors as well as being at the forefront of world quality research and consultancy.
Our specialist subjects include: Agriculture, Animal Science and Animal Management, Art and Design, Bioveterinary Science, Conservation, Equine, Floristry, Horticulture, Landscape Architecture and Garden Design, Sports and Exercise Performance and Veterinary Physiotherapy. 
Our prestigious University College has all the benefits of a small, safe and beautiful campus setting and yet is ten minutes away from the city of Chelmsford and just 40 minutes from central London.
Reputation: Writtle University College is renowned across the globe. Our facilities and resources, based on our picturesque 220 hectare campus, are used to enhance the student learning experience, enabling you to gain both theory and practical skills whilst studying with us.
Specialist: The University Colleges' portfolio attracts students regionally, nationally and internationally. Our subject areas range from Animal and Equine Sciences, Conservation, Sport, Horticulture, Veterinary, Agriculture, Floristry and Art and Design related courses.
Personal: We value students as individuals at Writtle. We recognise that every single one of our students will have different needs and career ambitions; this is why we ensure you are given the attention needed in order to achieve your goals.
Awards: In the Postgraduate Taught Experience Survey 2016, 94% of our students said feedback on work was prompt, there was sufficient contact time to support effective learning and their confidence to be innovative or creative has been developed.
Admissions
Intakes
Admissions Statistics

| | |
| --- | --- |
| IELTS | Data not available |
| TOEFL | Data not available |
For admission requirements and intakes for each individual course/programme please refer to course details.
Tuition and application fees
Estimated tuition fees as reported by the institution.
Tuition and Application Statistics

| | |
| --- | --- |
| Application fee (local students) | Data not available |
| Application fee (foreign students) | Data not available |
| Student visa fee (foreign students) | Data not available |
Living cost
Data not available
Average living cost in United Kingdom
The amount is indicated taking into account the average cost of food, accommodation, etc in United Kingdom for 2023
Costs Statistics

| | |
| --- | --- |
| Food | Data not available |
| Accommodation | Data not available |
| Others | Data not available |
Accommodation
ON-CAMPUS ACCOMMODATION
Writtle University College has a lively and community atmosphere. Our mix of students and on-campus facilities create an environment that allows students to flourish and quickly integrate into student life.
We have 382 rooms available in 14 Halls of Residence set in beautiful gardens on the main campus. Halls are close to all main amenities such as the Bar and Recreation and Fitness Centre, catering outlets, library, computer suites and laundry facilities.
The Accommodation Office provides advice and guidance on accommodation matters both on and off-campus, as well as processing halls applications and providing details of available off campus accommodation. Students often use the office as the first point of call for any student issues and will always receive a warm welcome.
OFF-CAMPUS ACCOMMODATION
For those who prefer to live off-campus, the office can provide details of housing websites for  privately-owned lodgings, flats and shared houses in the area offering you a good choice of local accommodation.
Campus
Writtle University College provides its students with a very unique experience whilst they study with us. Located in the beautiful Essex countryside on a picturesque 220 hectare campus, including landscaped gardens, farm, stables, stud, glasshouses, research laboratories, leisure facilities. Writtle University College is a very welcoming community allowing students to make friendships that will last a lifetime. There are a number of facilities and activities for students whilst on campus. The main social areas include:
The Students' Union College Baa (bar) – this is the social hub of the community where students will meet outside of lectures and classes. The majority of our student events are held here including the themed nights during Freshers' Week as well as the Christmas and Summer Ball. There is a beer garden too which is very popular during the Spring and Summer months!
The Recreation Centre – if you are the sporty type then the recreation centre is for you. You can enjoy the squash courts, sports hall as well as the FREE fitness suite, which includes running machines, exercise bikes, rowing machines and a free-weights area. There are also exercise classes run allowing you to make friends and keep fit at the same time!
Sports fields – While at Writtle you can join one of the College's sports teams; . rugby, football, hockey or netball.
Student Societies – we have a wide range of different clubs and societies available to our students. These societies are a great way to help students to settle into life at Writtle and meet like-minded people.
FACILITIES:
MAIN CAMPUS
Iconic Main Building for lectures and seminars
Library
Careers Advice Service
Computer suites
Landscaped gardens
14 Halls of Residence
Students' Union office
Restaurant, café and bar
Gym, Sports Hall and Squash Court
Design studios
Glasshouses
Amenity Building
Reservoir
EQUINE CAMPUS
Two large indoor riding arenas
Floodlit menage
Sports Therapy Barn
A variety of stable facilities
Cross country schooling facilities
A stud facility: Equipment includes a hydrotherapy treadmill, horsewalker, round pen, solariums and a mechanical horse
ANIMAL STUDIES CENTRES
Titchmarsh Centre for Animal Studies:

More than 500 companion, exotic and aquatic animals
Rare breed livestock

Canine Therapy Centre:

Provides Veterinary Physiotherapy facilities for dogs, including:

Dog exercise area for rehabilitation
Canine treadmill
Canine hydrotherapy pool
STURGEON'S FARM
100 hectares of arable land
Variety of livestock
Up-to-date machinery
LORDSHIPS CAMPUS
Sports Science Centre, with equipment including cycle ergometers and treadmills
Lordship Science Centre including high-tech laboratories
Turner Building providing dedicated Floristry workshops
Research glasshouses
Northumberland Lecture Theatre
Lordships Café, run by the world-famous
Tiptree jam makers Wilkin and Sons
Writtle University College is 50km (30 miles) north-east of central London. It is situated 3km west of the city of Chelmsford, the county town of Essex, in an attractive 220 hectare estate in the historic village of Writtle. Writtle is one of the most attractive villages in Essex. Set around a quiet village green, there are specialist shops, traditional pubs and period houses which all contribute to its picturesque image. The campus is only a short bus ride or 35 minute walk from Chelmsford, which boasts an impressive cathedral (where Writtle Graduation Ceremonies are held), bustling shopping centres, parks and gardens, theatres, bars, leisure complex, and lively student nightlife. Chelmsford is just 35 minutes by train from London Liverpool Street and conveniently located for London international airports, with Stansted 30 minutes' drive away, Gatwick about an hour away and Heathrow around 90 minutes away. London Southend airport, with routes to European destinations, is 30 minutes away by road.
By Rail 
The train journey from London, Liverpool Street station to Chelmsford takes about 35 minutes, with 3 to 4 trains running per hour. You can then get a taxi or catch a bus:

First bus company, number 45 - to Writtle Village Green which is approximately 10 minutes' walk from the main campus
Regal Busways, number 1/1a - stops right outside the College
By Air 
London Stansted, London's third airport, is only a 30 minute drive from Writtle with cheap flights to many EU destinations. Heathrow and Gatwick are also easily accessible via the M25.
By Coach 
A regular coach service is available to Chelmsford bus station from London and all three major London airports (Stansted, Heathrow & Gatwick).
Student population
Medium (1,001 to 10,000)
Total population
Student Statistics

| | |
| --- | --- |
| Undergraduate students | Data not available |
| Postgraduate students | Data not available |
| foreign students | Data not available |