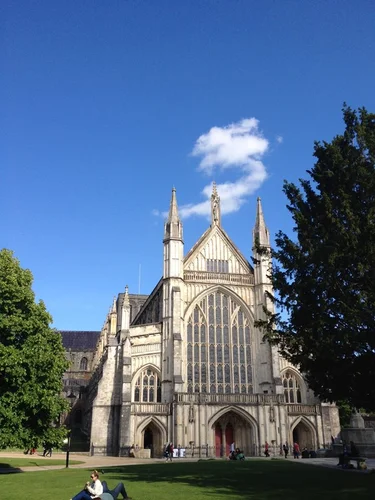 University of Winchester
England, United Kingdom
Statistics

| | | |
| --- | --- | --- |
| | 8 | Undergraduate programs |
| | 2 | Postgraduate programs |
Overview
Statistics

| | |
| --- | --- |
| Institution type | Private |
| Year established | Data not available |
| Campus setting | Urban |
| Student population | Medium (1,001 to 10,000) |
| foreign students | Data not available |
| Nationalities | Data not available |
About University of Winchester
The University of Winchester is a British public primarily based in Winchester, Hampshire, England. Winchester is a historic cathedral city and the ancient capital of Wessex and the Kingdom of England.
The roots of the University of Winchester began in 1840 when the Winchester Diocesan Training School was founded as a Church of England foundation. It was designed to provide for the training of elementary schoolmasters. The School was initially quite small and housed in St Swithun's Street, Winchester.
Admissions
Intakes
Admissions Statistics

| | |
| --- | --- |
| IELTS | Data not available |
| TOEFL | Data not available |
For admission requirements and intakes for each individual course/programme please refer to course details.
Tuition and application fees
Estimated tuition fees as reported by the institution.
Tuition and Application Statistics

| | |
| --- | --- |
| Application fee (local students) | Data not available |
| Application fee (foreign students) | Data not available |
| Student visa fee (foreign students) | Data not available |
Living cost
Data not available
Average living cost in United Kingdom
The amount is indicated taking into account the average cost of food, accommodation, etc in United Kingdom for 2023
Costs Statistics

| | |
| --- | --- |
| Food | Data not available |
| Accommodation | Data not available |
| Others | Data not available |
Accommodation
On and Off Campus
Campus
Main University Campus, King Alfred, is located close to the city center of Winchester. Some of the buildings on the main campus are named after former staff or governors.
Halls of residence University accommodation is available on campus and in the West Downs Student Village nearby. The halls of residence are:
West Downs Student Village
Alwyn Hall
St Elizabeth's Hall
Beech Glade
Queens Road Student Village
Burma Road Student Village (under construction)
Winchester is located at the centre of southern England, in the county of Hampshire, and is one hour away from London by train.
Winchester is a picturesque city set on the edge of the South Downs, with Winchester Cathedral providing the main focal point from miles around.
TRANSPORTATION
The University of Winchester is a 10 minute walk from the train station in the city centre and it is situated close to the M3.
London Waterloo is one hour away from Winchester by train where it is possible to travel to Paris via the Channel Tunnel or pick up links to Heathrow or Gatwick Airport to travel anywhere in the world.
The National Express bus service picks up from Winchester to various UK destinations.
Southampton Airport is located 15 minutes away by train and offers services within the UK, Channel Islands and mainland Europe.
Portsmouth provides ferry links to various destinations including France, Spain and the Netherlands.
Student population
Medium (1,001 to 10,000)
Total population
Student Statistics

| | |
| --- | --- |
| Undergraduate students | Data not available |
| Postgraduate students | Data not available |
| foreign students | Data not available |
Mission
Students and money
This section details the expenses when you study and the type of help you can expect.
What you have to pay
You will have two main types of expenses whilst you study - tuition fees (which help meet the costs of providing your course) and your own living costs.
Please note that these figures relate to the academic year 2011/2012. However, in some cases figures are only available for 2010/2011 at present and should be used as a guide.
Help is at hand
The good news is that you can recieve help for both, in the form of financial support provided by the government and from us
Applications
Academic Achievement Award - You can apply for an Academic Achievement Award worth £4,000 if you have or are expecting to achieve 320 UCAS points (or equivalent qualification) and studying a relevant course, to find out more information or to apply click here.