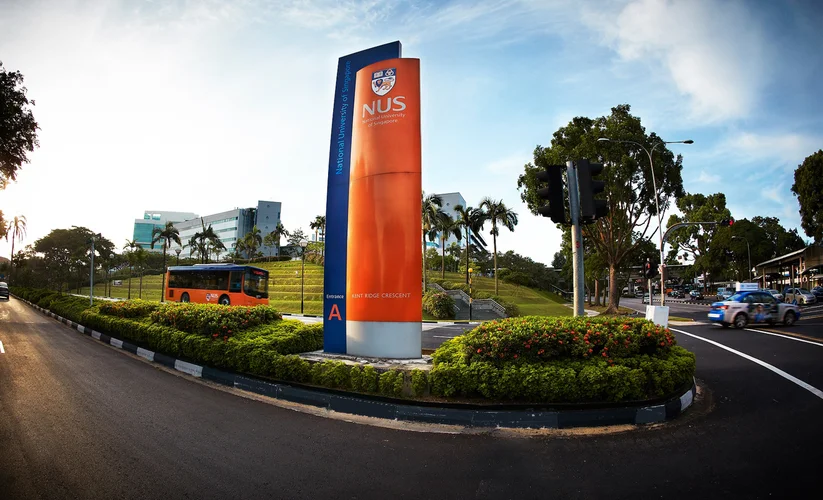 National University of Singapore (NUS)
Aligarh, Singapore
Statistics

| | | |
| --- | --- | --- |
| | # 2 | QS University Rankings: Asia 2018 |
| | 10 | Undergraduate programs |
| | 0 | Postgraduate programs |
Overview
Statistics

| | |
| --- | --- |
| Institution type | Public |
| Year established | Data not available |
| Campus setting | Data not available |
| Student population | Data not available |
| foreign students | Data not available |
| Nationalities | Data not available |
About National University of Singapore (NUS)
The National University of Singapore is Singapore's oldest university. It is the largest university in the country in terms of student enrollment and curriculum offered. NUS has a semester-based modular system for conducting courses. It adopts features of the British system. Other cross-disciplinary initiatives study programmes include double-degree undergraduate degrees in Arts & Social Sciences and Engineering; Arts & Social Sciences and Law; Business and Engineering; and Business and Law.
The university is widely considered to be one of the most prestigious universities in Asia. In 2012, NUS was ranked 25th in the world and 3rd in Asia by the QS World University Rankings.
Admissions
Intakes
Admissions Statistics

| | |
| --- | --- |
| IELTS | Data not available |
| TOEFL | Data not available |
For admission requirements and intakes for each individual course/programme please refer to course details.
Tuition and application fees
Estimated tuition fees as reported by the institution.
Tuition and Application Statistics

| | |
| --- | --- |
| Application fee (local students) | Data not available |
| Application fee (foreign students) | Data not available |
| Student visa fee (foreign students) | Data not available |
Living cost
Data not available
Average living cost in Singapore
The amount is indicated taking into account the average cost of food, accommodation, etc in Singapore for 2023
Costs Statistics

| | |
| --- | --- |
| Food | Data not available |
| Accommodation | Data not available |
| Others | Data not available |
Accommodation
Natioinal University of Singapore provides accomnodations for its students. These are the types of room provided by NUS:
Short-Term Private Accommodations
Long-Term Private Accommodations
NUS Guest Rooms / Group Booking
Campus
NUS provides its students:
IT and computing services
The IT facilities and network are generally provided by its central IT department, Computer Centre. The university's optical fibre network is one of the largest campus networks in the Asia Pacific region. NUSNET is used in research, teaching, learning and administration. In 2004, a campus-wide grid computing network based on UD Grid MP was deployed, connecting at least 1,000 computers. This becomes one of the largest such virtual supercomputing facilities in the region.
​Library
The NUS Libraries comprises 7 libraries, namely, the Central Library, the Chinese Library, the CJ Koh Law Library, the Hon Sui Sen Memorial Library, the Medical Library, the Music Library, and the Science Library. Its primary clients are the NUS and NUS-affiliated research institutes, students, teaching, research and administrative staff members, as well as a sizeable group of external members. Its collection encompasses subjects in architecture, building and real estate, business, dentistry, engineering, computer science, the humanities and social sciences, law, medicine, music, nursing and science. As of June 2010, there are close to 1.5 million unique titles, and 23,290 microform resources. in the collection. The Library Portal, a one-stop gateway, offers the university community 24-hour access via the Internet to a rich array of electronic collection and services provided by the NUS Libraries. Besides the rich resources, the NUS Libraries provide an environment conducive for individual research and spaces for group interaction and learning.
Global classroom
NUS uses technology to link up campuses on different continents. An example is the Singapore-MIT Alliance which utilises Internet 2 technology to bring students from Singapore and MIT together in one virtual classroom for lectures and interactions via videoconferencing.
NUS campuses are located in Kent Ridge, Bukit Timah, and Outram. The university's main campus is located in southwest Singapore at Kent Ridge, with an area of approximately 1.5 km2 (0.58 sq mi).
Student population
Data not available
Total population
Student Statistics

| | |
| --- | --- |
| Undergraduate students | Data not available |
| Postgraduate students | Data not available |
| foreign students | Data not available |