The Field of Engineering recognizes and engages the global industrial trend. Within the broad set of the field, it offers graduates a significant reach in income and job stability. Surprisingly, aspiring engineering often set their gaze on higher education opportunities abroad. If you are interested in embarking your engineering career, look no further but to the Lion City. Singapore offers a variety of educational institutions producing a stellar supply of engineering graduates to meet demand of global employment landscape.
What is an Engineer?
Engineers are professionals that practice the application of science to design, build, test and analyse structures, machines, materials, processes, systems and organisations. The Engineering field is a broad discipline that can be split into several disciplines as follows:
Mechanical Engineering
It is a discipline that addresses engineering principles to design, construct and operate mechanical devices and systems. Mechanical Engineers find employment in energy, automotive and operating industries. They routinely utilise computers and technology to create, test-run machines and generate specifications for the parts.
Civil Engineering
It is the branch of engineering that deals with the design, construction, maintenance of public and physical operations of infrastructure such as roads, bridges, and railways. Civil Engineers assess the project developments based on its construction costs, regulatory rules as well as potential impacts on the surrounding environment.
Chemical Engineering
It is the field of engineering that equips the principles of chemistry, mathematics, physics, and economics to convert raw materials and energy into different products as well as efficiently operating plants and equipment. Chemical Engineers also go by, process engineers. They are posted in industrial plants, refineries and operational offices.
Computer Engineering
It is an engineering discipline that combines fields of electronics and computer science to develop computer hardware and software. They are involved in not only making computer systems work but incorporating it into larger systems. Computer Engineers are made up of two forms; software and hardware engineers. A Computer Hardware Engineer is a professional who test, operate and install computer hardware whist a Computer Software Engineer is a person that is responsible for designing and creating new software.
Electrical Engineering
It is a discipline that deals with the study and the application of different components of devices and systems. Their skills are widely needed in a number of industries. They perform supervision on equipments and perform test runs to make sure it is properly functioning.
Aeronautical Engineering
It is a branch of engineering that is concerned with the research, design, and manufacturing of aircraft and spacecraft. Aeronautical Engineers often specialise in one of two engineering types; aeronautical or astronautical. Aeronautical Engineers work on the practice of aircraft wihtin the earth's atmosphere whilst Astronautical Engineers test on the performance of flight in and outside of earth's atmosphere.
Why Choose Singapore to pursue an MBA Degree?
1. International Recognition
Two of Singapore's public universities are amongst the world's top 100 prestigious educational institutions. Singapore takes the top spot in the East and Southeast Asia when it comes to Graduate Management Admission Test (GMAT) scores. Test-takers in the country has shown the highest mean GMAT score in 2017, an average of 614 points which is above the worldwide average of 564 points.
2. International Student Fund and Scholarships
Unbeknownst to some, Singapore is one of the world's expensive place to live. However, compared to other major cities, it is comparably low in cost. On average, an international student spends about RM2,258 to RM6,023 on monthly expenses. These costs, of course, varies depending on a person's lifestyle choices and spendings. Details on the application forms can be obtained via the university websites. The Singapore Ministry of Education offers tuition fee grant subsidizing up to 80% of tuition fees available for local and international students. International students who opt for the grant are subject to an agreement to work in Singapore for three years upon graduation.
3. Business-Friendly
The Singaporean economy is the perfect playground for domestic and international business operations. It is ranked as the easiest country to do business with welcoming investors and companies with its friendly legal framework and public legislation.
4. Multicultural Society
Singapore is made up of a multicultural society of four different ethnicities: Chinese, Malay, Indian and Eurasian. English is used as language of command in all university establishments. International students will find it easily to adjust to the environment. They will find a diverse student body population through which you can exchange and experience ideas and cultures.
5. Quality of Life
Singapore retains its rank as the safest country in the world perceived to have a stable order and peace compared to its regional neighbors.
Entry Requirements and Qualifications
Prospective engineering students require a minimum entry requirements to qualify a seating in the engineering schools of your choosing in Singapore. The requirements below are general. All applicants are advised to refer to the specific educational and university institutions for more details.
Applicants require providing Grade 10 and Grade 12 latest examination transcripts.
Applicants to provide English Proficiency test scores as TOEFL, IELTS or SAT provided that your previous syllabus was not in the English Language.
Programme Duration
| | |
| --- | --- |
| Course Level | Course Length |
| Undergraduate Courses | 3-5 years |
| Postgraduate Courses | 1- 3 years |
To learn more about the best engineering courses available in Singapore, find details of the top engineering institutions below:
Top Engineering Institutions in Singapore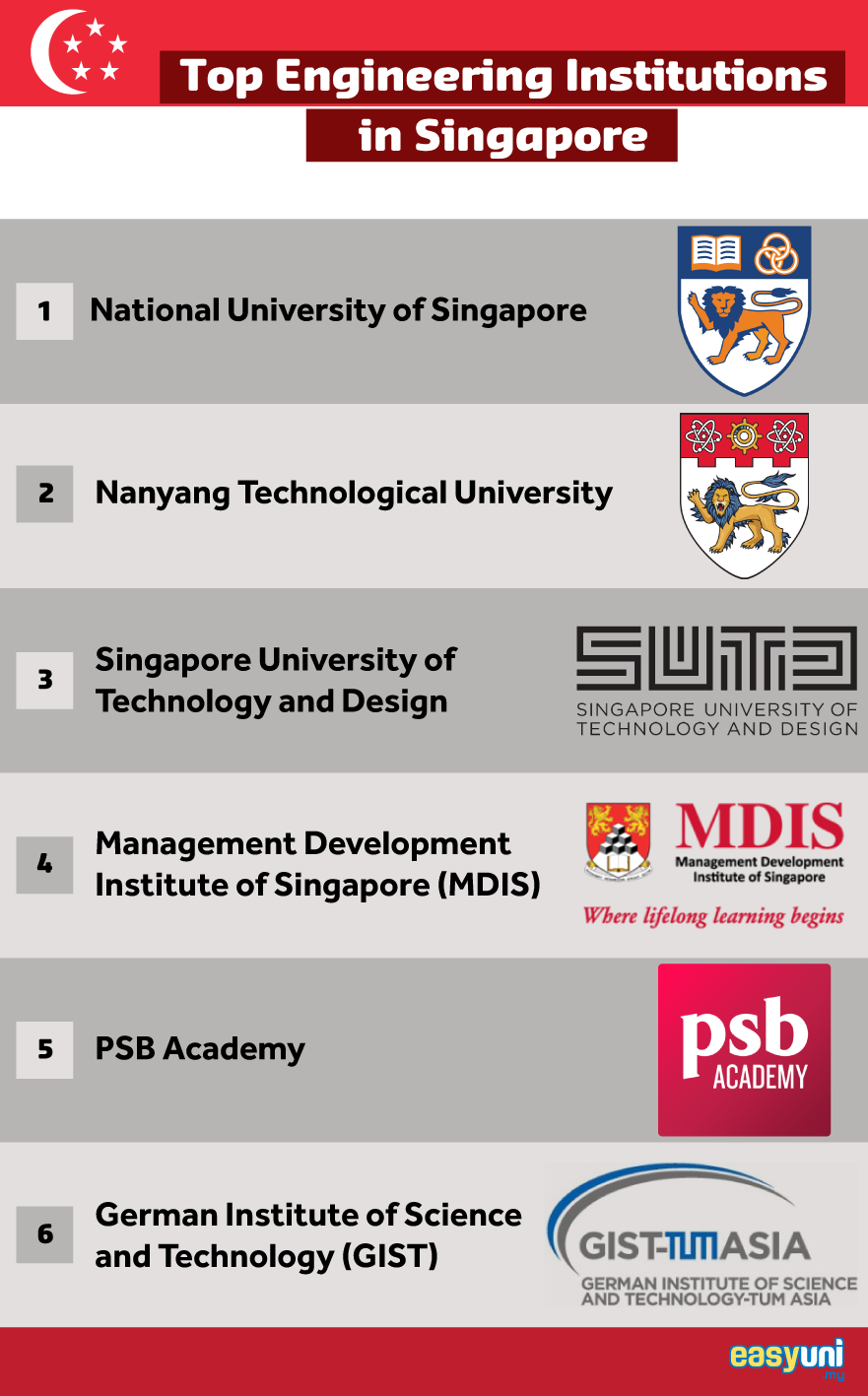 1. National University of Singapore
The National University of Singapore (NUS) is oldest regional research institution in Singapore. It is comprised of a comprehensive list of disciplines including, engineering, business, medicine and dentistry, social science in undergraduate and postgraduate levels. The Faculty of Engineering is one of largest faculty branching into several different departments. It is ranked the 6th in the Academic Ranking of World Universities for Engineering/ Technology and Computer Science. In the subject category of Engineering and Technology, it has been ranked the 7th placing as well as it in the 2016 and 2017 Times Higher Education World University Subject Rankings.
2. Nanyang Technological University
Nanyang Technological University (NTU) is a public research-intensive university. It is the leading engineering institution renowned for its industry-linked syllabus and research facility comprised of six engineering schools of thought. NUS is distinguished for its educational performance consistently among global ranks.
3. Singapore University of Technology and Design
Singapore University of Technology and Design (SUTD) is a public autonomous institution in Singapore. Its curriculum is grounded on the modern aspect of engineering and architecture that mirrors the undergraduate program in The Massachusetts Institute of Technology (MIT). Compared to traditional education terms, it enables students to complete the full eight terms in three and a half years which is faster than other universities.
4. Management Development Institute of Singapore (MDIS)
Founded in 2956, the Management Development Institute of Singapore (MDIS) is the oldest non-profit educational institute. MDIS provides detailed academic operations for programmes in:
Business and Management
Engineering
Information Technology
Life Sciences
Mass Communication
Psychology and Travel
Tourism and Hospitality Management.
Their programmes work in collaboration with international universities in the United Kingdom, United States, Australia and France.
5. PSB Academy
PSB Academy is a registered Private Education Institution. It hosts industry-ready graduates with educational qualification in Certificate, Diploma, Bachelor's and Master's degree programmes. The academy was awarded 2016 "Best Private Education Institution in Singapore" and PRISM award for "Outstanding Overall Corporate Reputation Programme" by the Institute of Public Relations Singapore.
6. German Institute of Science and Technology (GIST)
German Institute of Science and Technology (GIST) is the first German Academic Institution abroad. It is in collaboration with Technical University of Munich. Its Engineering programmes include a two to four month student exchange with the Munich campus.