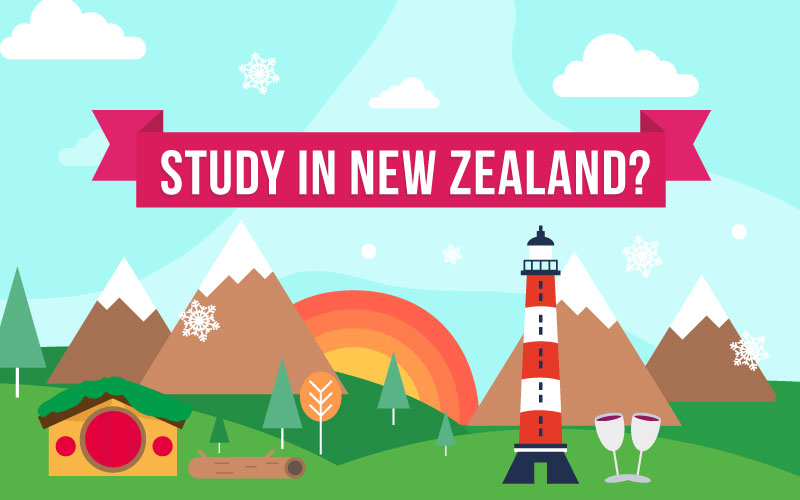 New Zealand is the size of Japan or Great Britain, but has a lot smaller population (less than 5 million!) compared to those countries. However, with a beautiful landscape like no other and a location that can be described as comfortably isolated, going to study in New Zealand might just be the most attractive offer yet.
New Zealand is tucked away in a corner at the bottom of the world, and is known to be the second most peaceful country in the world. A Commonwealth country, its previous British rule has made English its official language and standard university language. But Maori people make the second largest majority of the population, so its cultural roots are prominent in everyday life.
Did you know? The popular haka, a traditional chant performed by New Zealanders
at the beginning of official ceremonies, is historically a Maori tribal war cry.
If you thought New Zealand is popular only through its otherworldly landscapes being featured through movies like The Lord of The Rings trilogy, and its culture being proudly showcased by world-famous Kiwi rugby team All Blacks who perform the haka before each game; New Zealand has even more groundbreaking and fantastic history as a nation the world has most recently populated.
New Zealand is also known as the nation of firsts:
they were the first country to grant equal voting rights to women,
the first to scale Mount Everest was a New Zealander, and
the first country in the Southern hemisphere to declare a Dark Sky Reserve (an area of sky deemed to be preserved from urban light pollution).
With so much rich history and monumental achievements, New Zealand's community has proven to be one of progressive learning and encouraging research and innovative practicality beyond the academic duration of one's life.
Why study in New Zealand?
Holistic education has never looked better with New Zealand's education system that is regulated by the New Zealand Qualifications Authority (NZQA), ensuring quality standards of academic practices all across the nation.
Unlike other global higher education providers such as the UK and Canadian institutes, New Zealand tertiary educators take a more focused approach in imparting specialised knowledge to students. Rather than spread a student thin over juggling a major and a minor academic path, New Zealand universities offer a well-rounded plan for students to properly prepare for post-studies work or towards the next level of higher education pursuits.
Many cite these reasons to go study in New Zealand:
Excellent quality of education (do check out the University of Auckland!)

Top-notch facilities and human resources

Having globally recognised courses

Being a stable and safe country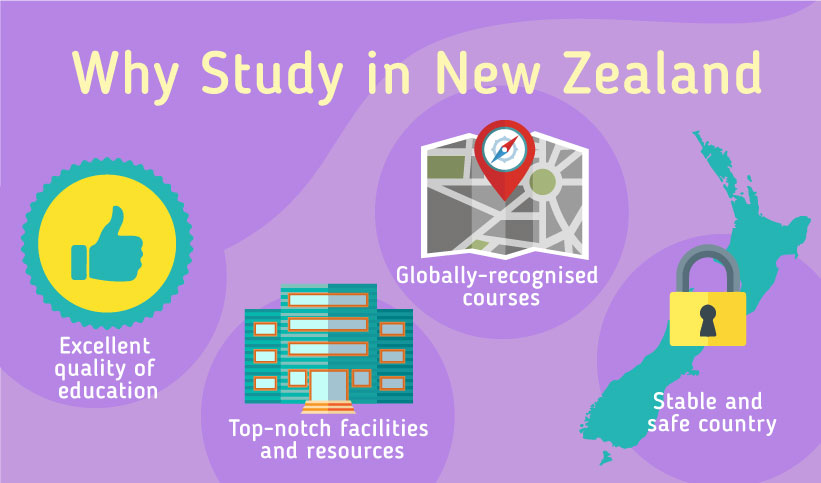 Top Universities in New Zealand
Despite New Zealand's small size and low number of higher education institutions, these universities are the best of the best, and eight out of eight of them have all been included in many world rankings praising different aspects of education.
The University of Auckland
University of Otago
Victoria University of Wellington
University of Canterburry
Massey University
University of Waikato
Lincoln University
Auckland University of Technology
New Zealand's higher education system has also collectively been hailed as among the top 20 globally of being best in strength, with small student-to-teacher ratios aiding their effective teaching strategies.
New Zealand degrees are both government and internationally recognised, awarded by the eight state-funded universities. These degrees are usually research-focused and have the potential to be furthered in postgraduate Masters and PhD pursuits all around the world.
What to study in New Zealand? While mostly known for research academics,
New Zealand courses are also popular for the high practical applicability in fields
like Engineering, Agriculture, Technology, Digital Design, Business and Management and more.
International higher education in New Zealand is not just limited to its universities. Foreign students are also very welcomed to pursue specialised academics in their other institutions. There are 16 Institutes of Technology and Polytechnics (ITPs) that are available for vocational courses should students be looking for less academic research-based options; and over 550 Private Training Establishments (PTEs) for diplomas, associate degrees and certifications.
How much does it cost to study at a university in New Zealand?
Tuition costs will vary according to field, as some programmes require more facility and equipment use compared to other courses. Costs will also differ according to provider and city, but we've provided a rough estimate to help you clarify what to expect financially.
| | | |
| --- | --- | --- |
| Study Level | NZD | MYR |
| Foundation/ Pre-U | 10,000 - 25,000 | 27,600 - 69,000 |
| Diploma | 13,000 - 18,500 | 36,000 - 51,000 |
| Bachelor's Degree | 22,000 - 32,000 | 60,700 - 88,400 |
| Masters Degree | 26,000 - 37,000 | 71,800 - 102,200 |
| Doctorate Degree (PhD) | 6,500 - 9,000 | 18,000 - 25,000 |
* Tuition prices in MYR are subject to conversion from NZD
Furthering your education all the way is highly encouraged in New Zealand, so much that international students are designated to pay the same as domestic NZ students for PhD level studies.
How much does it cost to study English language in New Zealand?
Most universities and Pearson PTEs provide English language courses to help strengthen your academic communication in the event that you do not meet language requirements. A general English course can cost NZD300 (RM840) per week, while a higher level Cambridge English exam course can cost up to NZD5,100 (RM14,200) for a duration of 12 weeks.
The living costs for an international student in New Zealand
So you've figured out how much it takes to be a student at a New Zealand university. Next step is to prepare for your staying there as a resident for as long as your study course. We prepared a table that might help you expect the financial preparation for your living in New Zealand.
| | | |
| --- | --- | --- |
| Expense category | Cost in NZD | Cost in MYR |
| Student accommodation | 600 - 2,800 per month | 1,680 -7,800 per month |
| Transport | 150 per month | 450 per month |
| McDonald's combo meal | 11 | 30 |
| Meal in a foodcourt or canteen | 18 | 50 |
| A pair of jeans (Levi's 501 or similar) | 100 | 300 |
* Each cost may vary from city to city in New Zealand, but this rough estimate can help you in facilitating all the necessary costs.
Important tip: International Student Identification Card (ISIC card) will help you get
student discounts all over New Zealand so remember
to apply for it for the best New Zealand stay!
Entry requirements for studying in New Zealand
As a Malaysian student applying to study in a New Zealand higher education institution, you must produce an STPM /Malaysian Higher School Certificate with credits in relevant subjects. A submission of IELTS or TOEFL results or Pearson PTE Academic results as proof of proficiency in English is also required.
Should you wish to take an additional, optional step prior to entering a New Zealand university is to apply for a pre-Bachelor programme. Most pre-Bachelor programmes in New Zealand cover strengthening in academic English and preparation for integration into NZ's university system and culture. Not only that, pre-Bachelor courses can also give some insight into a specific field you may have interest in pursuing, and from there can help you decide to major or change your target studies. This level of study is optional, and you can go straight to an undergraduate level if you meet the requirements.
Bachelor's degree
If you're looking to apply to New Zealand universities for undergraduate courses, you must have a qualification that is equivalent to the New Zealand's Year 13, or the NCEA Level 3 for University Entrance.
As a Malaysian student, this means having any of the following:
STPM - at least three principal passes (C and up)

UEC - a record of 18 points for six academic subjects

GCE A Levels - at least three scores of 1 grade at C Level or above

SAM (or equivalents) - minimum tertiary entrance rank at 74
Masters degree
Applying to New Zealand universities for postgraduate studies and PhD level degrees depend on your prior history of study naturally. For a New Zealand Masters, Postgraduate Certificate and Postgraduate Diploma, you must ensure your undergraduate degree is awarded by a recognized tertiary institution.
For PhD doctorate degrees, you must produce an equivalent or closely relevant Bachelor's (Hons) degree or a Master's degree with First/Second Class Honours. Division 1 results of a B+ and above are also welcomed as long as you have satisfactory history of performing independent research at your previous postgraduate level.
How to apply to study in New Zealand?
Timing is everything when it comes to studying abroad. New Zealand's academic year begins in February and goes on all the way to November, with time off for about four weeks in June and July. The most common time for universities to begin accepting applications are in the month of August prior to the new study year you are targeting, so start applying pretty early!
As studying in a country not your own is a huge deal, the list of requirements are very important. Most New Zealand universities now have a mostly online system when it comes to submitting applications; and their admission requirements are stated there, with application submissions only one call away.
Should some institutions require paperwork, the usual and important documents to prepare and send off are as follows:
A personal statement of intent, identifying why you want to study in New Zealand rather than your own country, and what your plans are once you have completed the program.

Education transcripts of prior secondary level studies and other tertiary programs you might have taken before deciding to transfer to a New Zealand institution.

Proof of funding to show sustainability for at least your first year of studying in New Zealand.

Application fee for submission. It will vary according to university.

Financial aid applications. In terms of educational programs, quite a few countries have relations with New Zealand to aid students for exchange programs. New Zealand has ASEAN and Commonwealth scholarships to help Malaysian students to further education in priority sectors.
Tip: Some of the requirements for a New Zealand university application
will coincide with student visa necessities, so double check and
back up all your documents!
How to get a New Zealand student visa?
For a short term visa, should your program be under a single semester exchange or short course duration, Malaysian students are to apply for a Malaysia Working Holiday Visa. This visa will allow you to stay and study or work in New Zealand for at most six months. Funding evidence must total to at least NZD2,250 for the duration of your stay excluding travel funding; and you must not have had prior approval for a New Zealand Working Holiday Visa.
Should you be in New Zealand for the complete duration of your program, you should apply for the Pathway Student Visa. This visa permits you to stay in New Zealand for five years. Funding proof for this visa requires evidence for at least NZD15,000 (RM42,000) for your first year living in New Zealand, or NZD1250 (RM3,500) per month in living expenses if your duration of official study is less than a year. You must also possess full medical and travel insurance for the whole term of stay in New Zealand.
In the case that you are extending from a Malaysia Working Holiday Visa to a Pathway Student Visa, you must provide evidence of student performance, including academic transcripts, attendance records, and a letter from your approved education provider.
Remember, both visas require you to possess an offer of place from an approved education provider!
Full-time students are granted 20 hours available for part-time working during their academic term, and full-time during break season. PhD and Masters students have no restrictions on the amount of hours they can work.
Student cities in New Zealand
With New Zealand being such a small country, you would be surprised at how many places there are to explore as an international student studying there. Beyond its picture perfect natural landscapes, New Zealand's cities are a marvel of their own, providing world-class living and study experiences.
Auckland
New Zealand's most popular city, Auckland is its cradle of cultural diversity and urban progression. Voted to be among the top 10 favorite cities to live in around the world, this City of Sails' warm rainy climate and relaxed metropolitan life by the coast is a great place to begin your assimilation into New Zealand.
Living costs as an international student in Auckland can shoot up to NZD25,000 (RM70,000) to NZD30,000 (RM84,000) a year.
Wellington
The compact capital city of New Zealand, Wellington has everything within walking distance and great public transport routes. Home to the most number of science organisations across the country, this city is increasingly popular among international students that flock to Victoria University to study under Crown Research Institutes. Not only that, Wellington is surrounded by some of the most beautiful terrains in New Zealand great for outdoor experience.
Living costs as an international student in Wellington can range from an average of NZD23,000 (RM64,000) to NZD32,000 (RM90,000) a year.
Christchurch
Famed for the progressive IT development and strong manufacturing role in New Zealand's economy, Christchurch presents global opportunities for export. Set in between a mountain range and the sea, Christchurch balances the best things in life, from a modern city to its historical buildings and natural monuments. You can expect to surf and ski all in the same day!
Living costs in as an international student in Christchurch will on average range from NZD800 (RM2,000) a week, or can be at least NZD23,000 (RM64,000) a year on tight budgeting.
New Plymouth
This gorgeous coastal town holds many botanical pleasures and galleries for the ones looking for the finer things in life. The place to be in New Zealand for events such as international concerts, festivals, sports events and exhibitions. Most international students flock here for the high concentration of vocational training in areas of hospitality and engineering.
Living costs for international students in New Plymouth are unclear, but known to be a little higher compared to Auckland.
Dunedin
Arguably the most historically cultured place of New Zealand, Dunedin is an eclectic city full of its English predecessors and Maori heritage coming together. A little under a quarter of its population are students, making it one of New Zealand's major student cities. Like most of the other cities, Dunedin also offers a great work-play balance, having tourist attractions and great wildlife habitats all around the city.
An advisable amount for living costs as an international student in Dunedin is an average of NZD18,000 (RM50,200) to NZD21,000 (RM58,000) for a full academic year (40 weeks duration).
After graduation opportunities in New Zealand
You must apply for a Post Study Work Visa three months before your student visa runs out or you will have to return to your home country.
The Post Study Work Visa is categorised into two:
Post Study Work Visa (Open)

Post Study Work Visa (Employer Assisted)
PSWV OPEN: allows job hunting for relevant qualification in 12 months and work for any employer in New Zealand.
PSWV EMPLOYER ASSISTED: extends your OPEN visa by two years.
After these visas, you may qualify for a resident visa under Skilled Migrant Category.
Get a world-class education at the University of Auckland!
The University of Auckland is New Zealand's highest-ranking university. The university has made its mark on several world rankings, placing within the Top 100 across the globe for academic reputation, graduate employability, innovation and many more. According to the 2018 QS Subject Rankings, the university is among the Best 50 in the world for 18 subjects, including Archaeology, Education, Anatomy & Physiology, Sports-related subjects, geography, law, English language and literature. Click / tap the logo below to learn more about the University of Auckland.